I'm sitting here on a Friday night, watching tv with no sound, because I'm dumb and don't know anything about installing a sound system. The sound was working fine up until yesterday. Should have never shut my tv off? Surround sound is some complicated stuff if you don't know how to use it or plug it in anywhere. Hopefully it will be back up and running tomorrow.
Does anybody have the mood to get outside and grill yet? Only 44 days left until Spring. I'm not quite there yet, but I know some people are probably just itching to get outside and start their grills up. Heck, why not, when it's 25 to 35 degrees outside with no wind, the weather can be pretty nice. I'll let you in on a little secret. I used my Cuisine art griddler to get those char marks on the side of the pork chops. Just marinade them in the pineapple and teriyaki mixture for a half and hour and pop these chops on the grill. George Foreman, griddler, stove top… Your choice of grill is up to you. Use the force.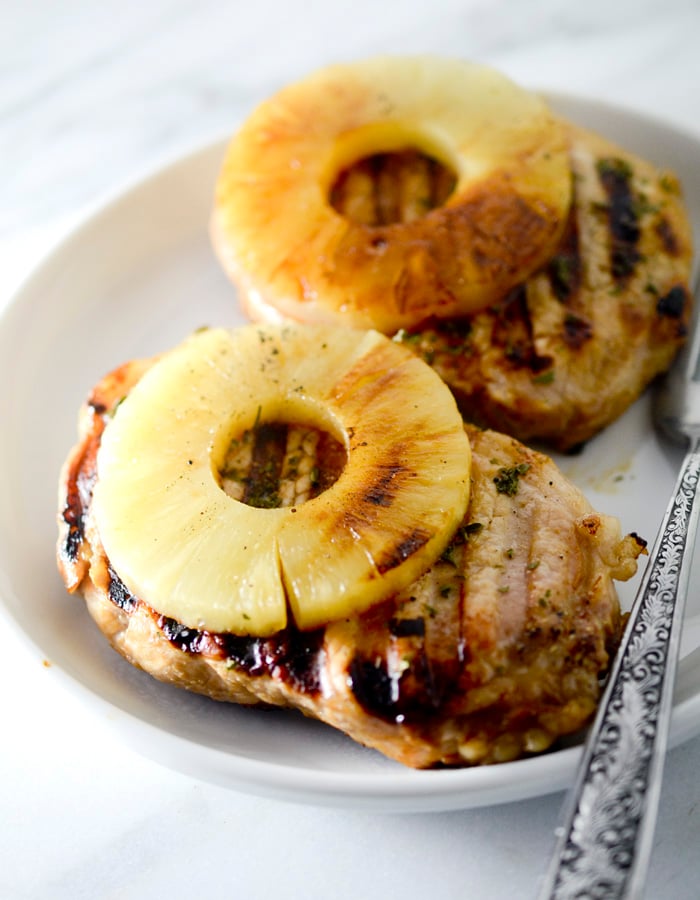 Print
Skinny Teriyaki Pork Chops with Pineapple
---
Scale
Ingredients
⅓ cup

Tropicana® Trop50® orange juice or canned pineapple juice

2 tablespoons

less-sodium soy sauce

1 tablespoon

rice vinegar

1 tablespoon

brown sugar

½ teaspoon

ground ginger

½ teaspoon

onion powder

½ teaspoon

garlic powder

4

(4-ounce) boneless pork chops, trimmed of fat

2 teaspoons

cornstarch

4

thickly sliced fresh pineapple rings
---
Instructions
In a small bowl, whisk together the orange juice, soy sauce, rice vinegar, brown sugar, ground ginger, onion powder, and garlic powder to make a marinade.
Place the pork chops in a large resealable bag and add the marinade to coat. Seal the bag and place in the refrigerator for at least 2 hours up to overnight. If possible, turn the bag every hour or so to evenly cover the pork chops with the marinade.
Transfer the pork chops to a shallow dish. Pour the marinade into a small saucepan.
In a small bowl, dissolve the cornstarch into 2 teaspoons of cold water to make a slurry. Place the saucepan of marinade over medium heat and bring to a boil. Reduce the heat to low and whisk in the slurry. Cook, whisking, until the sauce thickens, about 2 minutes. Remove from the heat and set aside to use as a baste for the grilled pork chops and pineapple.
Preheat an indoor grill, grill pan, or outdoor grill to medium-high heat. Lightly coat the grill rack of the indoor grill or grill pan with cooking spray.
Place the pork chops on the grill and cook until the internal temperature reaches 145° F, 4 to 5 minutes per side, brushing often with the baste as you grill.
Add the pineapple slices to the grill and cook for 1 to 2 minutes on both sides.
Let the pork chops rest for 2 to 4 minutes before serving.
To serve, place one grilled pineapple slice on top of each pork chop and serve with any remaining marinade sauce.
Serving Size: 1 pork chop and 1 pineapple ring. 
---
Notes
myWW points: Blue Points: 7; Green Points: 7;  Purple Points: 7
Nutrition
Calories:

201

Sugar:

8

Fat:

6.74

Saturated Fat:

2.3

Carbohydrates:

9.4

Fiber:

.5

Protein:

25