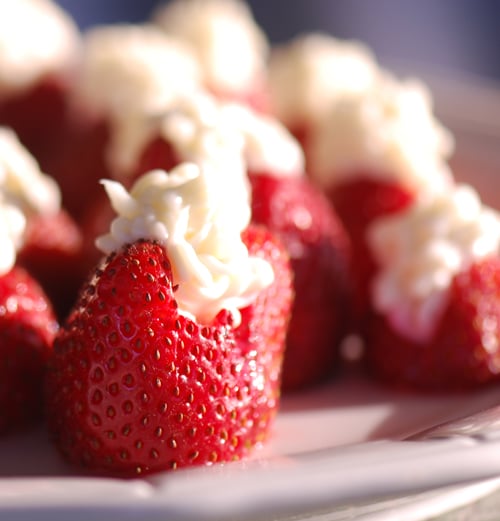 The first time I had these yummy strawberries was the day I tried on my wedding dress. My Mom had invited everyone that was going to be there when I tried on wedding dresses to a lunch before we went. Everybody loved them and thought they were really good. I recently had some friends over for dinner and decided to make them for every one,  and they were a hit. I didn't have any almond extract, but I did have some amerreto liquor, so I used that instead. You could probably use almost any type of liquor to add flavor to the cream cheese or any kind of extract that you wish.  Anything would probably taste good with strawberries!
Print
Strawberries with Cream Cheese Filling
---
Ingredients
32 fresh whole strawberries
12 oz. cream cheese, softened
½ cup confectioners sugar
¼ teaspoon almond extract
---
Instructions
Cut a thin slice from the stem end of each strawberry so that they stand upright, then cut each berry carefully into four wedges, cutting almost to, but not through, the bottoms.  Fan the wedges just slightly, but be careful not to break them.  Set berries aside.
In a mixing bowl, beat together the cream cheese, confectioners sugar and almond extract until light and fluffy.  Pipe filling into strawberries using a decorating bag with decorative tip.  Grate chocolate over top to garnish.
Cover and chill until ready to serve.
---