Next week is Cinco de Mayo already. I remember at my old job, we would always have a salsa contest on that day. People could bring in their own homemade salsas for taste testing and everybody who tried it could vote on their favorites. I never won that contest at all, and it was always same guy winning with his salsa every year. Every year. He would bring the same one  every time. Well, I bet this Strawberry and Mango salsa would blow his recipe out of the water. That is if I still worked there…. They had different categories of salsas and those categories ranged from mild, to spicy, and fruity salsas.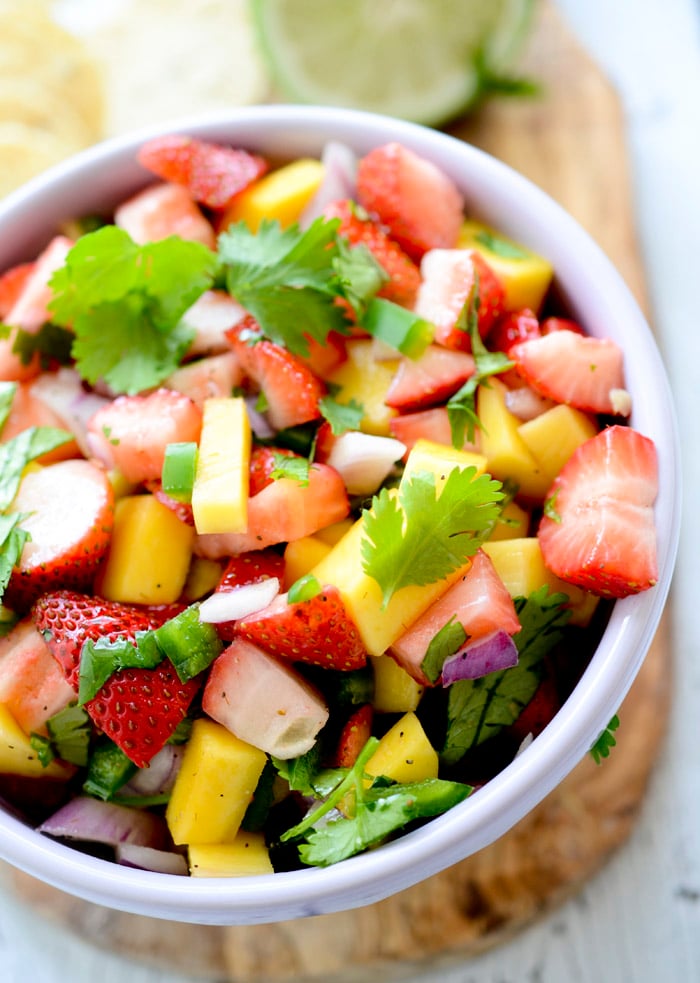 Fruit salsas are my favorite. They're super yummy inside quesadillas. I plan on taking this salsa and making a grilled chicken quesadilla with this strawberry and mango salsa in it sometime this week. That is going to be totally awesome. Did that once with some pineapple salsa that I got at the store.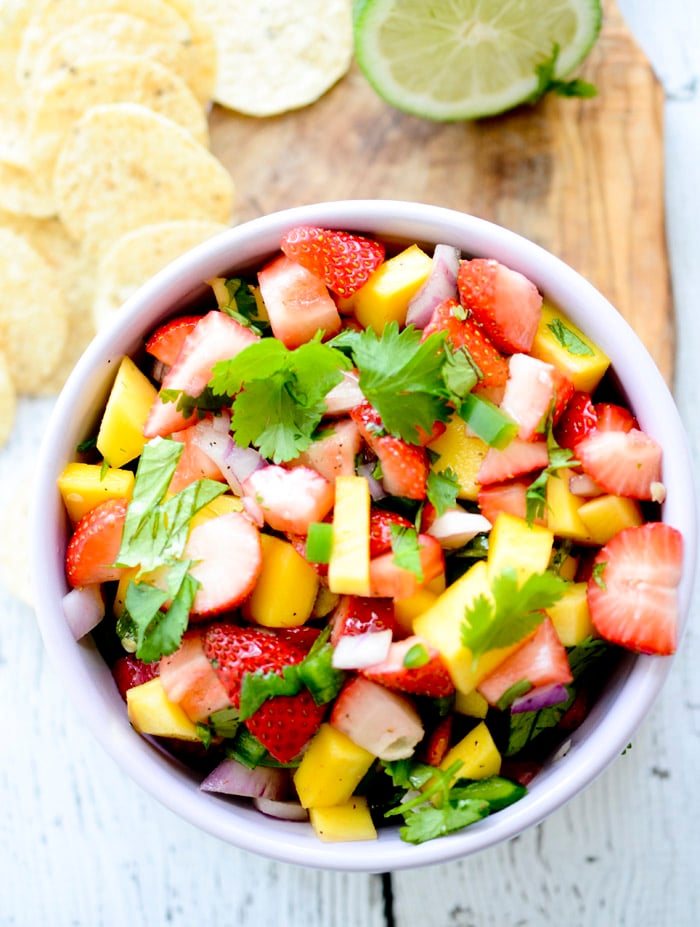 I've been getting the most amazing strawberries at the grocery store this week and they are so fresh and sweet. Makes me think of Spring. These mangos were also on sale so it was really cheap to make this. My brother and his fiancee are having a bridal shower this coming weekend, and I have to go to Minneapolis for that and spend the whole weekend there. Guess what I'll be bringing over? Some of this salsa.
Print
Strawberry and Mango Salsa
Ingredients
1 cup diced strawberries
1 cup diced mango
1 jalapeño, seeded and minced
2 tablespoons diced red onion
2 tablespoons chopped fresh cilantro leaves
2 teaspoons honey, or more to taste
Juice of 1 lime
Instructions
In a large bowl, combine strawberries, mango, jalapeño, onion, cilantro, honey and lime juice.
Serve immediately.
Notes
Recipe from pbs.org
Smart Points: 1 
Nutrition
Serving Size:

1

Calories:

41

Sugar:

8

Fat:

1

Saturated Fat:

0

Unsaturated Fat:

0

Trans Fat:

0

Carbohydrates:

10

Fiber:

2