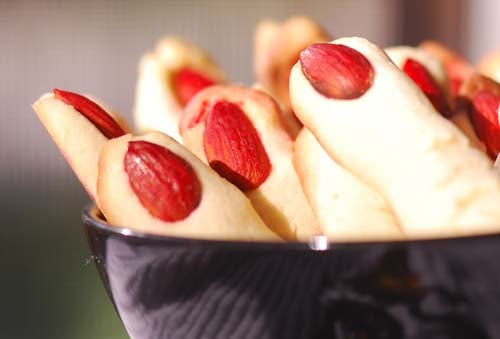 Today I was bored, and what do I do when I'm bored? I bake. I was looking at a bunch of Halloween recipes  online and decided to try these witch finger cookies. Cause they looked so cute!  If I remember right, witches would sometimes have green painted fingers in pictures or in movies. I just decided to make them red anyways and got red food coloring all over my hand while painting the almonds. Almonds are also a good treat.  I should be eating those more instead of munching on chips all the time or rice cakes. Was thinking of making some pumpkin pie spiced almonds too!
Every year, I like to throw a Halloween party and usually we just end up pigging out on candy and chips. This year I think I may make a bunch of cookies or cupcakes instead. If you're having a Halloween party like I am I suggest making these!
Print
Scale
Ingredients
2 tablespoons red food coloring
30 blanched almonds
2 large eggs
¼ teaspoon pure vanilla extract
8 tablespoons unsalted butter (1 stick), room temperature
½ cup confectioners' sugar
5 tablespoons granulated sugar
Pinch of salt
1 ⅔ cups all-purpose flour
---
Instructions
1. Heat oven to 350 degrees. Line two baking sheets with Silpats (French nonstick baking mats) or parchment paper, and set aside.
2. Place food coloring in a shallow bowl. Using a small paintbrush, color one rounded half of each almond. Set aside to dry.
3. Separate 1 egg. Set aside the white. In a small bowl, whisk together yolk, remaining egg, and vanilla. Set aside.
4. In the bowl of an electric mixer fitted with the paddle attachment, combine butter, confectioners' sugar, granulated sugar, and salt. Beat on medium speed until well combined. Add egg mixture, and beat until smooth, about 2 minutes. Add the flour, and mix on low speed just until incorporated. Wrap the dough in plastic, and chill until firm, 20 to 30 minutes.
5. Divide the dough in half. Work with one piece at a time, keeping remaining dough covered with plastic wrap and chilled. Divide the first half into fifteen pieces. On a lightly floured surface, roll each piece back and forth with palms into finger shapes, 3 to 4 inches long. Pinch dough in two places to form knuckles. Score each knuckle lightly with the back of a small knife. Transfer fingers to prepared baking sheets. Repeat with remaining dough.
6. When all fingers are formed, brush lightly with egg white. Position almond nails; push into dough to attach.
7. Bake until lightly browned, about 12 minutes. Cool completely.
---