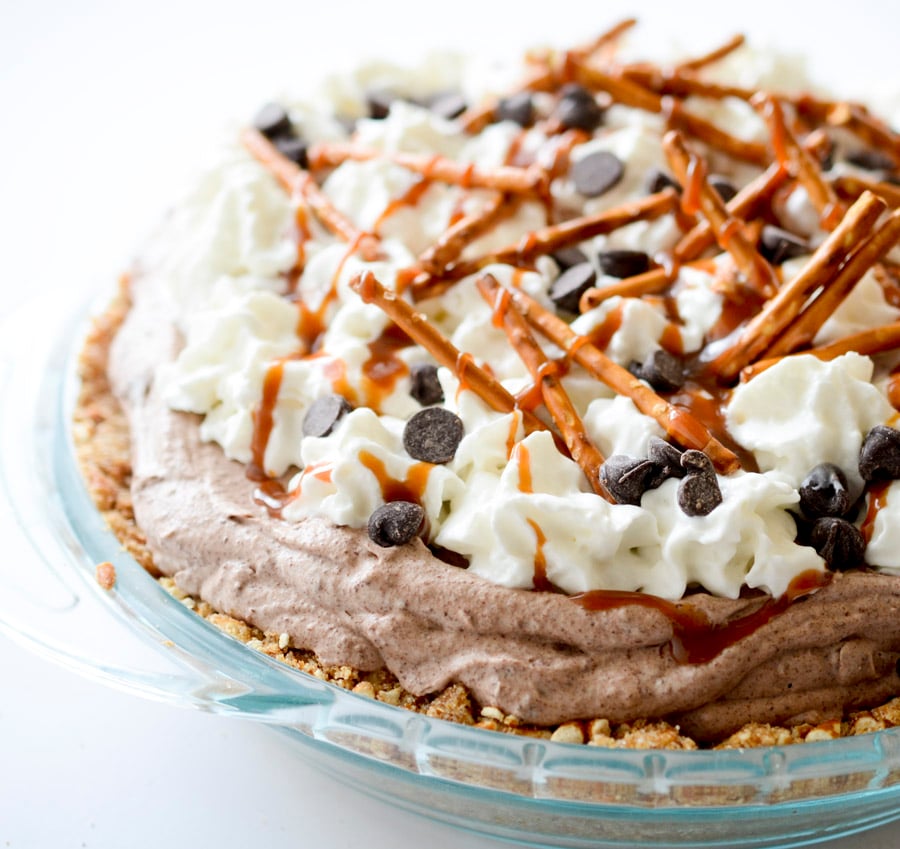 The weekend goes by so fast, and most of my weekend is filled with cooking or baking and then trying to keep my kitchen clean. Key word is TRYING. I'm pretty terrible at cleaning my kitchen and putting stuff away. There will be dishes piled up in the sink for days and I'll do my best to keep the kitchen counters clean.  Food blogger's issues.
On Saturday, I went to Chipotle for the first time. Chipotle had opened up back in the Winter here, and I've been waiting for the lines to die down. I've been to one in the cities before and thought it was so great. If Chipotle had Cotija cheese and bacon for toppings they'd be even better. Why doesn't Chipotle have any queso dip? They could have the BEST nachos I've ever had. My favorite thing to get at Chipotle is the rice bowls with Barboca Beef. Then, I'll top it with the pico de gallo, corn salsa, some guac, sour cream, and cheese. Mmmm, I could eat one of those rice bowls every day of the week.  Man, now I want to go back there and have another rice bowl.
I made the most ridiculous pie this afternoon. That was the only thing going through my mind when making this pie. Just think of all the calories this had with the whipping cream! Wait, don't tell me, because I don't want to know!  How on Earth am I going to eat this whole entire pie by myself? The crust is crushed pretzels with melted butter and sugar. Crushed pretzels instead of the normal crushed graham cracker crumbs really make a difference in a pie. The pretzels give the pie a little something salty. The filling is a chocolate mousse and chocolate mousse is so easy and fast to make. Chocolate + Pretzels. This pie is almost like a chocolate dipped pretzel.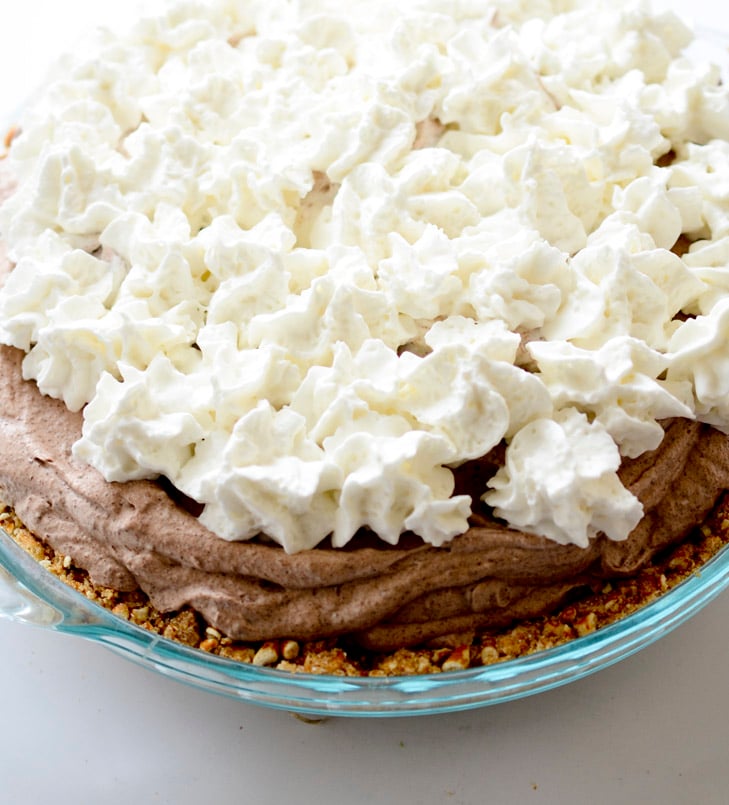 Don't forget to save 2 cups of the whipped cream before you add the chocolate to it. I did that, and had to use my can of whipped cream in the freezer.
Print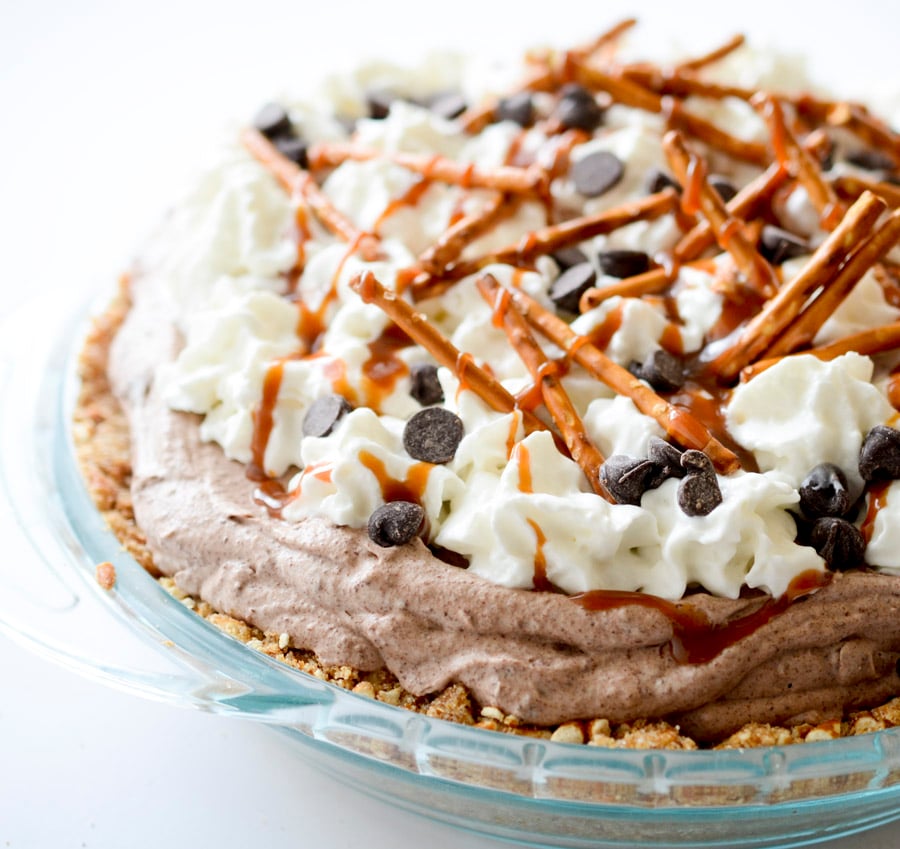 Chocolate Mousse Pie with Pretzel Crust
---
Scale
Ingredients
2 cups

pretzels, crushed

3/4 cup

butter, melted

1/2 cup

sugar

3 1/2 cups

heavy whipping cream

1/2 cup

powdered sugar

1 teaspoon

vanilla

2 cups

dark chocolate chips

1/2 cup

caramel sauce

1 tablespoon

sea salt flakes
Pretzel sticks (whole) for garnish, if desired
---
Instructions
Spray a standard-sized pie pan with nonstick baking spray. Set aside. In a small bowl, mix together crushed pretzels, melted butter, and sugar until well combined. Press mixture into the prepared pie pan, then place pan in freezer to chill for 10 minutes.
In a stand mixer fitted with the whisk attachment, beat whipping cream until soft peaks form. Add powdered sugar and vanilla to the cream, whip until combined, then spoon 2 cups of the whipped cream into a small bowl, set aside.
In a medium microwave-safe bowl, melt the dark chocolate chips until smooth. Allow to cool slightly, until the melted chocolate is cool to the touch, then slowly add it to the remaining whipping cream, mixing it slowly with the stand mixer until smooth and fluffy. Spoon chocolate mousse mixture into the pretzel pie crust. Top with remaining whipped cream. Refrigerate until mousse sets up. Serve slices of pie drizzled with caramel sauce and a sprinkling of sea salt. Add whole pretzel sticks, too, if desired.
---
Nutrition
Calories:

971

Sugar:

50

Fat:

62

Saturated Fat:

36

Unsaturated Fat:

10

Carbohydrates:

107

Fiber:

6

Protein:

8