This recipe is from a blog post I posted wayyyyyyyyyyyy back in 2013. I forgot how good and simple this shrimp was to make, and the picture needed some updating. I've made it 3 times this week. Surprisingly butter is dairy and I've had no bad reactions to the butter yet. That almost makes me wonder if its just certain dairy products I'm allergic to? That would be nice because this girl loves to bake.
Orzo is one of my favorite pastas. It is shaped like a large grain of rice and I actually prefer orzo instead of white rice in some dishes. Sometimes, I have a difficult time finding it and I have to go on one of my grocery store hunts. The one by me used to have it, but now they don't. How irritating is that? Don't you hate it when you buy this product at a store you love and all the sudden they stop carrying it?
This is really good heated up the next day. You almost have to make some extra sauce.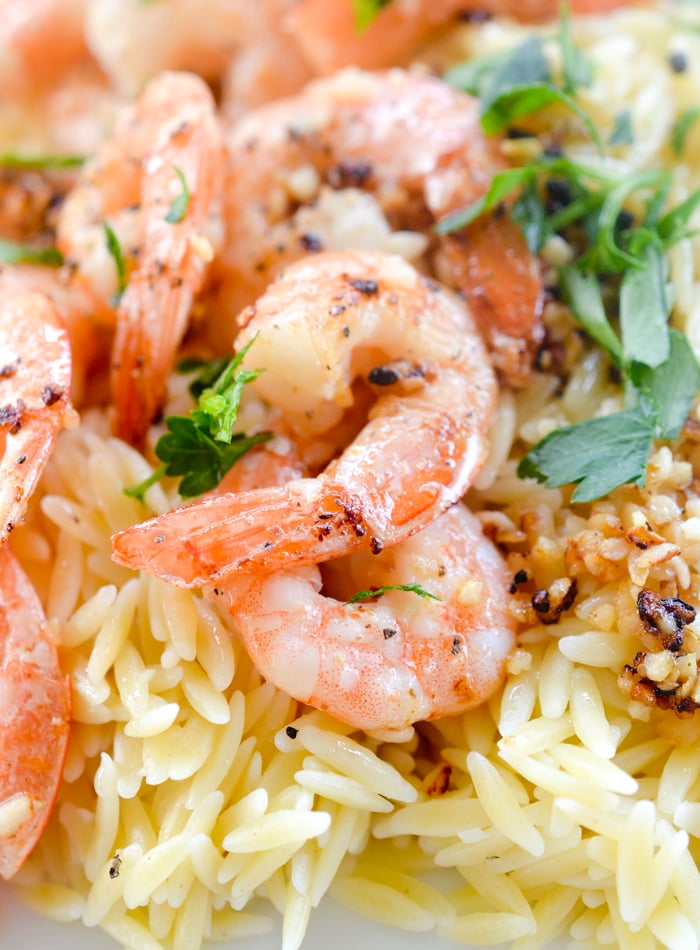 Print
Lemon Pepper Shrimp Scampi
---
Scale
Ingredients
1 cup

uncooked orzo

2 tablespoons

chopped fresh parsley

1/2 teaspoon

salt, divided

7 teaspoons

unsalted butter, divided

1 1/2

pounds peeled and deveined jumbo shrimp

2 teaspoons

minced fresh garlic

2 tablespoons

fresh lemon juice

1/4 teaspoon

freshly ground black pepper $
---
Instructions
Cook orzo according to package directions, omitting salt and fat. Drain. Place orzo in a medium bowl. Stir in parsley and 1/4 teaspoon salt; cover and keep warm.
While orzo cooks, melt 1 tablespoon butter in a large nonstick skillet over medium-high heat. Sprinkle shrimp with remaining 1/4 teaspoon salt. Add half of shrimp to pan; sauté 2 minutes or until almost done. Transfer shrimp to a plate. Melt 1 teaspoon butter in pan. Add remaining shrimp to pan; sauté 2 minutes or until almost done. Transfer to plate.
Melt remaining 1 tablespoon butter in pan. Add garlic to pan; cook 30 seconds, stirring constantly. Stir in shrimp, juice, and pepper; cook 1 minute or until shrimp are done.
---
Notes
myWW points: Blue Points: 8; Green Points: 11;  Purple Points: 8
Nutrition
Serving Size:

1 cup

Calories:

403

Sugar:

0

Fat:

10.4

Saturated Fat:

4.8

Carbohydrates:

34.7

Fiber:

1.7

Protein:

40.1