Homemade Almond Extract is super easy to make at home and only requires 2 ingredients. Vodka and Raw Almonds.
Almond Extract is probably my favorite extract. I think I like it most because of its smell. It's really good to flavor frostings with, put in fresh cherry pie, make homemade cookies, the sky is the limit. My grandma's frosting recipe is the best and it calls for almond extract instead of vanilla.
Post Update 5/31/20
My extracts have been sitting in their jars for over two weeks now. I made lemon, almond, and mint. The ingredients in the extract need to rest in their jars or containers for over 6 weeks. After 2 weeks the almond extract is really starting to smell like homemade almond extract and so is the lemon extract.
The mint extract isn't doing so well. I'm still going to let it sit for the recommended time and then test the extract with my grandma's frosting recipe that calls for almond extract. That will be the true test!
How to Make Homemade Extracts
Find a storage container:
I went to Michaels and found some jars. A smaller sized jar will work (8oz or less) or any type of bottle used to store extracts in. If you are looking for real extract bottles Amazon has them.
Use Good Vodka
The best type of vodka to use for homemade extracts is good strong vodka, 80% proof, or higher. The brand I used was Absolute Vodka.
Extract Flavors:
You can make just about any flavor of extract you want with this method.
Mint, lemon, orange, vanilla, you name it!
Vanilla bean pods are really expensive just for one at the grocery stores. It is best to buy them in bulk online somewhere. Make a slit or indent in the pods and add them to the jars!
10 Vanilla Bean Pods - Whole Extract Grade Be for Baking
For lemon extract or orange, peel off the rinds and make sure to not get any of the white pith on the skin.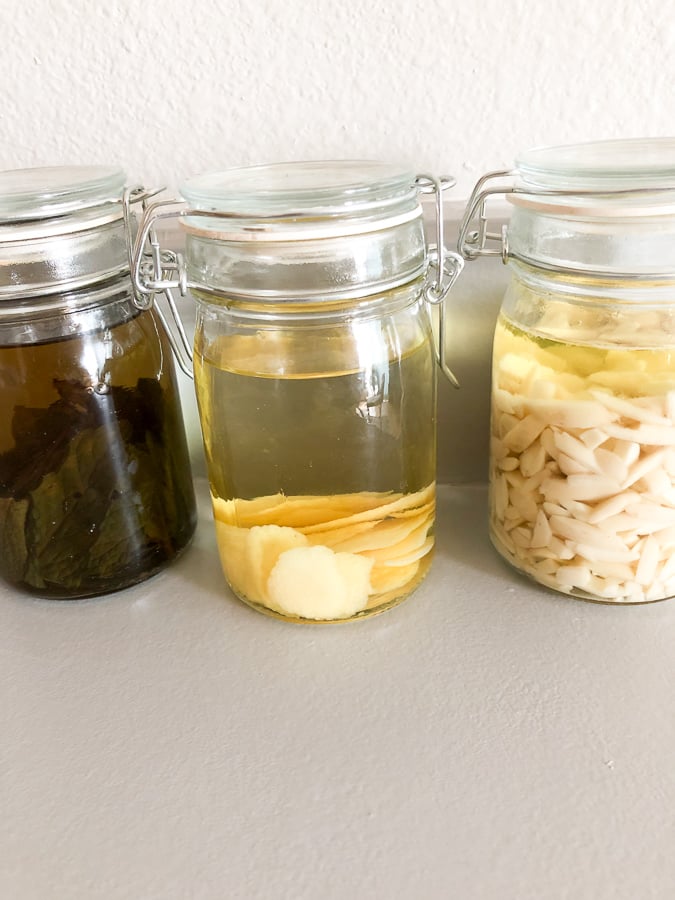 Where to find Raw Almonds?
Blanched Skinless almonds work the best for homemade extract. Before I had used almonds with the skin on and that did not work. I was able to find raw blanched almonds in the organic section of my grocery store.
365 Everyday Value, Almonds, Blanched & Slivered, 8 oz
Print
DIY: Homemade Almond Extract
---
Scale
Ingredients
4 oz

of slivered almonds (blanched) 

4 oz

. good vodka (80% proof or higher)
Small Jars or Bottles to store the extracts in 
---
Instructions
Drop the almonds into the bottom of your jar or bottle.
Pour the vodka over the almonds and fill it to the top of the bottle. Put the lid on and close tightly.
Place the vodka and almond mixture in a cool and dark place, like a pantry or garage, and let the mixture sit for 6 weeks. 
Shake the mixture every 3 to 5 days for the entire 2 month period.
---
Notes
FYI: (5/17/20) This post needs to be updated and I plan on working on that. Please stay tuned for updates!