I can't believe how tender and good this pot roast was! Every time I walked into the kitchen the pot roast smelled so good and it made my mouth water. Pair that with some apple butter cooking in the crockpot at the same time, and your home smells like heaven. Two perfect things to make for a nice cool Fall day.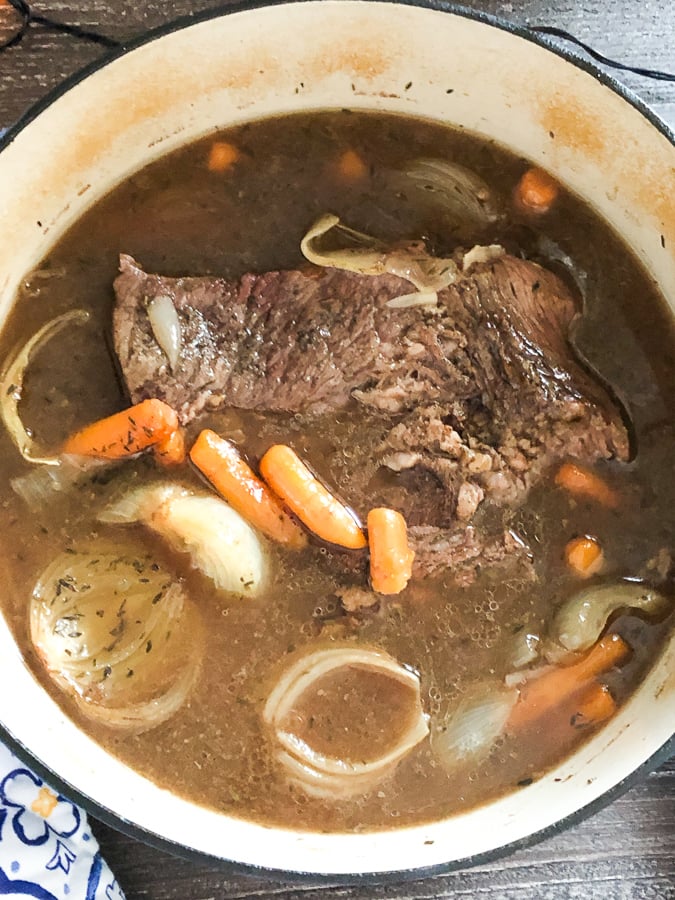 Tender and juicy pot roast slow-cooked in a dutch oven with carrots and onions. Perfect for Sunday evening dinner and great for on those cold Fall/Winter evenings!
The only thing I wished I would have done was to turn the liquid in the pot into a thicker gravy. It still tasted good over the mashed potatoes and beef. Next time... I'm also going to add in some more onions and carrots. The onions and carrots practically melted in my mouth. Thank you, Ree Drummond, for the perfect pot roast recipe ever! Too bad, I didn't make the blackberry cobbler that went along with this show.
When I make a pot roast for just myself, I look for the smallest roast they have. Anything under 2 pounds. Depending on how many pounds your pot roast is that is how long it takes to cook in the oven. So if you have a 3 pound chuck roast cook it for 3 hours. 2 pounds, 2 hours, etc.
I figured out the nutrition info for this since I thought it was pretty healthy and mostly protein with a 3 pound chuck roast. 55 grams of protein, that's a lot and this was very filling.
Mmmm, look at all that brown food!
How to Make Pot Roast
Making pot roast is super easy. All you need is a large dutch oven pot. Cook the onions and carrots in some oil until they are browned a bit. Transfer the vegetables to a plate and brown the roast on both sides. Deglaze the pan with some beef broth and add the vegetables and roast back in. You can season the roast with whatever seasonings you like. I used thyme. Put the lid on the pot and carefully transfer it to an oven.
This type of cooking is almost like a slow cooker but you can control the oven temperature!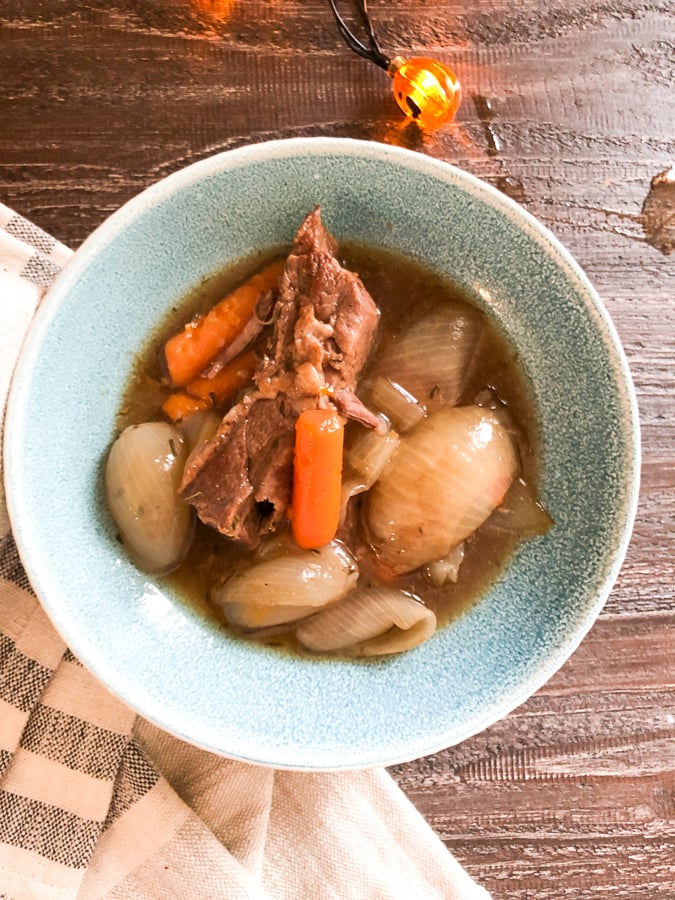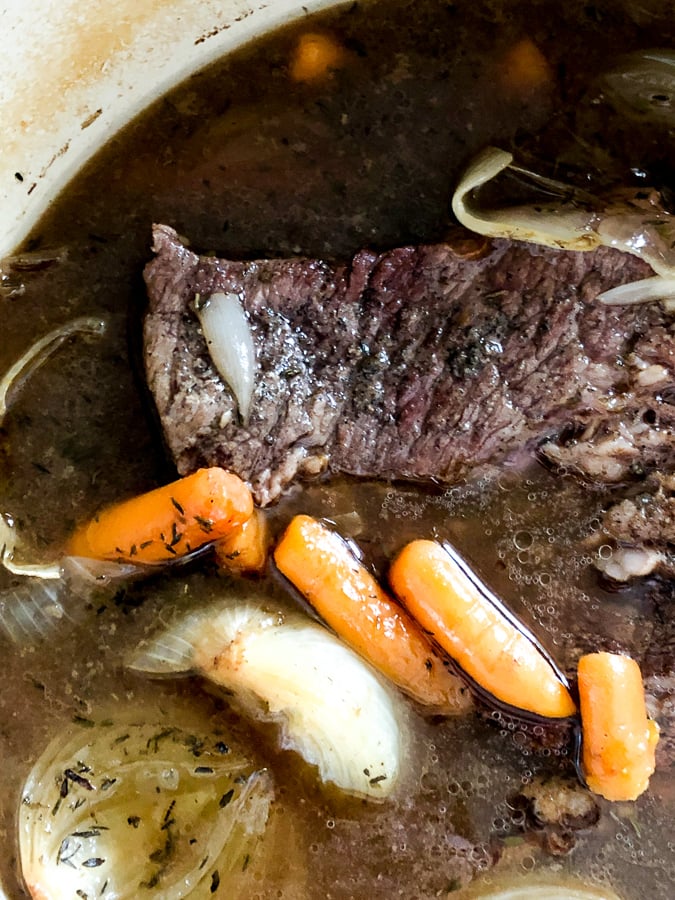 Print
Ree Drummond Perfect Pot Roast
---
Description
Tender and juicy pot roast slow-cooked in a dutch oven with carrots and onions. Perfect for Sunday evening dinner and great for those cold Fall/Winter evenings! 
---
Scale
Ingredients
Salt and freshly ground black pepper
One 3 to 5-pound chuck roast
2 or 3 tablespoons olive oil
2 whole onions, peeled and halved
6 to 8 whole carrots, unpeeled, cut into 2-inch pieces
1 cup red wine, optional
3 cups beef broth
2 or 3 sprigs fresh rosemary
2 or 3 sprigs fresh thyme
---
Instructions
Preheat the oven to 275 degrees F.
Generously salt and pepper the chuck roast.
Heat the olive oil in large pot or Dutch oven over medium-high heat. Add the halved onions to the pot, browning them on both sides. Remove the onions to a plate.
Throw the carrots into the same very hot pot and toss them around a bit until slightly browned, about a minute or so. Reserve the carrots with the onions.
If needed, add a bit more olive oil to the very hot pot. Place the meat in the pot and sear it for about a minute on all sides until it is nice and brown all over. Remove the roast to a plate.
With the burner still on high, use either red wine or beef broth (about 1 cup) to deglaze the pot, scraping the bottom with a whisk. Place the roast back into the pot and add enough beef stock to cover the meat halfway.
Add in the onions and the carrots, along with the fresh herbs.
Put the lid on, then roast for 3 hours for a 3-pound roast. For a 4 to 5-pound roast, plan on 4 hours. The roast is ready when it's fall-apart tender.
---
Notes
WW Freestyle Points: 9 
Category:

Medium

Method:

Stovetop

Cuisine:

American
Nutrition
Serving Size:

1 cup

Calories:

382

Sugar:

4g

Fat:

14g

Saturated Fat:

5g

Carbohydrates:

10g

Fiber:

2g

Protein:

50g
Keywords: perfect pot roast ree drummond