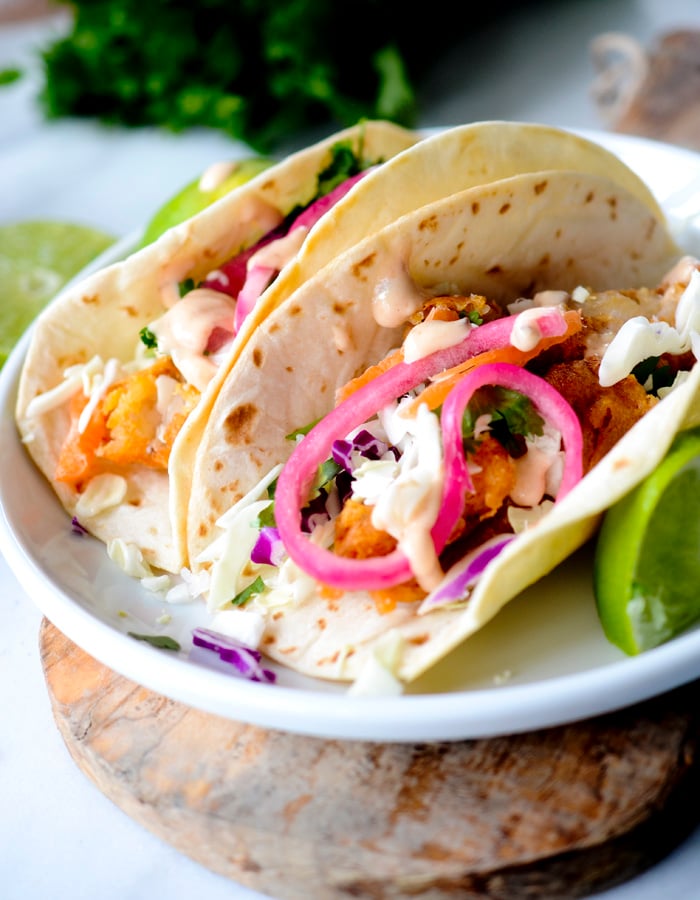 Post updated June 20, 20183/2
Since my site is mainly focused on healthier recipes with less fat and calories for losing weight this recipe has recently been updated. Before this recipe used lots of oil to cook the fish and to make it healthier, I decided to use my air fryer. An air fryer is a great investment for someone looking to cut back on using less fat.
3/22/2016
I probably should be cooking up something with ham in it or funeral potatoes for Easter and writing up a blog post about it. Easter is not my favorite food Holiday. Ham is only a twice a year type meal for me and sometimes it can get to be really salty. The desserts are kind of blahsey also. I'm in no mood to make an Easter bunny cake right now or make some kind of dessert with an Easter egg nest on top of it. I could eat just jelly beans and cadbury eggs by themselves though. If only you could go back to being a kid again and hunting for Easter eggs or getting that Easter Bunny basket the next day, that would be totally awesome. Those chocolate bunny eggs were the best.
Awhile back, I bought this cookbook that has nothing but Mexican recipes in it called The Best Mexican Recipes from America's Test Kitchen. I plan on cooking my way through it. Every recipe in there looks good and this was the first one I tried. The pickeled onions just make the fish tacos and instead of getting Mexican crema, I just made a chipotle mayo to go on top of the tacos for the sauce. To make pickled onions, all you do is boil some vinegar in a pot with some sugar until the sugar dissolves and pour the vinegar over onions. Let the onions sit for awhile in the vinegar. Slice the onions really thin using a mandoline. Your tacos will look extra special and you can always buy pre shredded cabbage slaw to save time.
Tips for Baja fish Tacos
The seasoning I used for my fish tacos were from a company called Spiceologist. It's their Spicy Habenaro honey blend. Feel free to use the same amount of whatever seasoning blend is your favorite.
Cilantro – this I got from Wal-Mart it came in a little cup and it was already chopped up. Great time saver!
5 smart points per 1 taco – all myWW plans

Recipe Video
Print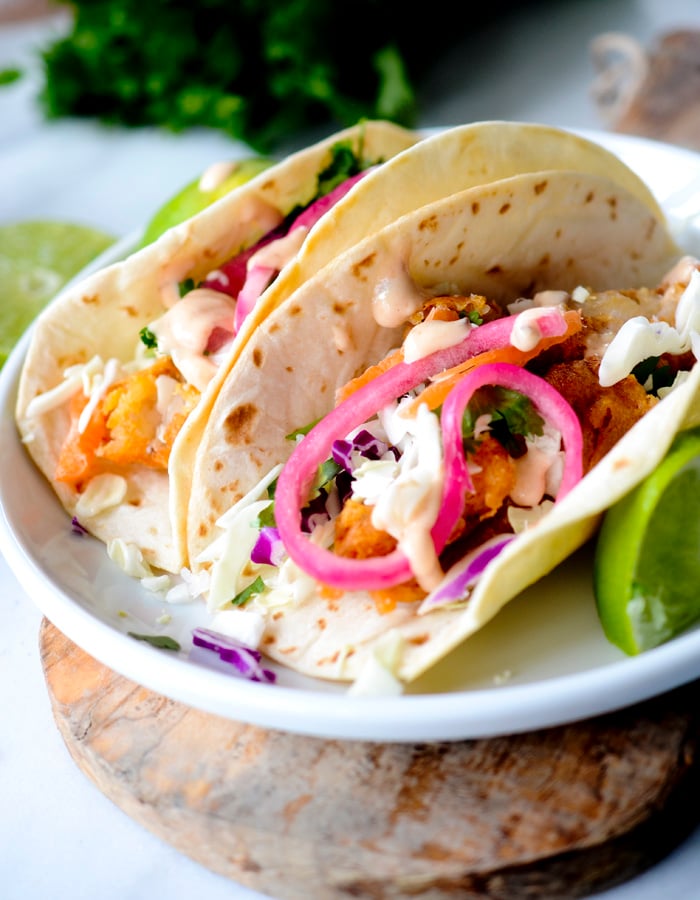 Baja Fish Tacos with Pickeled Onions and Cabbage
---
Scale
Ingredients
2

pounds of skinless whitefish fillets such as cod, haddock, or halibut

3/4 cup

Panko bread crumbs

8

flour tortillas warmed (6″ tortillas)

1/2 cups

fresh cilantro leaves (see notes)

8 tablespoons

of reduced fat chipotle mayo such as Kraft

 

1 16 oz  bag of Tri color Cole slaw mix
For the Pickled Onions
1

small red onion, halved and sliced thin

1

jalapeno chiles, stemmed and sliced into thin rings

1 cup

apple cidar wine vinegar

2 tablespoons

lime juice

1 tablespoon

sugar
---
Instructions
Bring vinegar, lime juice, and sugar to boil in a small saucepan. Combine onion and jalapeño in a medium bowl.
Pour vinegar mixture over onion mixture and let sit for at least 30 minutes. or refrigerate for up to 2 days. Store in air tight container.
Cut the fish into 2 inch strips and add them to a  zip lock bag (gallon size) along with the bread crumbs and seasoning.
Close the bag and toss the bag around to coat. Set air fryer to 400 degrees (F) and place the fish chunks into the air fryer. basket and close it. 
Set the timer to 11 minutes. Serve with warm tortillas, cilantro, reduced fat chipotle mayo,  pickled onion, and cole slaw mix.
Serving Size: 1 taco 
---
Notes
myWW points: Blue Points: 5; Green Points: 5;  Purple Points: 5