Updated post June 20th, 2018 
I had to update this recipe because it has caused quite some confusion and I apologize for that. People were stating that they had trouble finding some of the sizes that I used for the previous recipe and I don't know but are can sizes and box sizes different in some areas? Maybe certain brands are?  Anyways, I guess I'm going to have to start taking pictures of the products used for my recipes, kind of  like how the Pioneer Women does her cast of characters thing. After receiving a comment from someone who had trouble finding the products listed below, I went to the store and picked up all the ingredients and took a picture of them all and even rewrote the recipe. Hope this helps. If you can't find some of the exact can sizes listed below, please try finding ones that are close enough to the sizes listed.
FYI: Certain brands might have different measurements on their cans and boxes  than other companies so do pay attention to that please. Lessons learned.  I even listed different sized substitutes that work with this recipe as well.
Having some guests over for dinner tonight. On the menu is smoked turkey and potatoes and bacon wrapped green beans. This is dessert. It's just a yellow cake (box kind) and the frosting is cool whip, mandarin oranges, crushed pineapple, and vanilla pudding. This cake can be made light too. In the cake use canned mandarin oranges in place of the oil. This is a fun and light cake to make and the frosting can be eaten just with a spoon and in a cup it's that good. Ben liked it so much he nick named it cups because that is what his Mom would always serve it in.
Like so….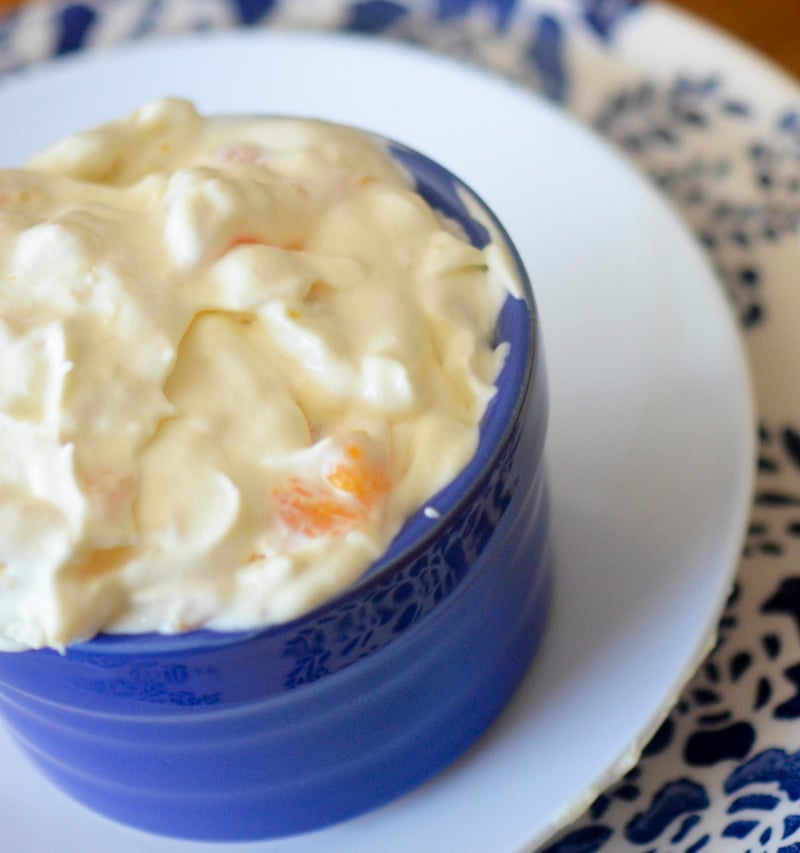 Print
Sunshine Cake
Ingredients
1 (15.25 oz) box yellow cake mix (18 oz cake mix works with this too)
1 (20 oz) can crushed pineapple (do not drain)
1 (8 oz) container fat-free cool whip (12 oz is ok)
1 1 oz package of sugar free instant vanilla pudding mix
1 (11oz) can of mandarin oranges, drained
Instructions
Preheat oven to 350.
In a bowl, mix yellow cake mix and pineapple. Do not drain the pineapple.
Spray a 9×13 cake pan with non-stick cooking spray.
Pour cake mix you mixed together in step 2 into pan and bake for approx 35 minutes or until toothpick comes out clean when inserted.
While cake is baking, prepare the frosting by mixing together the whipped dessert topping, the package of instant pudding, and the mandarin oranges(drained). Set frosting in refrigerator to set. Frost when cake has thoroughly cooled.
Notes
WWP+ = 6
Smart Points = 8
recipe from food.com
Please note that many different companies label their can sizes different some could say 10.07 ounces or 11 ounces. Just find ones that are close to the size listed above. Same goes with the box of cake mix.