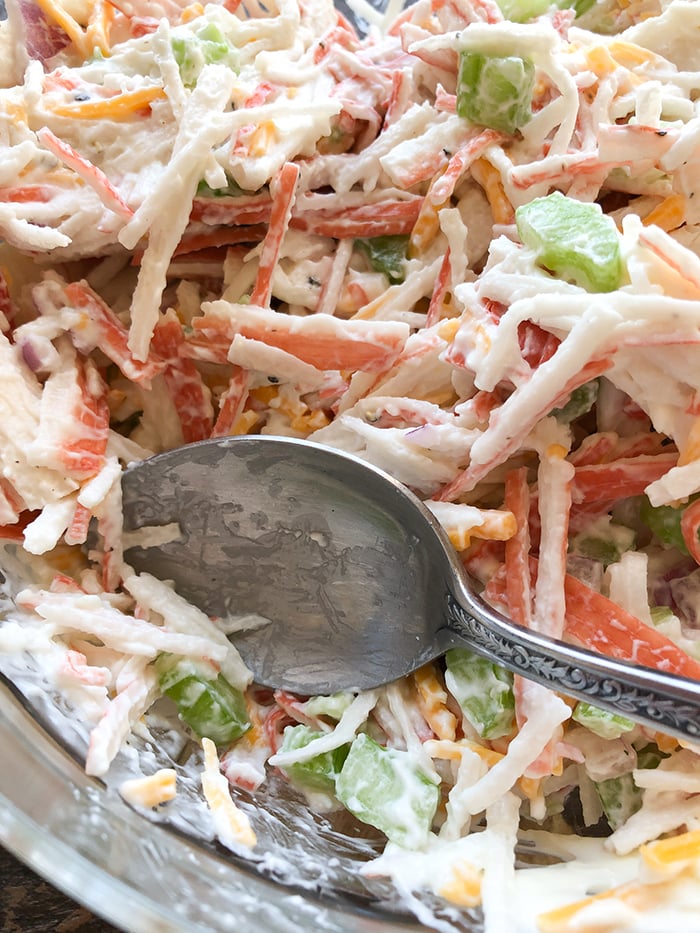 Learn how to make imitation crab salad just like at the deli counter!
I know what you're thinking, imitation wha?! Don't be frightened by the name because I explain what exactly imitation crab meat is below.
I always struggle with lunch and sometimes I never know what to make. I'll swing by the deli that's right by my Mom's house and grab a 1/2 pound of the Mock Crab Salad and a box of crackers. 1/2 pound is so easy to inhale and if you are low carb you could just eat the salad as is. Deli Crab Salad isn't even made with real crab meat it is made with imitation crab meat. Super cheap and it is easy. One seafood stick can easily be torn apart with your hand. I tried really hard to copy the Mock Crab salad recipe and I think I nailed it on the first try. I used two celery stalks, onion, greek yogurt, mayo, and lemon juice.
Serve these with some crackers on the side or on a bun.
What is in imitation crab meat?
In case your wondering what exactly is in imitation crab meat this is straight from Wikipedia. Crab sticks, krab sticks, imitation crab meat or seafood sticks are a type of seafood made of starch and finely pulverized white fish that has been shaped and cured to resemble the leg meat of snow crab or Japanese spider crab. So there is nothing bad in imitation crab meat just in case you're wondering.
Is imitation crab meat bad for you?
Imitation crab meat has quite a few  essential nutrients in it. This type of crab meat has protein, vitamin B12, and selenium. It is lower in calories and sodium than real crab meat and perfectly safe to eat.
Print
Imitation Crab Salad
Learn how to make imitation crab salad just like at the deli!
Author:
Prep Time:

10min

Total Time:

10min

Yield:

8

Category:

Lunch

Method:

Chop

Cuisine:

Salad
Ingredients
1 lb imitation crab meat
1/4 cup light mayo
1/4 cup of greek yogurt
1/2 of a lemon, juiced
1 to 2 celery stalks, finely chopped
1 cup of cheddar cheese
2 tablespoons of red onion, finely chopped
Salt and Pepper
Instructions
Dice the onions and celery really fine and add them to a bowl along with the rest of the ingredients for the salad. Squeeze 1/2 a lemon over the salad and mix again. Serve with crackers or just eat with a spoon.
Notes
1/4 cup per serving
4 smart points
Nutrition
Serving Size:

1

Calories:

146

Sugar:

2.9

Fat:

7.7g

Saturated Fat:

3.2g

Carbohydrates:

6g

Fiber:

.2g

Protein:

9.5g