If you're a fan of tuna salad or chicken salad to have as sandwiches for lunch, you are going to like this shrimp salad from Ina Garten. That is if you like seafood. I really love having sandwiches for lunch and this was really out of the norm for me and I really liked it. I've been becoming a bread snob lately. The bread that comes wrapped up and already sliced is not good bread. You know what I'm talking about. I like my bread crusty on the outside and soft on the inside so that butter fills in all those nooks and crannies. I got this ciabatta bread from Sam's Club and there were 2 very large loaves of it in the package. By the time I got to the second loaf, it was moldy and that made me sad. Does anyone have a trick for keeping this kind of bread fresh longer? Do you stick the bread in the freezer? Let me know in the comments below.
Every now and then there's a recipe I have to try from one of my favorite Food Network Chefs. My favs are Ina Garten, Ree Drummond, and Alton Brown to name a few. Ina Garten's recipes are really simple and easy to make. My favorite kind of recipe. Plus they contain a lot of flavors. This one caught my eye on Facebook and Food Network had posted a recipe video for it. It was one of those videos after watching it that made me automatically think "I have to try that!"
What to serve with Shrimp Salad
I served Ina's shrimp salad on top of Village Hearth Light bread for 1 smart point each. If you are low carb you can leave the bread out and use a lettuce wrap or just eat it the way it is. It is a salad after all!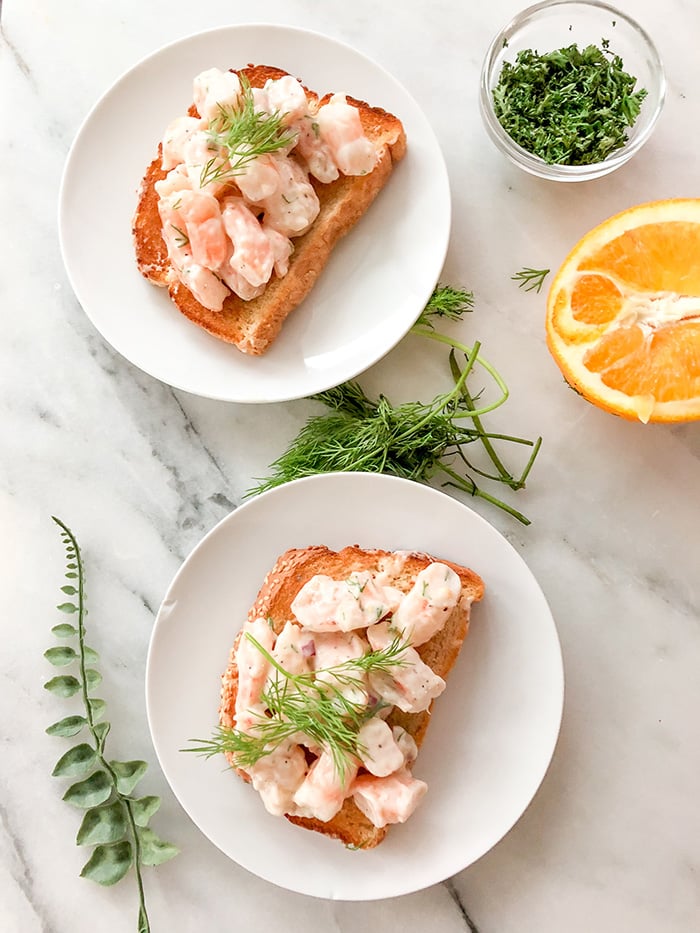 Print
Ina Garten's Roasted Shrimp Salad
---
Scale
Ingredients
2 ½

pounds (12 to 15 count) shrimp

1 tablespoon

good olive oil
Kosher salt and freshly ground black pepper

1 cup

good reduced-fat mayonnaise

1 tablespoon

orange zest (

2

oranges)

2 tablespoons

freshly squeezed orange juice

1 tablespoon

good white wine vinegar

¼ cup

minced fresh dill

2 tablespoons

capers, drained (I left out)

2 tablespoons

small-diced red onion
---
Instructions
Preheat the oven to 400 degrees F.
Peel and devein the shrimp. Place them on a sheet pan with the olive oil, 1 teaspoon salt and ½ teaspoon pepper and toss together. Spread the shrimp on one layer and roast for 6 to 8 minutes, just until pink, firm and cooked through. Allow to cool for 3 minutes.
Meanwhile, make the sauce. In a large bowl, whisk together the mayonnaise, orange zest, orange juice, vinegar, ½ teaspoon salt, and ½ teaspoon pepper. When the shrimp are cool, add them to the sauce and toss. Add the dill, capers, and red onion and toss well. The flavors will improve if you allow the salad to sit at room temperature for 30 minutes. Otherwise, chill and serve at room temperature.
---
Notes
myWW points: Blue 4; Green 6;  Purple  4
Disclaimer:  I am not affiliated with WW in any way. I am just a member who creates recipes based on their points system. If you have any questions related to the program go to their website. The recipe builder is what I use to figure out points. 
Nutrition
Calories:

249

Sugar:

1

Fat:

13

Saturated Fat:

0

Unsaturated Fat:

0

Trans Fat:

3

Carbohydrates:

4

Fiber:

0

Protein:

47