This pepper jelly glazed ham is perfect for the Holiday season! You can find pepper jelly at most grocery stores during this time of the year.
One thing I don't have a lot of recipes for on this blog is recipes for roasts such as ham, beef, chuck roasts, tenderloins, etc. I want to change that. The Holidays are coming up and you're probably looking for crazy good dinner recipe ideas for parties to serve.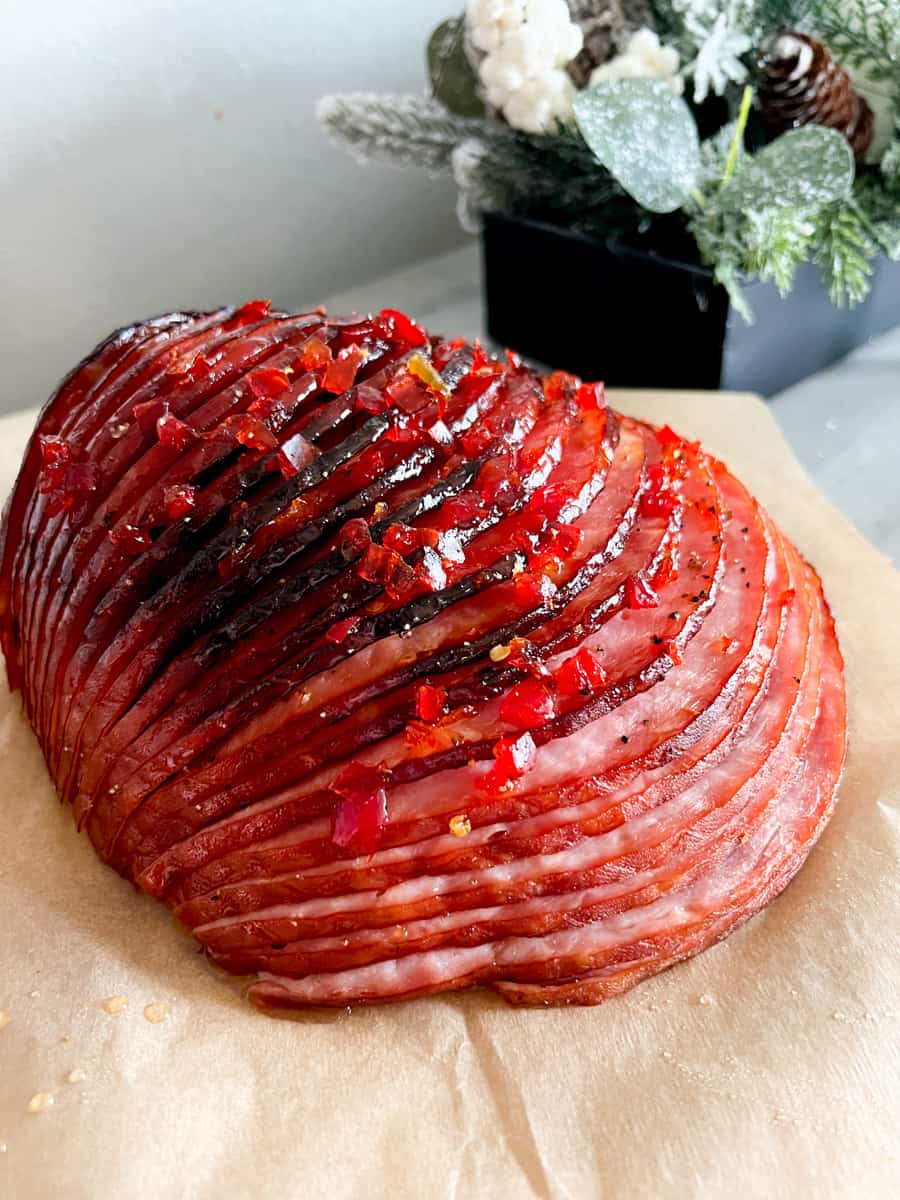 Different types of roasts are intimidating to me because they are hard to cook. You have to pay attention to the size, minutes per pound, and temperature. So, let's figure this stuff out together!
Why You Will Love This Recipe
A lot of the hams you see in the grocery store are already pre-cooked so you just have to warm them up! The key to cooking ham is 10 to 12 minutes per pound. This particular ham was only 3 pounds and it only took 20 minutes to warm up in my air fryer.
I made the glaze on my stovetop and brushed the ham during the last 10 and 5 minutes of cooking.
As most of you know Aldi is my favorite store and this week they have a pepper jelly glaze that I used for this ham. The glaze recipe was from one of Paula Dean's Christmas magazines.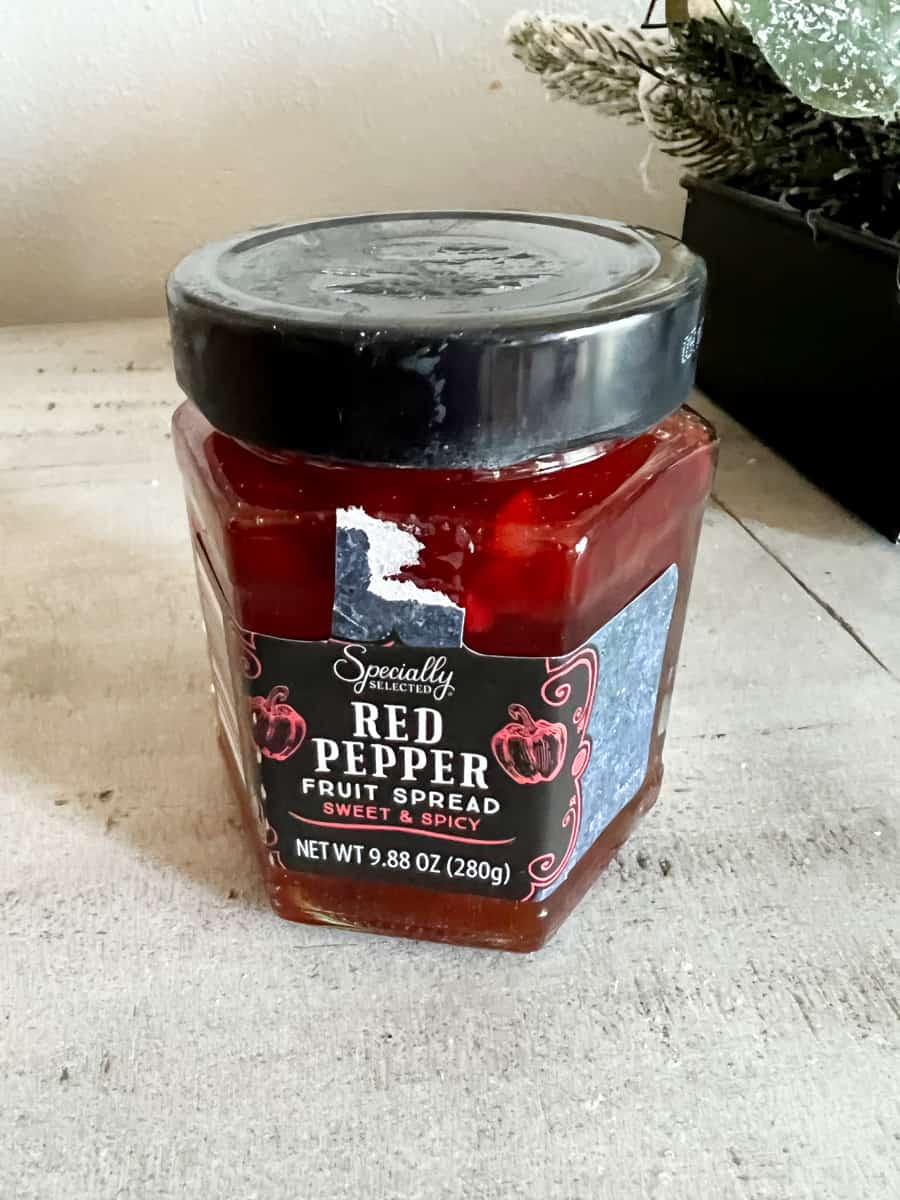 The leftovers are great for ham and cheese sandwiches!
Ingredients Needed
1 (3 to 8 pound) boneless smoked spiral ham
¾ cup red pepper jelly
¼ cup apple cider
2 tablespoons firmly packed light brown sugar
2 teaspoons kosher salt
1 teaspoon ground black pepper
1 teaspoon ground nutmeg
¼ teaspoon crushed red pepper flakes
Rosemary sprigs for garnish
How to Make
Position oven rack in bottom third of the oven. Preheat oven to 325.
In a 12-inch skillet, place ham, cut side down.
In a medium bowl, whisk together pepper jelly, cider, brown sugar, vinegar, salt, black pepper, nutmeg, and red pepper flakes.
Brush ½ cup of peppr jelly over the ham; reserve the remaining half cup Loosely cover the ham with foil.
Bake until an instant-read thermometer registers 130 degrees, about 2 ½ hours (8 pounds).
Increase oven temperature to broil. Uncover and brush the ham with the remaining ¼ cup of the glaze.
Brush the ham every 5 minutes until it's golden brown Let the ham stand for 20 minutes before serving Garnish the ham dish with fresh rosemary leaves (optional).
Air Fryer Ham
Place the ham in the basket on some foil. The pepper jelly glaze kind of drips and that will stop it from getting all over the bottom of the air fryer Set the temperature to 350 degrees. Set the timer for 20 to 30 minutes.
While the ham is cooking make the glaze.
During the last 10 to 5 minutes brush the glaze on top of the ham. Check for proper temperature doneness.
Tips for Cooking Roasts
Before deciding what type of roast to cook, check to see what temperature that roast needs to be cooked to and take a mental note of that.
Use an instant-read thermometer to check the temperature of the roast.
Find a roast pan for cooking medium to large-sized roasts in the oven. This one below I really like a lot.
Stainless Steal 13 x 16-Inch Roaster - Roast meat, poultry, and vegetables to perfection with this versatile roaster. Holding up to a 20-lb. turkey, the heavy-duty stainless-steel roasting pan features tall, straight sides, which help prevent splatters and spills, while its upright handles ensure a secure hold when transporting the pan to and from the oven, even when wearing thick oven mitts.
Storage Tips
Always store leftovers in clean, food-grade containers. The type of container doesn't really matter. Use zip lock, glass, plastic, whatever! Just make sure the food is sealed tight before storing in the fridge or freezer.
More Great Recipes to Try:
Please Let Me Know What You Think!
Be sure to leave a review of this recipe and give it a star rating. It lets us know how we are doing and lets others know they should try it!
I would love to see your creations on Pinterest. Upload them and leave a comment on my Pinterest page!
Are you on Instagram? Follow along and TAG US @recipediariesww
Have a Question or General Feedback?
Jump down to the COMMENT section and let us know! We would love to help and also love feedback on all of our posts.
Print
Pepper Jelly Glazed Ham
---
Author:

Jenna

Prep Time:

10min

Cook Time:

2 ½ hrs

Total Time:

2 ½ hrs

Yield:

10

to

12

1

x
Description
This pepper jelly glazed ham is perfect for the Holiday season! You can find pepper jelly at most grocery stores during this time of the year.
---
Scale
Ingredients
1

(3 to 8 pound) boneless smoked spiral ham

¾ cup

red pepper jelly 

¼ cup

apple cider

2 tablespoons

firmly packed light brown sugar 

2 teaspoons

kosher salt 

1 teaspoon

ground black pepper 

1 teaspoon

ground nutmeg 

¼ teaspoon

crushed red pepper flakes 

Rosemary sprigs for garnish 
---
Instructions
Position oven rack in bottom third of the oven. Preheat oven to 325.
In a 12-inch skillet, place ham, cut side down.
In a medium bowl, whisk together pepper jelly, cider, brown sugar, vinegar, salt, black pepper, nutmeg, and red pepper flakes.
Brush ½ cup of peppr jelly over the ham; reserve remaining half cup Loosely cover the ham with foil.
Bake until an instant-read thermometer registers 130 degrees, about 2 ½ hours (8 pounds).
Increase oven temperature to broil. Uncover and brush the ham with remaining ¼ cup of the glaze.
 Brush the ham every 5 minutes until it's golden brown Let the ham stand for 20 minutes before serving Garnish the ham dish with fresh rosemary leaves (optional)
---
Category:

Medium

Method:

Oven

Cuisine:

American
Keywords: pepper jelly glazed ham