Don't these sandwiches look elegant with the poppy seeds on top of them with the gooey melted cheese dripping down from the side?
I posted this recipe on my facebook page earlier this week and I just couldn't wait to try them. It's been quite a while since I've had a hot ham and cheese sandwich especially from Hardees. This hot ham and cheese sandwich did not disappoint. The flavored butter that goes on top of these is so flavorful and delicious.   I would make these for a potluck and keep them warm in a crock pot with some tinfoil covering them so the sandwiches don't get all soggy. These would also be great for gameday food. Soooo yumm I ate three of them and I'm thinking about making more for leftovers so that I just can heat them up for lunch next week.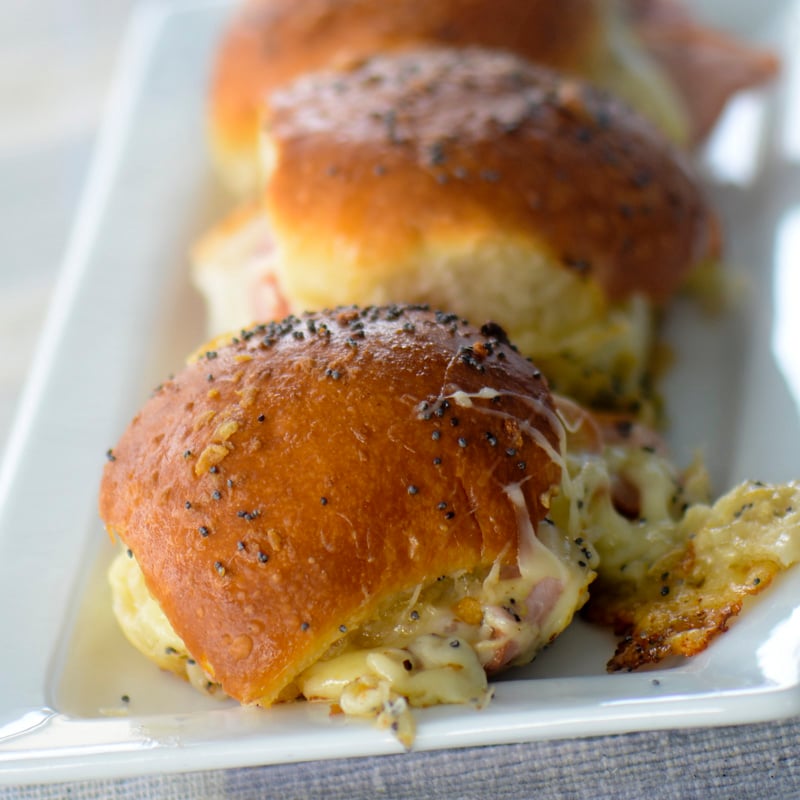 Print
Hot Ham and Cheese Sandwiches
Ingredients
For the butter
1 T. dried minced onions
2 tsp. prepared mustard
a splash or two of Worcestershire sauce
1/2 T. poppy seeds
1/4 C butter, melted
For the sandwiches
1 dozen dinner rolls or 2 dozen party rolls
Mayo
ham
sliced Swiss cheese (please, go for the real stuff!-no processed cheese here)
Instructions
Preheat oven to 350°. In a small mixing bowl mix onion, mustard, Worcestershire, poppy seeds, and melted butter. Leaving the dinner rolls intact, slice them open so that you have one solid top and bottom. Place the bottom half on a baking sheet. Spread rolls (top and bottom) with mayo. Line the bottom half of the rolls with ham and cheese. Return the top part of the rolls and brush the butter mixture evenly over top. Cover with foil and bake for 15-20 minutes or till warmed through. Separate with a sharp knife and serve.