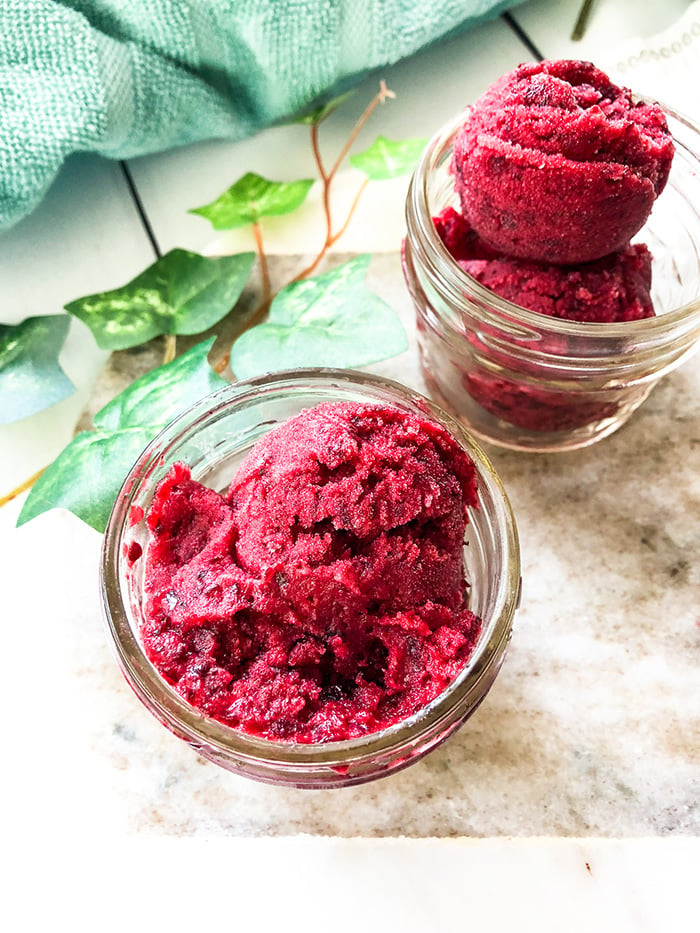 Sorbet is a pretty simple and easy process. Choose your choice of fruit and cut it up. Place the frozen fruit on a sheet pan and freeze it for 2 to 4 hours. Make some simple syrup which is just sugar and water combined in a pan and heated up, until the sugar has dissolved. You can use a food processor or blender to puree the fruit and season it with whatever you like. I prefer citrus. That gives it a nice fresh flavor. Sorbet is also dairy free and is a great alternative to people with dairy sensitivity.
Totally perfect for really hot days like today!
Once you have the process down, it's fun to experiment with the different types of fruit out there.
Print
3 Ingredient Cherry Sorbet
Ingredients
3 cups of pitted cherries (see notes)
1/2 cup of water
2 tablespoons of sugar
1 lime, juiced
Instructions
Pit your cherries and place them on a sheet pan. Freeze for up to 4 hours.
In a small saucepan, combine the water and sugar. Heat up the sugar and water over medium-low heat until the sugar has dissolved and set aside.
Take out a blender or food processor and add the frozen fruit, plus 2 tablespoons of simple syrup and 1 tablespoon of lime juice. Puree until well blended. Add to an 8 X 8 loaf pan and freeze.
Notes
Smart Points: 2 
Makes 8 servings (divide into 8 equal portions)
Fruit is zero points on Weight Watchers but when it is blended, it is more. FYI.