Cake mix and canned pumpkin are two ingredients that can be combined to create a delicious and easy dessert. The combination of the two creates a moist and flavorful cake that is perfect for fall or any time of the year.
To make this dessert, simply mix one box of cake mix with one can of pumpkin puree until well combined. Pour the mixture into a greased baking dish (muffin or donut pans) and bake at 350 degrees Fahrenheit for 25-30 minutes, or until a toothpick inserted in the center comes out clean. This dessert can be served plain or topped with whipped cream or frosting for added sweetness. Enjoy!
This recipe is so versatile it can be turned into bars, cake, muffins, or donuts.
If you have been following me on Instagram lately, I have been posting recipes you can make with a box of cake mix (15.25oz) and 1 150z can of pumpkin. People loved it! This pumpkin recipe is simple and only requires 2 ingredients. All the other ingredients listed in the recipes below are OPTIONAL which can fool a lot of people into thinking that this recipe is more than 2 ingredients. The keyword above is optional folks.
If you like pumpkin desserts for Fall try Pumpkin Muffins with Chocolate Chips, Pumpkin Fluff, or Skinny Pumpkin Pie Bars.
Jump to:
What can you make with these 2 ingredients?
So far, I've made muffins, donuts, whoopie pies, and sheet cake. Cake mix and canned pumpkin are the 2 BASE ingredients. Again, all the other ingredients mentioned in the recipes are optional and are just ideas you can add to the recipe in case you think it needs to be doctored up a little.
Pumpkin Whoopie Pies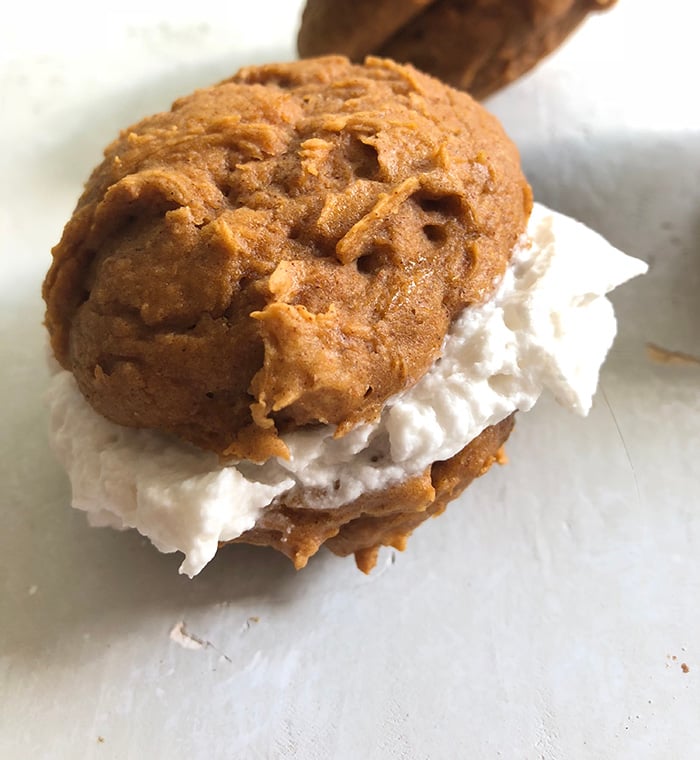 Pumpkin Donuts
For the cinnamon sugar mix that you use for the donuts, it is best to dip them when the donuts are warm. Feel free to use a sugar substitute to help keep the points at 3.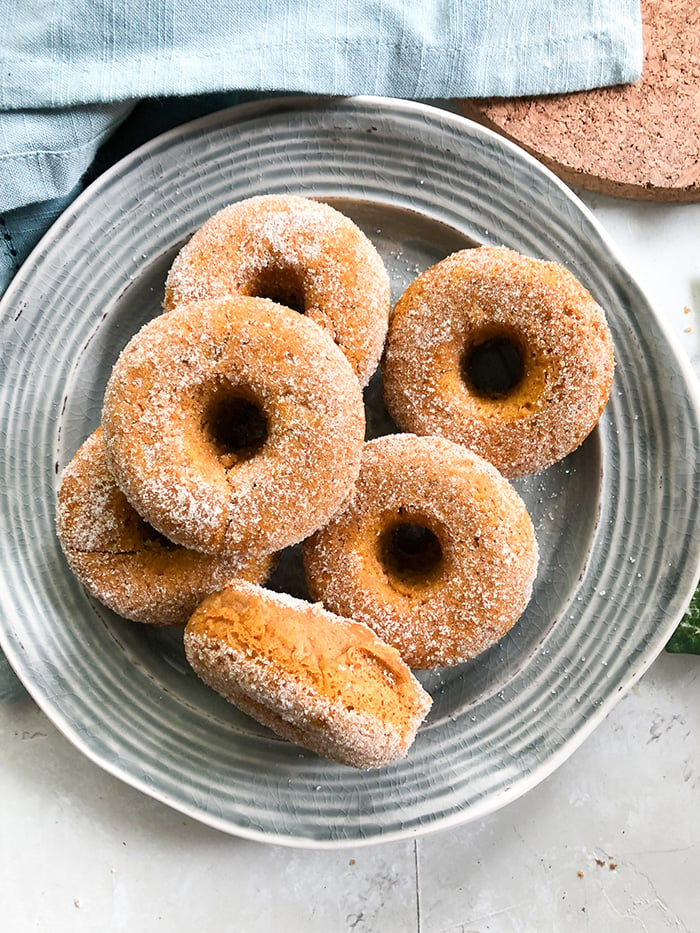 Pumpkin Chocolate Chip Bars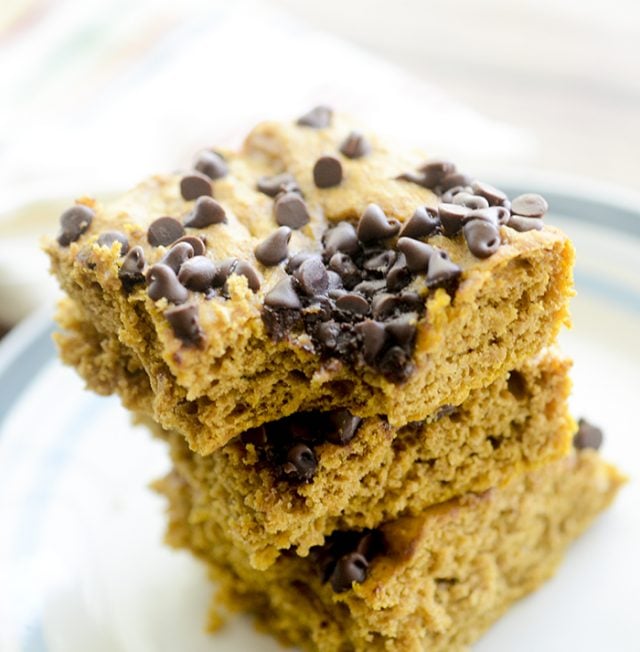 Some ingredients such as egg and water help the batter consistency and type of dessert you are making.
Chocolate Chip Pumpkin Muffins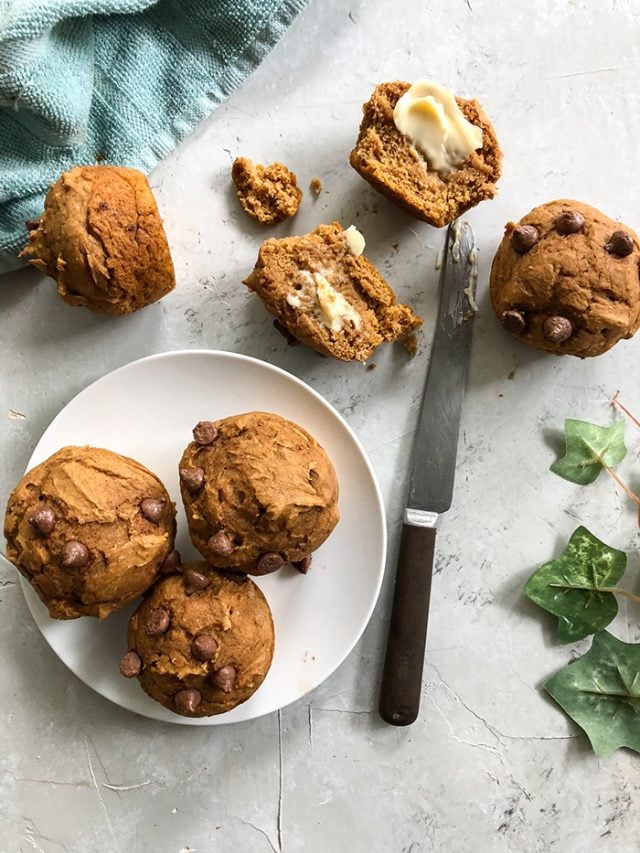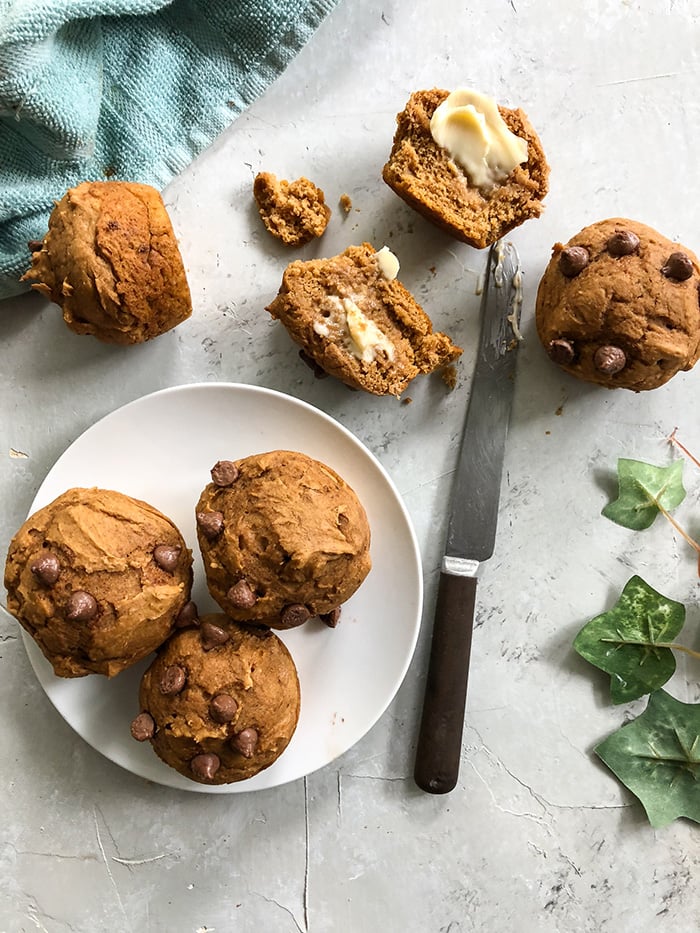 This recipe for pumpkin muffins is really stupid easy. The recipe makes 24 muffins/cupcakes and the base which is cake mix and canned pumpkin is only 3 points. If you add the chocolate chips the total will be 4 points.
Weight Watchers Pumpkin Chocolate Chip Muffins
Number of Servings
Depending on how you divide the number of servings per recipe the points can vary. 24 servings are 3 points. 48 servings are 2 points. You figure out cake mix points by what the box says per ounces. In the recipe builder there is an option for oz if you look for yellow or chocolate cake mix.
Recipe FAQS
Can I use sugar-free cake mix?
Yes, you can but from what people are telling me on Instagram there is not a sugar-free spice cake mix flavor out there. You can, however, use yellow or chocolate sugar-free cake mix.  Add a little cinnamon or pumpkin spice to the batter, but that is optional as well. So many options! Please use your recipe builder to figure out the points. I'm not a fan of sugar-free cake mix.
How do you store these?
Whenever I make a batch of these muffins, I will only make half of the recipe at a time so I am not wasting a whole lot of muffins before they start getting bad in the fridge.
How do you figure out points for recipes? 
The recipe builder app from WW is what I use to figure out points for all my recipes. It comes with your WW membership. I would suggest entering my recipes into the builder once you've tried it and liked it. That way you can easily track your day. It is also helpful to use if you have a question about the points regarding a recipe. 
Why am I still getting different points from what you have listed? 
This could be quite a number of reasons and here are a few that I have come across. 
Number of servings 
Low-Fat vs Fat-Free ingredients
Zero Point foods are different for all 3 plans 
Using the nutrition info calculator instead of the recipe builder  
If you tried this 5 Easy Recipes Using Canned Pumpkin and Cake Mix orany other recipe on my website, please please leave a 🌟 star rating and let me know how you go in the 📝 comments below. I love hearing from you! Follow along on Tiktok @jennarecipediaries
Print
5 Easy Recipes with Cake Mix and Canned Pumpkin
---
Author:

Jenna

Prep Time:

10 min

Cook Time:

12-15 min

Total Time:

25 min

Yield:

24

1

x
Description
This pumpkin recipe is simple and only requires 2 ingredients. All the other ingredients listed in the recipes below are OPTIONAL 
---
Scale
Ingredients
Base Recipe 
1 15 oz box of spice cake mix
1 15 oz can of pumpkin
½ cup of water (does not count as an ingredient)
Pumpkin Muffins 3 Points, 24 muffins
Chocolate Chips (optional)
Whoopie Pies 
1 can of Dairy-Free Almond Reddi Wip (filling)
Pumpkin Spice Donuts 
¼ cup of sugar (optional) 
1 teaspoon cinnamon (optional) 
Pumpkin Chocolate Chip Bars 
1 egg
½ cup mini chocolate chips
Pumpkin Cupcakes 
Frosting:
1 15 oz can of pumpkin
1 1 oz box of instant vanilla pudding mix(sugar-free)
¼ teaspoon of pumpkin pie spice
1 container of cool whip
---
Instructions
Muffins or base recipe: Mix all the base ingredients together in a bowl. Fold in chocolate chips (optional) to the batter.  Line a cupcake pan with cupcake liners and scoop the batter into each cupcake liner. Bake at 350 for 12 to 15 minutes. Do not add any of the other ingredients on the back of the box. Just the 3 base ones. 
Makes 24 muffins, 3 smart points each 
Whoopie Pies: Using a tablespoon, scoop the batter on to cookie sheets lined with parchment paper. Bake at 350 for 12 to 15 minutes.
Makes 4 dozen cookies: 3 smart points 
Donuts: Add about 2 tablespoons of cake mix into each donut pan hole and bake them in the oven for 12 to 15 minutes at 350 degrees. Continue with the rest of the batter. In a small bowl combine the sugar and cinnamon. Dip each side of the donut into the cinnamon and sugar mix. Enjoy. Smart Points per donut 3. You can spoon the batter into the donut pan or use a ziplock bag and cut a hole in the bag to pipe the batter into the pan. Makes 24 donuts 3 smart points per donut
Pumpkin Chocolate Chip Bars: In a bowl, mix together to the cake mix, pumpkin, and egg until well combined. Spray a 9 X 13 pan with cooking spray. Spread the cake mix batter onto the pan. Sprinkle the chocolate chips all over the pan. Bake at 350 for 30 minutes or until a tooth pick comes out clean. Makes 24 servings 4 smart points per bar
Pumpkin Cupcakes 
Mix together cake mix and pumpkin puree. Add in about ¼ cup of water if the consistency is too thick or if you please. Divide batter in muffin tins. 
Meanwhile, mix together a box of instant vanilla pudding (dry) and 1 can of pumpkin puree until the instant pudding is dissolved. Add in ¼ teaspoon of pumpkin pie spice. Gently, fold in the whole container of cool whip. Once the cupcakes have cooled, frost the cupcakes with the pumpkin fluff frosting. Enjoy! Makes 24 cupcakes, Smart Points 4 (1 cupcake)
---
Notes
Points listed above includes all 3 WW plans
Category:

Easy

Method:

Oven

Cuisine:

American
Keywords: 2 ingredient pumpkin muffins