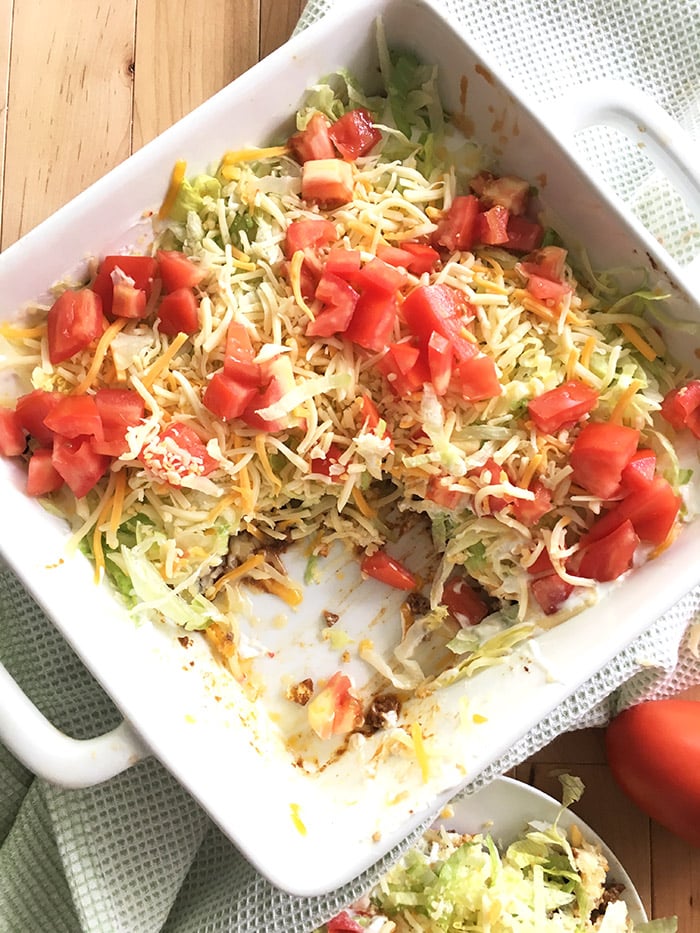 Taco Casserole – this taco casserole is made with layers of taco seasoned ground beef, a layer of baking mix, and taco toppings! Easy to throw together and great for a pot luck or Taco Tuesday. 
My family loved this taco casserole recipe that my Aunt Carol had made for lunch on Saturday. Everyone was raving about it and how good it was. I asked her where she found the recipe and she said "Pinterest." LOL, go figure right? Everyone uses Pinterest to find recipes online these days, and why not? It's a great search engine.
I did a quick search on Pinterest and found this recipe for Taco Casserole  from Lil Luna. It was the closest one I could find to her recipe (which used biscuit baking mix). Below, there's several different options on how you can prepare this Taco casserole using ground beef, turkey, or chicken. A lot of people like lower point options for their recipes when following Weight Watchers. I just prefer the taste of ground beef better, compared to ground chicken or turkey. If I had to choose between chicken or turkey I would choose ground turkey.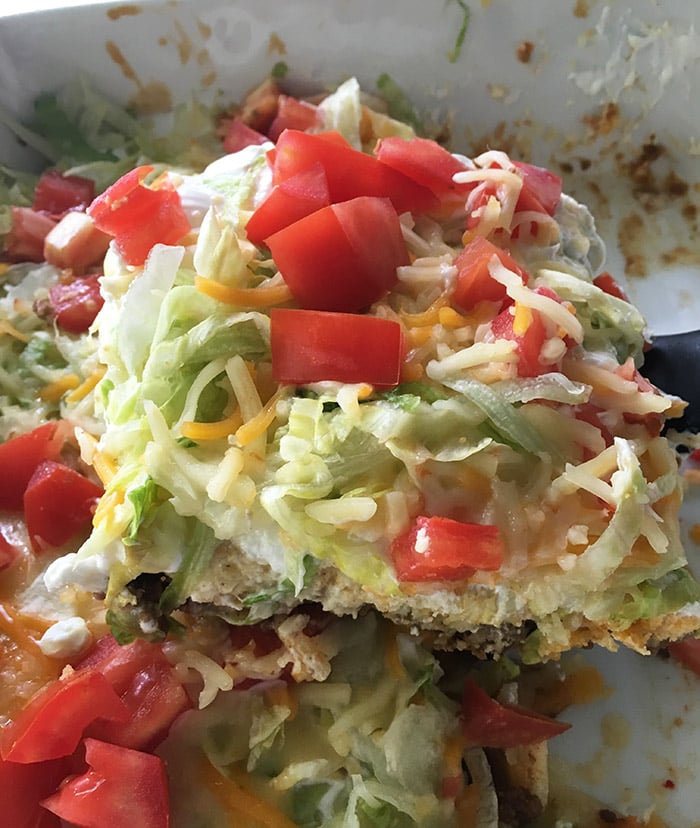 Print
Easy Taco Casserole Bake
Ingredients
1 lb 93% ground beef *see notes
1 packet low sodium taco seasoning such as Mrs. Dash
2 large eggs
1/4 cups 1% milk
10 tablespoons of baking mix (an All Purpose Baking Mix or Biscuit Mix is fine)
dash pepper
1/4 cup greek yogurt
1 cups chopped lettuce
1/4 – 1 cup chopped tomato
1 cups fat free  cheddar cheese or Monterey jack cheese (points figured using FF cheddar)
Instructions
INSTRUCTIONS
Preheat oven to 400.
Cook ground beef over medium heat in a large skillet until no longer pink. Drain any fat and add taco seasoning. Whatever package says to use. 🙂
Spray the 9X9 pan with cooking spray and add the ground beef to the pan.
Beat eggs and milk in a large bowl. Stir in biscuit mix and pepper and mix until combined well. Pour over meat and bake until golden brown (about 20-25 minutes).
Let cool for a few minutes and then spread on greek yogurt.
Top with lettuce, cheese, and tomatoes. Serve warm and ENJOY!
Recipe adapted from lil Luna
Notes
If you don't like how high this taco casserole recipe is in points use either 99% ff ground turkey or chicken. I used ground beef in my recipe.
Makes 4 servings (divide into 4 equal pieces)
9 Smart points using ground beef
4 smart points using ground turkey
4 smart points using ground chicken
I halved the recipe to only make 4 servings. To make 8 servings, double the recipe.
Nutrition
Serving Size:

1

Calories:

346

Sugar:

2

Fat:

13

Saturated Fat:

5

Carbohydrates:

17

Fiber:

0

Protein:

39