These Hoison and Honey Glazed chicken thighs are bursting with Asian flavor and are ready in under 25 minutes with the help of your air fryer! No air fryer? Don't worry. There are instructions for oven and slow cooker below.
I have been recently going through all my older recipe posts that I believe can be cooked in air fryer like these chicken thighs, and adding the cooking instructions to the recipe below. If the recipe recently called for oven instructions I left that in there as well because some people do not have an air fryer.
Any type of chicken comes out great in the air fryer and that is how I've been cooking chicken breasts lately. I decided to give chicken thighs a try and pretty much the same result. Juicy, tender, and flavorful chicken breasts. Instead of just seasoning the chicken thighs with an ameture seasoning like lemon pepper or just plain old salt and pepper try this marinade instead. If you are worried about getting the basket all sticky from the marinade they do make parchment paper specific for air fryers now.
Chicken Thighs Cooking Guide Air Fryer
Bone-in 380 for 22 minutes
Boneless 380 for 18 to 20 minutes
I bought 2 3.5 pound packages of chicken thighs at the grocery store for only $4.00 today. That's 7 pounds of chicken for $8.00. Be expecting some chicken recipes. I was in the mood for some BBQ chicken tonight. There was a bottle of Brown Sugar BBQ sauce in the fridge that I contemplated using, but I had recently bought a bunch of Asian ingredients like Hoisin sauce and grated ginger. This BBQ sauce has hoisin, honey, garlic, grated ginger, and sesame oil. There's a little bit left over for dipping, and this is really good with some baked sweet potato fries. I used chicken thighs but the recipe calls for wings. Feel free to use which ever one you like. 🙂
What is an Air Fryer?
An air fryer is a kitchen appliance that cooks by circulating hot air around the food using the convection mechanism. It is a downsized version of the convection oven.
Is air fried food healthy?
When you compare air fried food to deep fried food it is much healthier because there is hardly any oil used at all. The only oil I use is from my Pam cooking spray. I spray only the food once or twice because most air fryer baskets are non stick. If you are concerned about using aerosol sprays for the environment or your health buy a Misto Brushed Aluminum Oil Sprayer can from Amazon and fill that with your favorite oil.
What are the Best Large Size Air Fryers?
If you are researching air fryers and looking to buy the best ones out there on the market I have tried and tested 2 different ones before. If you want to be able to cook more food for your family at once then get an air fryer with a large basket such as 5.3 quarts. Look for ones that say nonstick on them and has multiple program settings.
Power XL Air Fryer 5.3 Quart Basket.
EFFORTLESS COOKING: Our 5.3QT Power Air-Fryer comes in handy in preparing amazing meals from your cookbook, and frying a variety of dishes, such as: French fries, chicken, steak, roasts, fish tacos and sticks, waffle fries, pies, pudding and donuts. Make yourself feel like a professional chef in your kitchen with the digital air fryer that can easily replace baking pans, deep fryers, a grill pan, convection toaster oven or any one of your kitchen appliances.
FEATURES: 5.3 Quart Easy Load Basket with Non Stick Coating; 7 Preset Programs with easy one-touch digital control let you Roast, Air Fry, Bake, Steam, Saute and Grill; Digital Timer with automatic Shut Off; Manual Time and Temperature programming option; 1700 Watts of Turbo-Cyclonic Power; Super Heated Air heats up to 400 degrees, cool to the touch easy grip handle.
GoWISE USA 1700-Watt 5.8-QT 8-in-1 Digital Air Fryer
Air fryer temperature settings vary according to brand and model. If your air fryer does not have the exact temperature setting called for in the recipe, consult your manual for suggested temperature settings.
More Air Fryer Recipes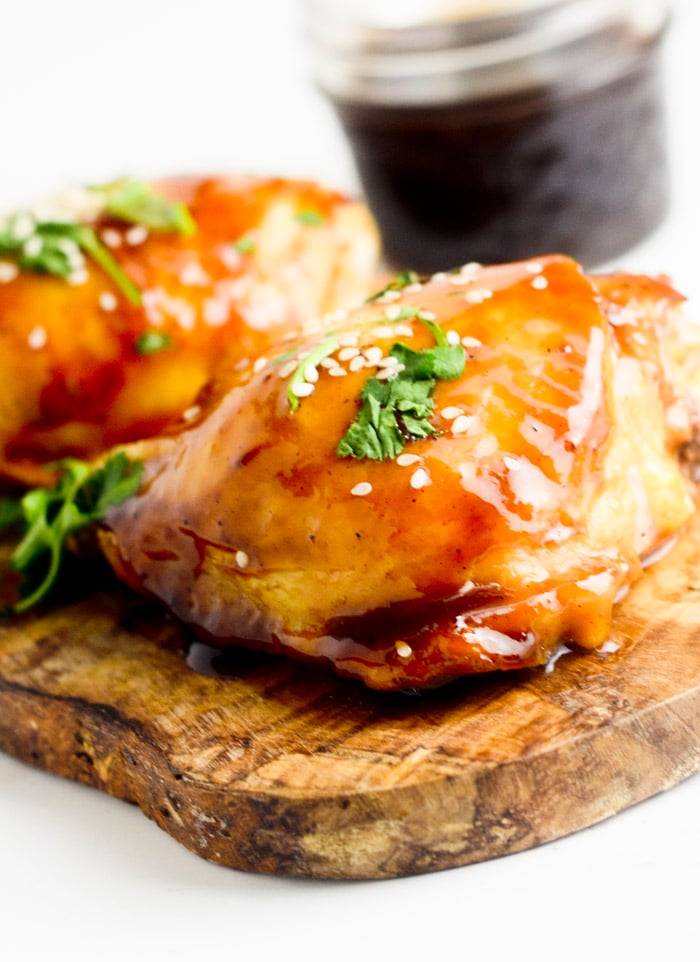 Print
Air Fryer Hoisin-and-Honey Glazed Chicken Thighs
---
Author:

Jenna

Prep Time:

2 min

Cook Time:

22 min

Total Time:

25min

Yield:

8

1

x
Description
These Hoison and Honey Glazed chicken thighs are bursting with Asian flavor and are ready in under 25 minutes with the help of your air fryer! No air fryer? Don't worry. There are instructions for oven and slow cooker below.
---
Scale
Ingredients
8

chicken thighs bone in skin on

½ cup

of hoisin sauce

¼ cup

honey

1 tablespoon

grated fresh ginger

1 tablespoon

toasted sesame oil

4

cloves garlic, minced
sliced green onions or chopped cilantro
sesame seeds
---
Instructions
In a medium bowl combine the hoisin sauce, honey, ginger, sesame oil and garlic Add chicken thighs; stir to coat.  Toss the chicken with the sauce in a bowl.
If you are using an oven: Place the chicken thighs on a lined baking sheet with foil and bake at 375 for for 20 to 25 minutes.
If you are using an air fryer: Place the chicken thighs

 into the bottom of the 

AirFryer

cooking compartment. Cook for 22 minutes at 380 degrees or until the

chicken

reaches 180 degrees.

Slow Cooker Instructions:  Add the chicken thighs to the bottom of your slow cooker. Cover and cook on low heat setting for 4 - 5 hours.
Use sliced green onions and sesame seeds for garnish.
Serving size: 1 chicken thigh. 
---
Notes
myWW points: Blue 11; Green 11;  Purple 11
Category:

Dinner

Method:

Air Fryer

Cuisine:

Asian
Nutrition
Serving Size:

1 chicken thigh

Calories:

245

Sugar:

7

Fat:

15

Saturated Fat:

26

Unsaturated Fat:

2

Carbohydrates:

13

Fiber:

1

Protein:

16
Keywords: Air Fryer, chicken thighs