This will be the last recipe post coming from this house. My whole kitchen is inside boxes right now and the movers are coming at 10am Wednesday morning CST. The only kitchen appliance I have out right now is my air fryer and nonstick skillet. I'll have a post update about moving coming on Saturday.
Did you have a good Thanksgiving? It came and went fast and now pumpkin season is over with. As a food blogger, you kind of get burnt out on seeing all the posts related to pumpkin. Especially Thanksgiving dishes. By the time Thanksgiving rolls around I'm ready to order a pizza. My man friend came over and we had this lovely shepherd's pie. He loved it and prefers shepherd's pie over pot pie. The only difference between the two is that pot pie is made with pie crust and shepherd's pie is mashed potatoes. I like both, but if I had to choose I'd pick shepherd's pie any day.
This is super duper easy to make.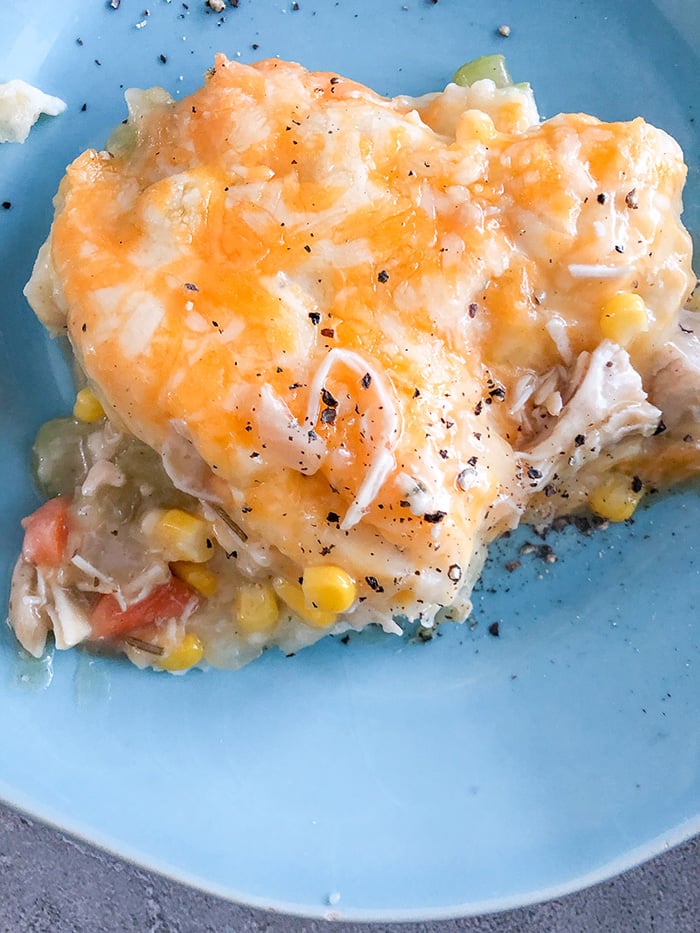 Chop up any leftover vegetables you have on hand. Carrots, Onions, Celery… Dice the turkey into cubes. Cook the veggies in a skillet with a little bit of butter.
Add in turkey and gravy. The gravy can be leftover but I just used some store-bought gravy.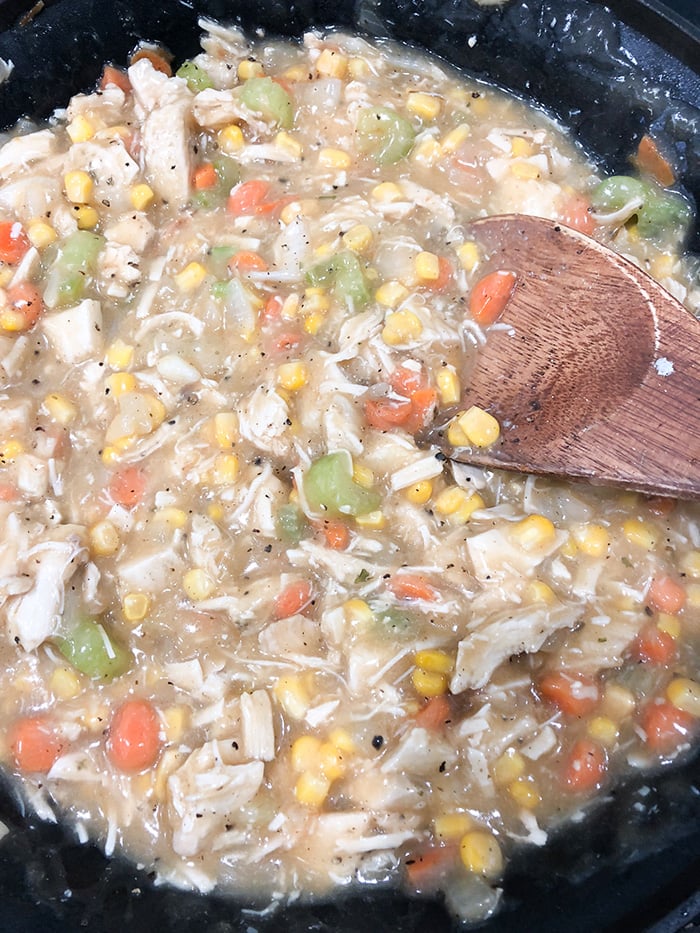 Pour the contents in the skillet into a casserole dish and spread any leftover mashed potatoes on top.
Top with cheese and heat up in the oven. This was so stinking good and would make any meat and potato lover happy. I'm going to start adding this to my menu rotation more. Enjoy!
Do you like the process shots? Let me know. I'll try to add more to the post if I don't have a video.
Print
Leftover Turkey Shepherds Pie
Author:
Prep Time:

10min

Cook Time:

30min

Total Time:

40 minutes

Yield:

8

Category:

Dinner
Ingredients
1/2 cup of chopped carrots
1/2 cup of chopped celery
1/2 cup of chopped onion
1/2 cup of frozen corn
2.5 cups of leftover chopped turkey (99% fat-free cooked)
2 12 oz jars of chicken gravy
2 tablespoons of light butter
Salt and pepper to taste
2 1/4  cups of leftover mashed potatoes (see notes)
1 cup of Monterey Jack cheese (reduced-fat)
Instructions
Chop the  Carrots, Onions, Celery… and add the vegetables to a skillet with a little bit of butter. Cook on medium heat for  5 to 7 minutes
Add in corn, cubed turkey, and gravy. Stir until heated through 2 or 3 minutes
Pour the contents of the skillet into a casserole dish and top with mashed potatoes and cheese.
Bake for 30 to 35 minutes.
Notes
Smart Points: 7 (1 cup per serving)
See my recipe for my mashed potato recipe here