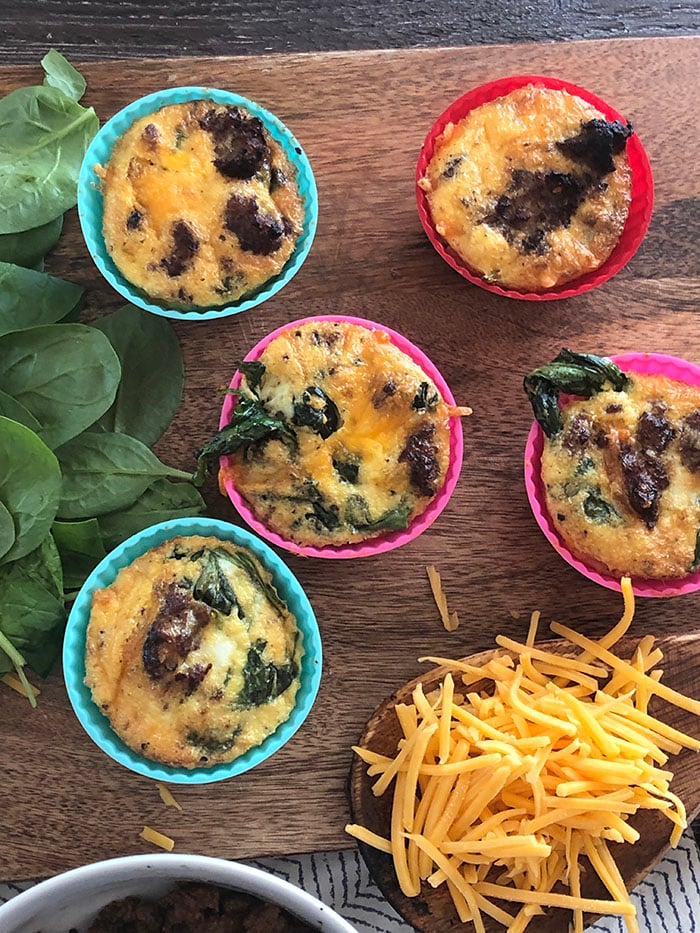 Ladies and gentlemen, I present to you air fryer egg cups that are Keto and Low Carb. They are great on the go breakfast option. You can meal prep these egg cups on a Sunday afternoon or whenever you meal prep and store them in some glass containers. When you are ready to eat them place them in the microwave and heat them up for 1 to 2 minutes. I have quite a few egg cup recipes on this site and these recipes can also be made in the air fryer.
I have made sausage and cheese egg muffins in my muffin tin before (baked in the oven and they are kind of a hassle getting them out. These silicone muffin cups are a breeze to clean up and the eggs come out super easy!

It amazes me every day the recipes or food you can make and lately I've been experimenting with my silicone egg cup molds that came with my air fryer accessory kit. You can use these molds to also make muffins or cupcakes. Check out my recipe for air fryer chocolate cake.
How to Cook Eggs in Air Fryer
There are quite a few different methods for cooking eggs in your air fryer. I am very familiar with making hard-boiled eggs in my air fryer but I was curious if there were other ways or methods to use and sure enough there are!

Any dish that you can use in an oven you can basically use in your air fryer such as ramekins or silicone muffin cups (aka silicone egg cups). You just have to make sure it fits inside your air fryer. Each cooking time will vary for both but I like the silicone egg muffin cups. They came with my air fryer accessory kit and it took me long enough to use these. Easy cleanup and the egg cups came out perfectly. No hassle at all.
Air Fryer Eggs Using Ramekins If you wish to cook your egg cups in a ramekin set your temperature to 300 degrees and set the timer for 12 minutes. Can fit about 2 ramekins in a 5 quart air fryer.

Air Fryer Egg Cups using Silicon Muffin Cups - Since these silicone cups are kind of smaller the cooking time will be less. I had a lot of success setting my air fryer temperature to 300 degrees and cooking them for 10 to 12 minutes. One time I tried the temperature at 400 degrees and the tops of the egg cups were almost burnt. It wasn't pretty. I cut the top off and just ate the bottom. 🙂 My 5 quart air fryer fits up to 6 silicone muffin cups.

Air Fryer Silcone Egg Bite Mold
Air Fryer Silicone Muffin Cups

How to get Sous Vide Eggs in Air Fryer
Ever heard of the famous Sous Vide Egg Bites that Star Bucks has? I've been seeing those all over Pinterest. Sous-vide, also known as low temperature long time cooking, is a method of cooking in which food is placed in a plastic pouch or a glass jar and cooked in a water bath for longer than usual cooking times at an accurately regulated temperature.

If you wish to have air fryer sous vide style egg bites use a silicone egg bite mold. Mix the ingredients for the egg mixture and pour it into the egg bite mold. Place the mold into your air fryer basket. So simple I've tried using both silicone egg muffin cups and the silicone egg bite mold. Tada!
Weight Watcher Egg Cups

The great thing about eggs are that they are zero points on Weight Watchers. You can fill these egg cups up with all sorts of zero-point veggies such as mushrooms, tomatoes, bell peppers, spinach, etc. For protein options, you can use turkey sausage or turkey bacon with low-fat cheddar cheese.

Air Fryer Egg Cups Variations
Spinach, Tomato, and Ricotta
Spinach and Mushroom
Ham and Cheese
Southwestern - black beans, corn, tomatoes, and cheese
What is an Air Fryer?
An air fryer is a kitchen appliance that cooks by circulating hot air around the food using the convection mechanism. It is a downsized version of the convection oven.

Is air fried food healthy?
When you compare air fried food to deep-fried food it is much healthier because there is hardly any oil used at all. The only oil I use is from my Pam cooking spray. I spray only the food once or twice because most air fryer baskets are nonstick. If you are concerned about using aerosol sprays for the environment or your health buy a Misto Brushed Aluminum Oil Sprayer can from Amazon and fill that with your favorite oil.
Print
Air Fryer Egg Cups
---
Author:

Prep Time:

5 minutes

Cook Time:

12 minuts

Total Time:

17 minutes

Yield:

8

1

x
Description
Ladies and gentlemen, I present to you air fryer egg cups that are Keto and Low Carb. They are great on the go breakfast option.
---
Scale
Ingredients
6

large eggs

½ cup

of heavy cream
(use lowfatmilk for WW)

½ cup

of cheddar

½

pound of breakfast sausage

1 tsp

of olive oil

1 tsp

of garlic

2 cups

of spinach
---
Instructions
Heat a nonstick skillet to medium-low.
Add ground breakfast sausage and cook for 12-16 minutes or until cooked through and browned. Crumble the sausage with a wooden spoon or cooking utensil of choice.
Remove the breakfast sausage from the skillet. Let the sausage cool.
Add 1 teaspoon of olive oil and garlic to the skillet. Cook until the garlic is fragant and Add the spinach to the skillet and cover; allow to cook 5 minutes. Take the spinach out of the pan let it cool like you did with the sausage.
In a medium bowl add the eggs and milk and whisk until combined. Fold in the cheddar, breakfast sausage, and spinach.
Place the silicone muffin cups into the air fryer basket and set the temperature to 300 degrees. Fill the cups with the egg mixture (do not overfill). I used a measuring cup to fill the muffin cups.
Set the air fryer time to 12 minutes.
I had egg mixture left over after only cooking six egg cups at a time. My air fryer basket only fit 6 muffin cups in there without overflowing. Will have to cook in batches if there is any leftover.
Serving Size: 1 egg cup 
---
Notes
myWW points: Blue 2; Green  4;  Purple  2
My WW Personal Points: 3 Click here to see in recipe builder (will have to log in) 
Category:

Breakfast

Method:

Air Fryer

Cuisine:

American
Nutrition
Serving Size:

1 egg muffin or cup

Calories:

230

Sugar:

1g

Fat:

19g

Saturated Fat:

7g

Unsaturated Fat:

4g

Carbohydrates:

4g

Fiber:

0g

Protein:

10g
Keywords: air fryer breakfast egg cups, air fryer egg cups, air fryer eggs