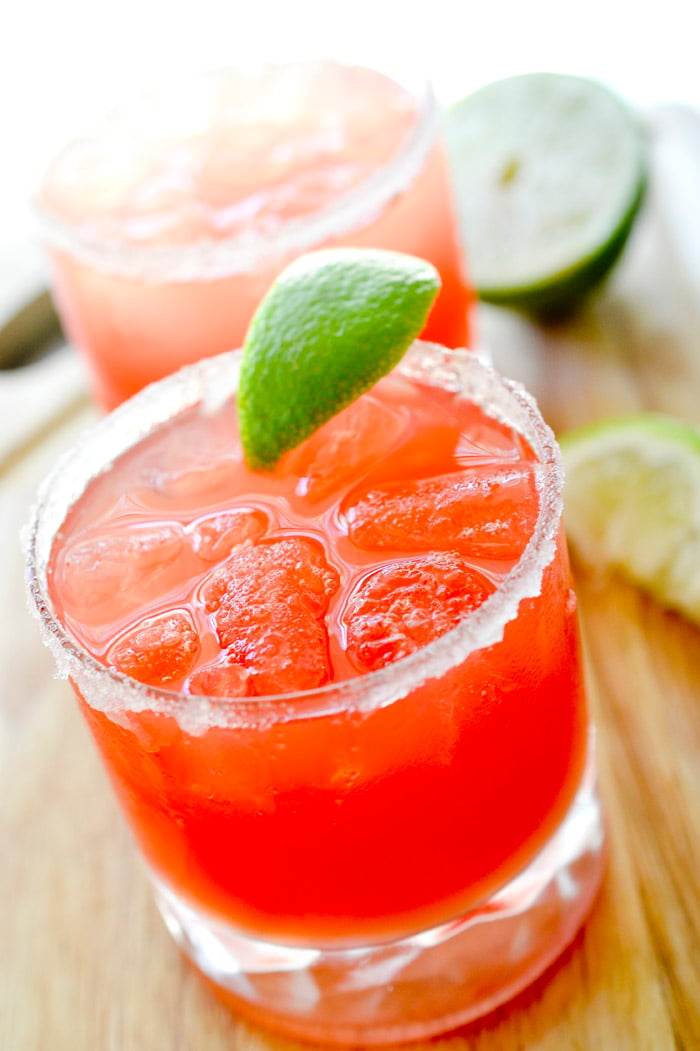 This has been the perfect birthday weekend! It kicked off Friday night at a friend's house watching the movie Frozen. I finally got to see what all the hooplah was about, and  I liked that movie a lot. On Saturday, I got together with a bunch of friends and family and played Bingo at Lucky 13's. We didn't win anything, but quite a few of us were close. I'm surprised I was able to still play Bingo, considering the fact, that I had a huge punch bowl. I ended up getting some awesome presents too. My brother got me a kitchen blow torch for my birthday, so I can make things like Creme Brulee and toast marshmallows. Excited to try making that. I also got some flowers, a Ouija board, some new work out clothes, and some new sandles. Happy Birthday to me!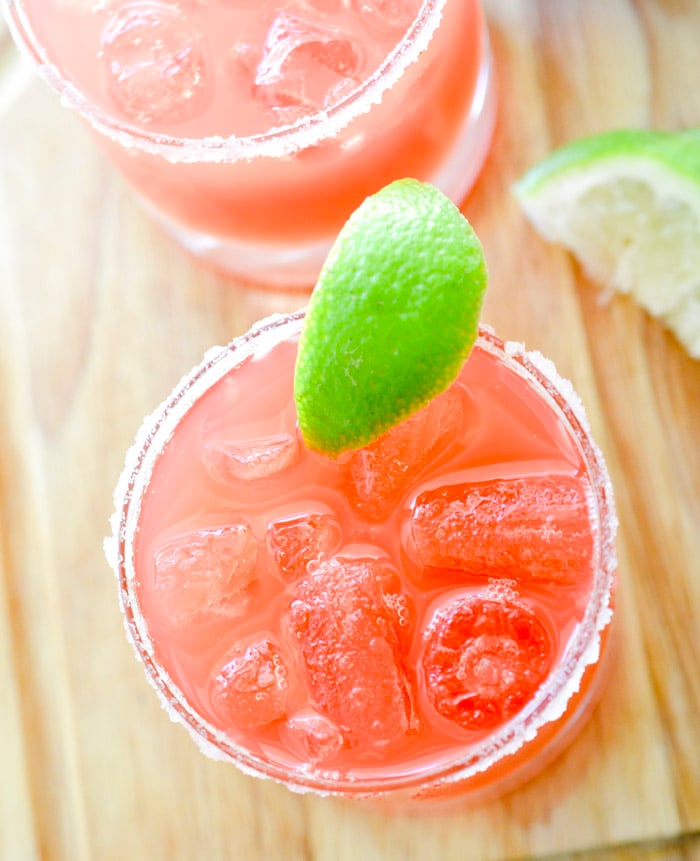 Now it's Sunday, and I'm still drunk with these Watermelon Margaritas. Heck, I don't have to work tomorrow because our Birthday is considered a Holiday at my work place. It's a 3 day weekend for me! The key to a good Watermelon margarita is finding the sweetest watermelon you can find. Usually, to look for a really ripe watermelon, I was told to look for a yellow bottom. That means it's been sitting out in the field longer so it's sweeter. If anybody else has any tricks for finding a fresh watermelon, please feel free and leave a comment below.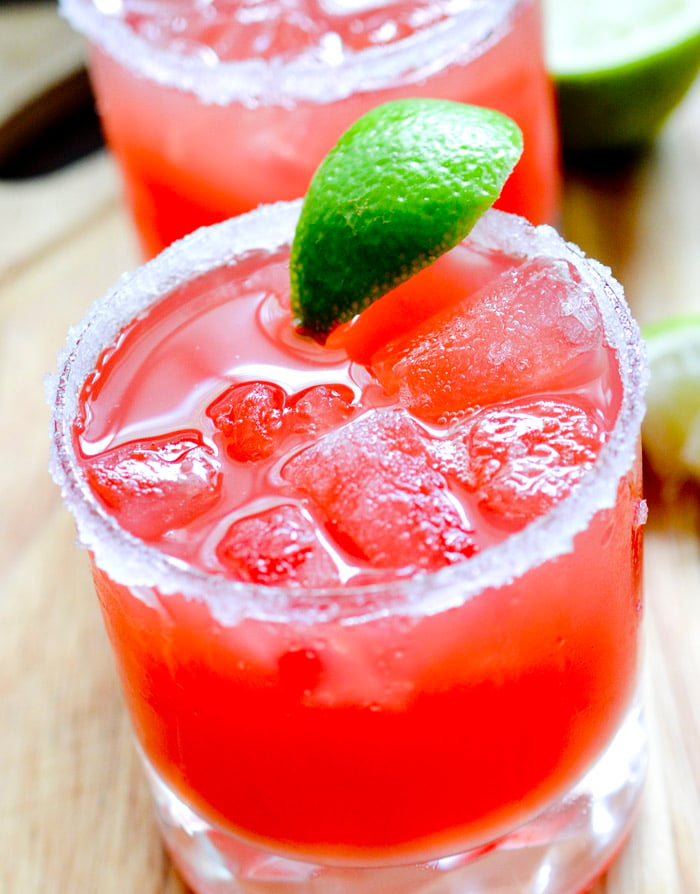 Print
2 Point Watermelon Margaritas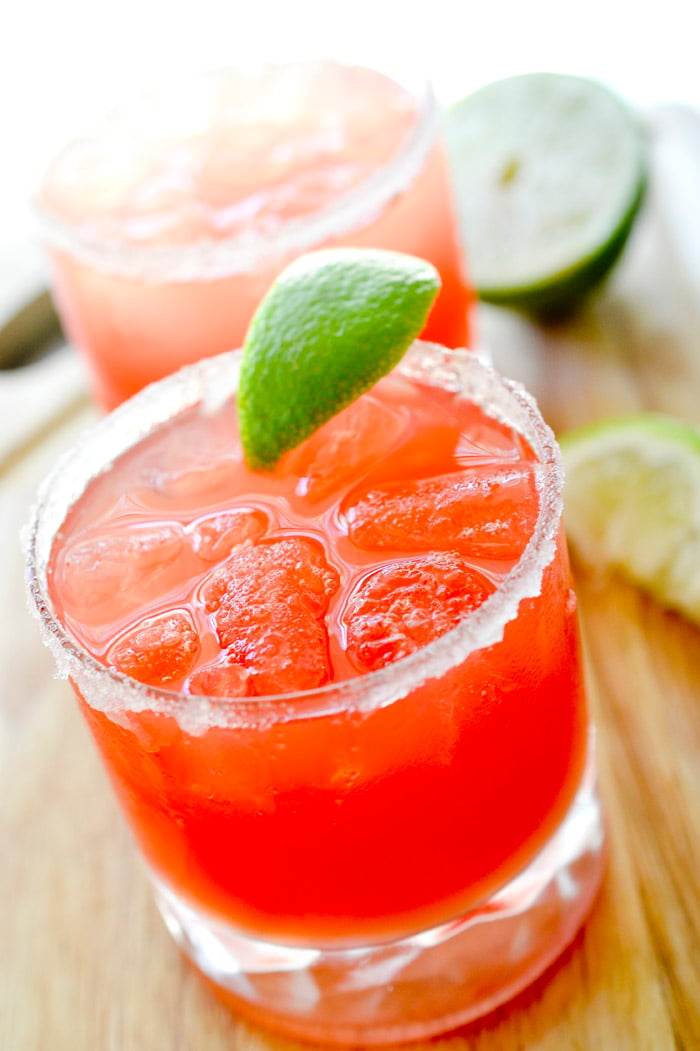 Ingredients
2 teaspoons sugar
1 lime wedge
3 1/2 cups cubed seeded watermelon $
1/2 cup tequila
2 tablespoons sugar
3 tablespoons fresh lime juice
1 tablespoon Triple Sec (orange-flavored liqueur)
Lime wedges or watermelon balls (optional)
Instructions
Place 2 teaspoons sugar in a saucer. Rub the rims of 6 glasses with 1 lime wedge; spin rim of each glass in sugar to coat. Set prepared glasses aside.
Combine watermelon and next 4 ingredients (through Triple Sec) in a blender; process until smooth. Fill each prepared glass with 1/2 cup crushed ice. Add 1/2 cup margarita to each glass. Garnish with lime wedges or melon balls, if desired.
Notes
1 Margarita is 2 WWP+
Smart Points: 4 
Recipe adapted from Cooking Light
Nutrition
Serving Size:

6

Calories:

105

Fat:

.2

Carbohydrates:

14.1

Fiber:

.4

Protein:

.6