I have a LONG list of reasons why October is the best month ever.
1. The Walking Dead
2. Reign and the Vampire Diaries
3. The leaves changing color
4.Decorating for Halloween
5. Clearing out my liquor cabinet for making Halloween and Fall cocktails
6. Wearing layers. Leggings, tunics, long cover ups, and boots!
7. Getting high off the Fall scented candles at Bath and Body Works
8. Picking out my pumpkins in the garden
9. Baked goods with pumpkin in them. Seriously, my Pinterest feed is covered in that.
10. Did I mention the Walking Dead comes back on?
There's probably more, but I think you get the point.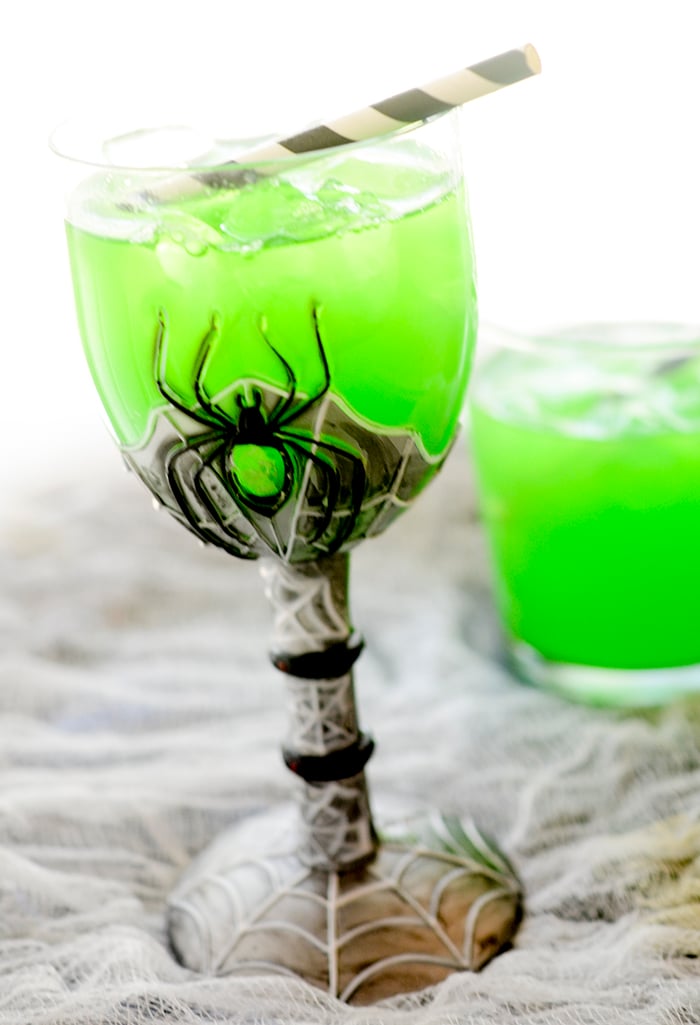 Do you like my glass? I got that at Spirit Halloween a couple of years ago. The green spider on the glass goes really well with the green cocktail doesn't it? I'm not suggesting you go out and buy the glass to go a long with the cocktails. Any type of martini glass will be fine.
To make this cocktail just dissolve the gelatin in a large bowl with boiling water until you can see no more of gelatin mixture. Let that cool and add in the pineapple juice, lime soda and vodka. The vodka is optional for the kiddos. Serve over ice or with a black and white striped straw. Some black licorice would be a fun garnish with this drink as well.
Print
Witch's Brew Cocktail
---
Scale
Ingredients
1

(6 oz) package lime gelatin – the jello does not harden!!!

2 cups

boiling water

3 cups

chilled pineapple juice

1

(2 liter) bottlechilled lemon-lime flavored soda or 1 (

2

liter) bottle ginger ale

2 cups

chilled vodka (optional)
---
Instructions
Pour the gelatin mix into a large bowl. Slowly stir in the boiling water. Stir at least 2 minutes, until the gelatin is completely dissolved.
Stir in the pineapple juice, the entire 2 liter of soda and the vodka. Let cool to room temperature.
---
Nutrition
Calories:

156

Fat:

0

Carbohydrates:

38.4

Fiber:

.1

Protein:

1.4