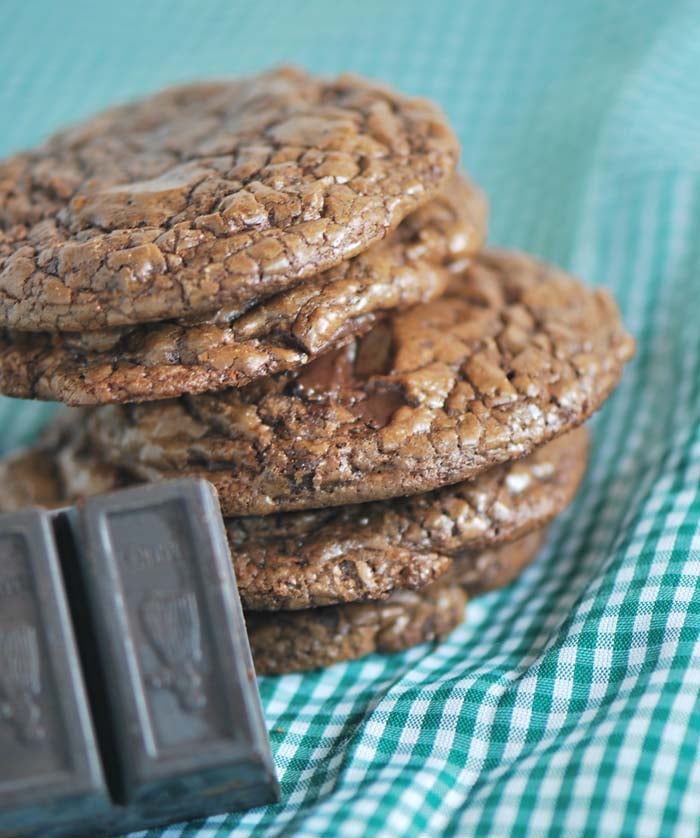 Valentine's Day is coming up, and you know what that means. CHOCOLATE! Alton Brown's very last episode of Good Eats was on Friday night and he made these cookies. I'm very sad to see him not making any more shows anymore. He's one of my favorites on Food Network. My husband and I knew we had to make these the next day after we saw that episode. Getting all the chocolate was kind of expensive, but it's well worth it in the end.
There's 4 different kinds of chocolate in these cookies, well 5 actually. We couldn't find cocoa nibs at all so I just threw in some extra dark chocolate. I thought I wouldn't like the bittersweet and dark chocolate together but I did. These were fantastic. If you're craving chocolate or need something to make for your sweetie on Valentine's day these will hit the spot. Who care's if your on a diet right? Valentine's day is the day to indulge, especially with chocolate! 😉 If you're wondering where to find the different kinds of chocolate we found them in the organic section of our grocery store.
On a side note, I tried making some Jamaican food tonight. It didn't turn out quite like the chef's did in the cooking class I attended. Something was missing and I'm pretty sure I put all the right stuff in there. I don't even know what the recipe was called either. I'll try making something easier that has a recipe for it. 🙂 We were supposed to get it before we left for our trip home, but we never did.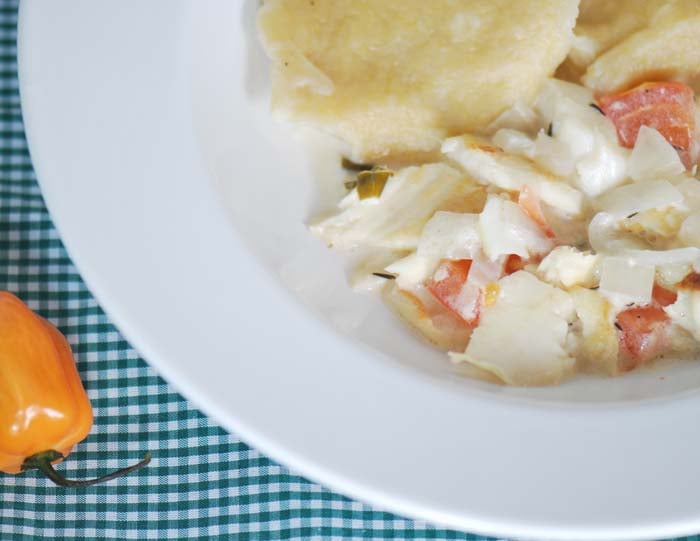 This was supposed to be Johny cakes, which are Jamaican dumplings and a fish soup with onions, green onions, garlic, tomatoes, scotch bonnet peppers, and coconut milk in it. I think maybe I should have used fresh thyme too because I just had dry in the house. The johny cakes were good but needed more salt.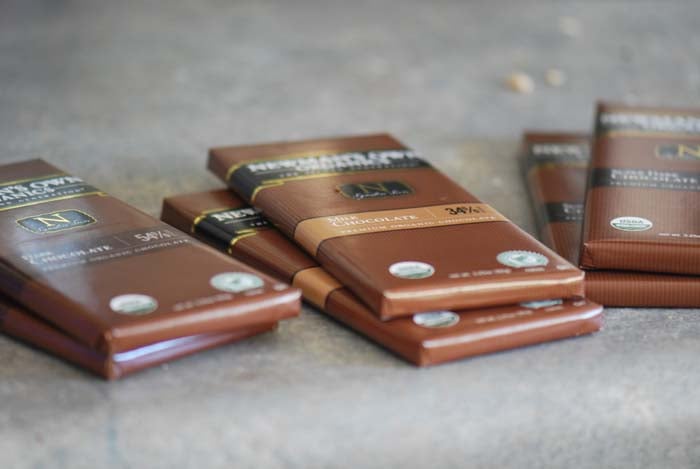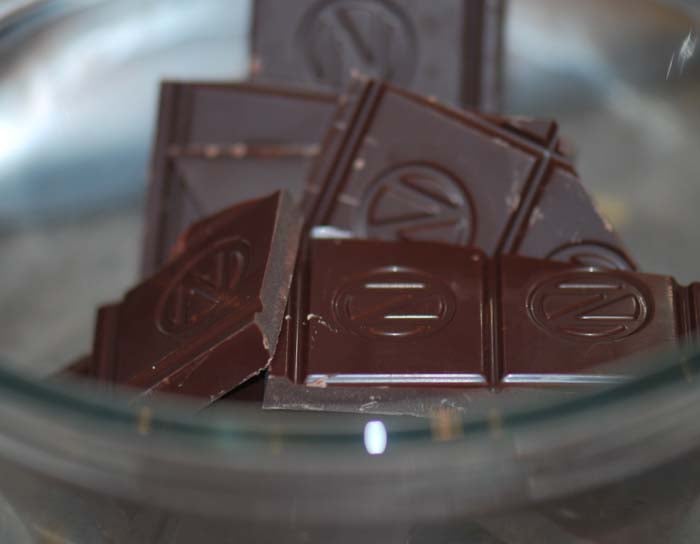 Servings: 55
Calories 38.7 | Fat 2.0 g | Carbohydrate 4.9 g | Fiber 0.2 g | Protein 0.5 g
Points Plus: 1 per cookie
Ingredients:
6 ounces 54-percent bittersweet chocolate, coarsely chopped
2 ounces unsweetened chocolate, coarsely chopped
1 3/4 ounces all-purpose flour
1/2 teaspoon baking powder
1/2 teaspoon kosher salt
4 tablespoons unsalted butter, at room temperature
6 ounces light brown sugar
2 large eggs, at room temperature
1 teaspoon vanilla extract
3 ounces 70-percent bittersweet chocolate, coarsely chopped
3 ounces 40-percent milk chocolate, coarsely chopped
2 ounces cocoa nibs
Directions
Place the 54-percent bittersweet chocolate and unsweetened chocolate in a medium glass mixing bowl and microwave on high for two 30-second intervals, stirring after each interval. If still not smooth heat for 10 additional seconds at a time and stir until smooth. Set aside to cool to 90 degrees F, approximately 15 minutes.
Whisk the flour, baking powder and salt together, transfer to a paper plate and set aside.
Put the butter and sugar in the bowl of a stand mixer fitted with the paddle attachment. Beat on medium speed until combined and looks like wet sand, about 2 minutes.
Whisk the eggs and vanilla together in a small bowl. Turn the mixer on low speed and slowly add the egg mixture until fully incorporated. Pour in the melted chocolate and mix to combine. Stop and scrape down the sides of the bowl.
With the mixer on low speed, add the flour mixture and mix until integrated. Add the 70-percent bittersweet chocolate, 40-percent milk chocolate and the cocoa nibs and mix until combined.
Cover the bowl with plastic wrap and refrigerate for 45 minutes.
Preheat the oven to 350 degrees F.
Scoop the dough using a 1 1/4-inch-diameter disher or ice cream scoop onto parchment-lined half-sheet pans, placing 2 inches apart, 12 cookies per pan. Bake for 8 to 9 minutes, rotating after 5 minutes. Do not over-bake; the cookies may look wet and doughy.
Cool the cookies on the pan for 2 minutes, then transfer on the parchment paper to a cooling rack to cool completely.