Air Fryer Bacon – You'll never want to bake bacon in your oven again!
Over the past couple of days, I've been trying many different methods for cooking bacon. There's baking bacon in the oven, cooking bacon on a stove top, and even in your microwave to name a few different methods…. Since moving into my new house I have to be careful whenever I cook bacon because the smoke detector always goes off. One time, I had my oven set to over 400 degrees and right as I opened the oven door I heard beep beep beep. The smoke detector is even on a high vaulted ceiling as well. This even happens when I'm cooking bacon in my air fryer. The smoke or steam comes out of the air fryer and reaches the smoke detector. To prevent this from happening, I need to move my air fryer to a different room other than the kitchen in order to cook bacon in the air fryer because it lets off so much steam! Don't let this scare you from trying out bacon in your air fryer! I have a safe way below.
Also, since moving into my new home, I've had to buy a new fryer and I recently just purchased a Power XL 5.3 QT air fryer. I love it because the basket itself is so much bigger than my old one. P.S I had to get rid of my old air fryer because the steam vent in the back of the air fryer was starting to melt. In the past couple of years, I've had about 3 different ones, and I'm ok with that because an air fryer is a kitchen tool that I use daily now. I don't care if it has to be replaced and I almost get excited whenever I can by one. So far this Power XL air fryer has done really well and no problems with it yet.
For more air fryer recipes be sure to check out Bacon Wrapped Chicken Breasts, Everything Bagel Chicken Tenders, Air Fryer Chicken Quesadillas, and Air Fryer Chicken Cordon Bleu.
How long to cook bacon in the air fryer?
Lay strips of bacon out onto the bottom of your basket. Set your air fryer to 350 degrees and follow the cooking times for different cuts of bacon below. If the bacon isn't crispy enough for you set the timer for 2 minutes longer. You can use a wire rack below to keep your bacon from flying around in the air fryer. If you don't have one, no problem.
Regular Bacon – 8 to 9 minutes
Thick Cut Bacon – 10 – 12 minutes
Turkey Bacon – 8 to 10 minutes
What can I make with air fryer bacon?
Bacon can be made with so many things and be added to so many dishes. It's like the food that makes anything taste 10 times better. Try some of these ideas if you have plenty of leftover air fried bacon.
Deviled Eggs – use bacon as a garnish on top
BLT Sandwiches or Club Sandwich
Air Fryer Bacon and Egg Toasts
Bacon Cheddar Fries – use leftovers for garnish on top
Add to Omelets, Salads, Potato Salad, Wraps, or on top of Pizza
Tips for the best Air Fryer Bacon
Do I have to preheat the air fryer?
Every air fryer is different and some don't require preheating and some do. Just follow the cooking instructions that came with your air fryer to see if it needs to be preheated.
How to prevent bacon from smoking? Cook the bacon inside some parchment paper. Or, you can add some water to the bottom of the basket or rock salt.
Can I use turkey bacon? Yes, it's the same cooking time as regular bacon in the air fryer.
What air fryers are the best?
I've had 3 or 4 different air fryers or the past 5 years and each one of them has worked very well with the air fryer recipes on this site. If you want to be able to cook more food for your family at once then get an air fryer with a large basket such as 5.3 quarts. Look for ones that say nonstick on them and has multiple program settings.
Power XL Air Fryer 5.3 Quart Basket. – This was my very first air fryer.
Our 5.3QT Power Air-Fryer comes in handy in preparing amazing meals from your cookbook, and frying a variety of dishes, such as: French fries, chicken, steak, roasts, fish tacos and sticks, waffle fries, pies, pudding and donuts.
Ninja Foodi Grill and Air Fryer – This air fryer works very well too but the air fryer setting doesn't go below 300 degrees. If there's a recipe that calls for lower temperatures you have to use the bake setting. It air frys, roasts, grills, and dehydrates food.
Cosori 4 Qt Air Fryer– This air fryer doesn't require any preheating and has several different functions for cooking chicken, meat, frozen foods, etc. There are 5 different functions.
GoWISE USA 1700-Watt 5.8-QT 8-in-1 Digital Air Fryer
Air fryer temperature settings vary according to brand and model. If your air fryer does not have the exact temperature setting called for in the recipe, consult your manual for suggested temperature settings.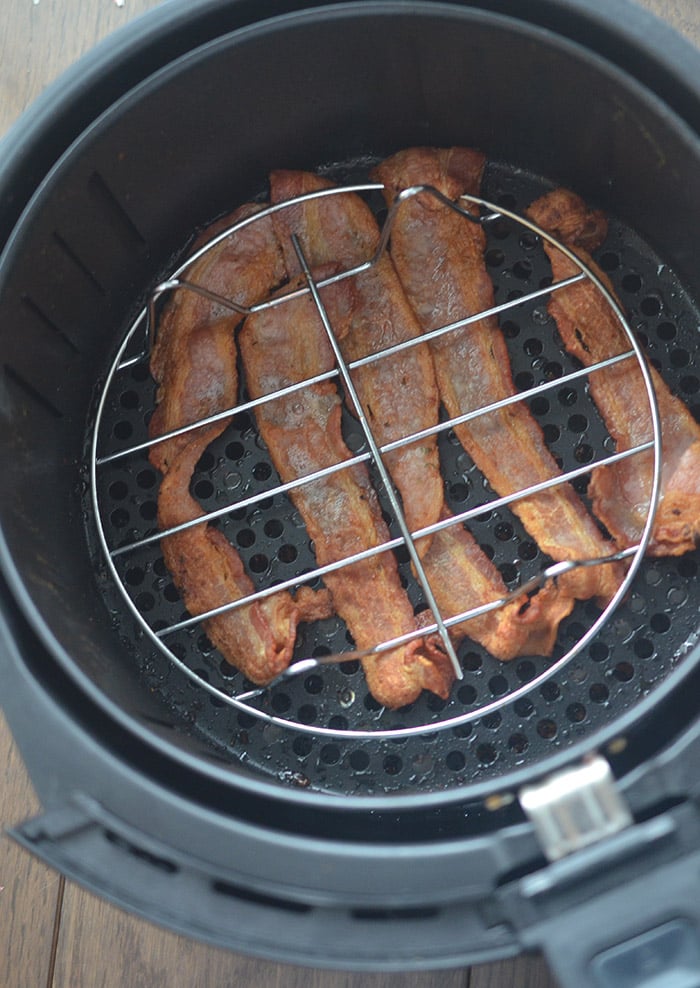 Other air fryer recipes
Air Fryer Garlic Parmesan Knots
The Best Air Fryer Whole Chicken
Air Fryer Chik Fil A Spicy Chicken Sandwich
This youtube video shows you how to make Candied bacon but it basically is the same process. Just cook it for 8 minutes instead of 12 if not using any brown sugar. Check out my youtube channel.
Print
Air Fryer Bacon
---
Author:

Prep Time:

1 min

Cook Time:

7 to 9 minutes

Total Time:

50 minute

Yield:

6

1

x
Description
Air Fryer Bacon – You'll never want to bake bacon in your oven again!
---
---
Instructions
Place the bacon in the bottom of your air fryer basket. I have a 3.5 quart air fryer and was able to get 6 strips of bacon on the bottom. Place the wire rack over your bacon that came with air fryer. This is optional. If you don't have a wire rack that came with your air fryer, then you don't need one.
Cook at 350 for 7 to 9  minutes. Open up the air fryer and flip the bacon. Put the air fryer basket back in and cook for another 3 minutes or until however crispy you like your bacon.
---
Notes
myWW points
Blue Points: 5; Green Points: 5;  Purple Points:5
Category:

Side

Method:

Air Fryer

Cuisine:

American
Nutrition
Serving Size:

1 slice

Calories:

37

Sugar:

.1

Saturated Fat:

2.8

Carbohydrates:

.1

Fiber:

0

Protein:

2.7