Air Fryer Bacon – You'll never want to bake bacon in your oven again!
Over the past couple of days, I've been trying many different methods for cooking bacon.  There's baking bacon in the oven, cooking bacon on a stove top, and even in your microwave to name a few different methods…. Since moving into my new house I have to be careful whenever I cook bacon because the smoke detector always goes off. One time, I had my oven set to over 400 degrees and right as I opened the oven door I heard beep beep beep. The smoke detector is even on a high vaulted ceiling as well. This even happens when I'm cooking bacon in my air fryer. The smoke or steam comes out of the air fryer and reaches the smoke detector. To prevent this from happening, I need to move my air fryer to a different room other than the kitchen in order to cook bacon in the air fryer because it lets off so much steam! Don't let this scare you from trying out bacon in your air fryer! I have a safe way below.
Also, since moving into my new home, I've had to buy a new fryer and I recently just purchased a Power XL 5.3 QT air fryer. I love it because the basket itself is so much bigger than my old one. P.S I had to get rid of my old air fryer because the steam vent in the back of the air fryer was starting to melt. In the past couple of years, I've had about 3 different ones, and I'm ok with that because an air fryer is a kitchen tool that I use daily now. I don't care if it has to be replaced and I almost get excited whenever I can by one. So far this Power XL air fryer has done really well and no problems with it yet.
How to cook bacon safely in the air fryer?
If you're worried about the steam setting off your smoke alarm as it did to me you can protect your bacon with some aluminum foil. Aluminum foil is safe to use in an air fryer. I'd wrap the bacon up in the foil to protect from any splattering. If you use foil this will also protect the bottom of your air fryer from getting any grease spillage from the bacon on the bottom. Cleaning out bacon grease in an air fryer really isn't any fun.
How to make bacon in an air fryer?
Lay strips of bacon out onto the bottom of your basket. Set your air fryer to 350 degrees and the time to 7 minutes. If the bacon isn't crispy enough for you set the timer for 2 minutes longer. You can use a wire rack below to keep your bacon from flying around in the air fryer. If you don't have one, no problem.
How does an air fryer work?
An air fryer is a kitchen appliance that cooks by circulating hot air around the food using the convection mechanism. A mechanical fan circulates the hot air around the food at high speed, cooking the food and producing a crispy layer via the Maillard effect. – from wikipedia.com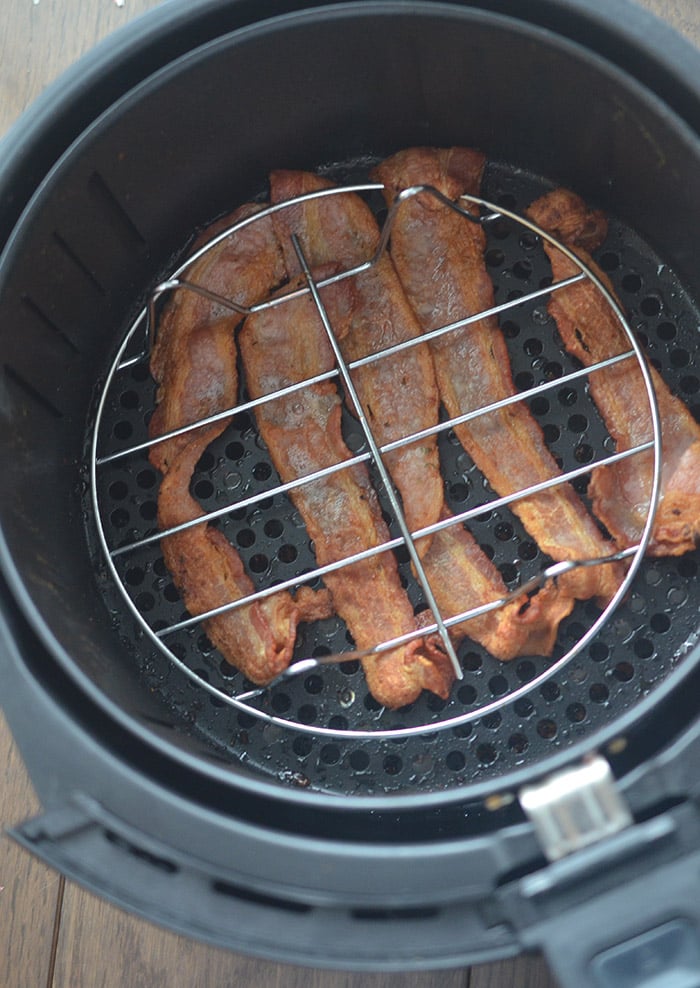 Other air fryer recipes
This youtube video shows you how to make Candied bacon but it basically is the same process. Just cook it for 8 minutes instead of 12 if not using any brown sugar. Check out my youtube channel.
Print
Air Fryer Bacon
Air Fryer Bacon – You'll never want to bake bacon in your oven again!
Author:
Prep Time:

1 min

Cook Time:

7 to 9 minutes

Total Time:

-25967432.8167 minute

Yield:

6

Category:

Side

Method:

Air Fryer

Cuisine:

American
Instructions
Place the bacon in the bottom of your air fryer basket. I have a 3.5 quart air fryer and was able to get 6 strips of bacon on the bottom. Place the wire rack over your bacon that came with air fryer. This is optional. If you don't have a wire rack that came with your air fryer, then you don't need one.
Cook at 350 for 7 to 9  minutes. Open up the air fryer and flip the bacon. Put the air fryer basket back in and cook for another 3 minutes or until however crispy you like your bacon.
Notes
All air fryer types are different and you might have an air fryer that doesn't go up to 350 or 400 degrees. Just use the highest temperature setting you have on your air fryer. If your bacon isn't done in the time listed above set it for 2 minutes and keep check after every two minutes or until the bacon is done.
Nutrition
Serving Size:

1 6 in slice

Calories:

37

Sugar:

.1

Saturated Fat:

2.8

Carbohydrates:

.1

Fiber:

0

Protein:

2.7