Air Fryer Bacon – You'll never want to bake bacon in your oven again!
Some of you are probably going to be getting Air Fryers for Christmas as gift this year. If not please do treat yourself. You can cook any type of food in the air fryer such as bacon. I was on youtube yesterday binge watching air fryer recipes and it gave me so many ideas for future recipes for this site. Air Fryer recipes for everyone and I guarantee that once you get an air fryer you will be using your oven less and less.
Ok, let's talk about bacon. For the last couple of years, the oven has been my go to for cooking bacon. You just lay the bacon on the sheet pan (I like to use those wire racks) and cook at a high temp for 18 minutes. No grease splattering or anything. I hate it when grease gets on my clothes cause it's such a pain in the rear to get the grease out. Air Fryers you don't have to worry about any bacon grease splattering at you. I set my air fryer to 390 degrees and cooked the bacon for 3 minutes on each side.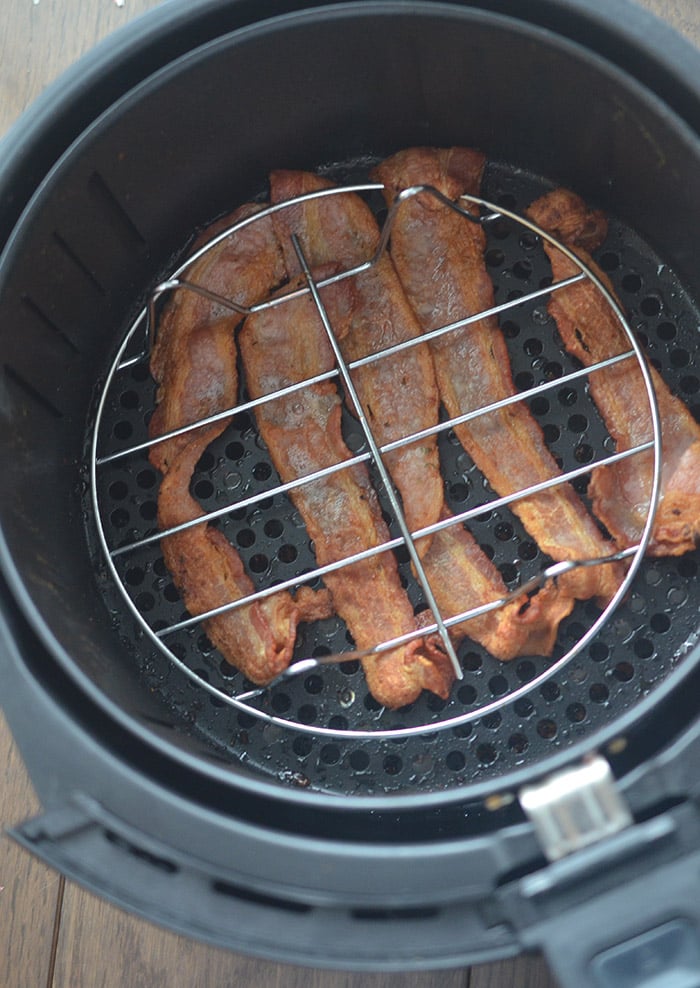 My air fryer is kind of weird. I noticed that if I set it to anything below five minutes the timer will not count down you have to mannually keep track of the minutes. 7 minutes was just perfect. After 3 minutes, I took the bacon out of the air fryer and flipped it. I used one of those metal racks that came with my air fryer to keep the bacon from flying around. So crispy and good!
This youtube video shows you how to make Candied bacon but it basically is the same process. Just cook it for 8 minutes instead of 12 if not using any brown sugar. Check out my youtube channel.
Print
Air Fryer Bacon
Instructions
Place the bacon in the bottom of your air fryer. I have a 3.5 quart air fryer and was able to get 6 strips of bacon on the bottom. Place the wire rack over your bacon that came with air fryer. Cook at 390 for 3 minutes. Open up the air fryer and flip the bacon. Put the air fryer basket back in and cook for another 3 minutes or until however crispy you like your bacon.
Notes
1 strip of bacon is 1 smart point