Air Fryer Chicken Parmesan - crispy chicken smothered in marinara sauce and melted mozzarella cheese. Served with spaghetti noodles on the side.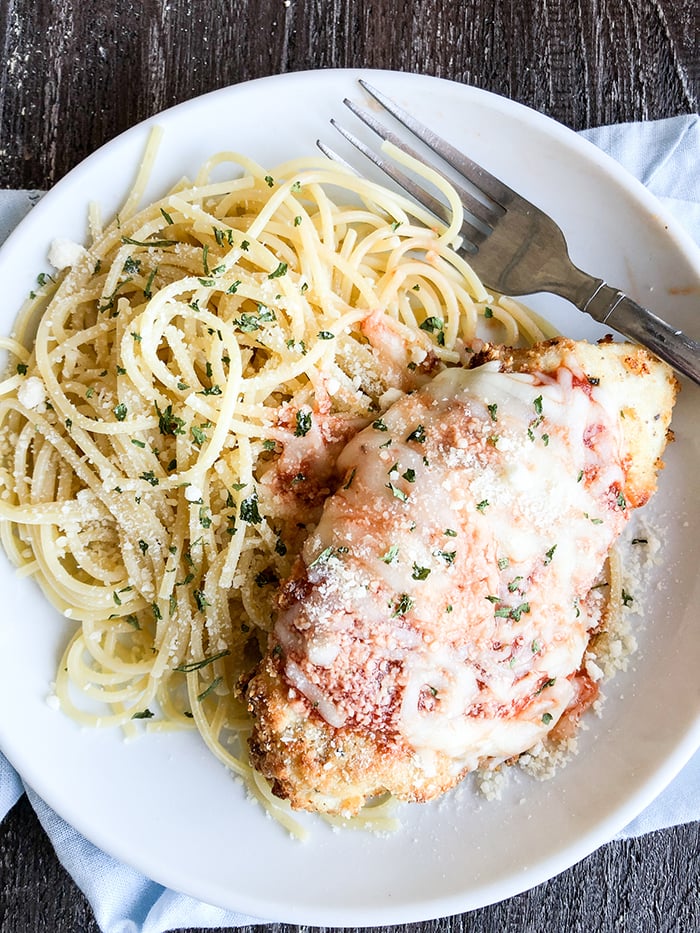 This week everyone has been talking about how effing cold it was and the weather people are calling it a polar vortex. Lucky me, I live in the Midwest and record-breaking wind chills happened in Grand Forks and Fargo ND on Tuesday. Everywhere I went today, people were wishing that it was Spring. I was stuck inside the first couple days this week hibernating and today I finally ventured out to purchase some things that helped me think of Spring. Like for instance, a Lilac candle from Bath and Body Works and some new Spring clothes to fill my closet. When it gets this cold, my bathroom turns into a spa and the bath salts and bubble bath come out.
I seriously needed some comfort food and carbs on Tuesday when it was -60 below out. This air fryer chicken parmesan fits the bill. Super crispy chicken smothered in marinara sauce and topped with mozzarella cheese. I like to serve mine with some spaghetti noodles on the side. Seriously though, who can't resist this?
Ingredients for Air Fryer Chicken Parmesan
2 small chicken breasts - split in half; season with salt and pepper
½ cup of grated parmesan cheese
½ cup of panko bread crumbs
1 teaspoon of onion powder
1 teaspoon of garlic powder
2 eggs
8 oz of spaghetti noodles
4 tablespoons of store-bought marinara sauce or homemade
4 tablespoons of part skim mozzarella cheese or slices of cheese will do
Salt and Pepper
How to make Parmesan Chicken in Air Fryer
Split your chicken breasts in half lengthwise, like you would when you are butterflying a chicken breast.
Take a shallow dish and crack the eggs into that and whisk them until they look like you are ready to make scrambled eggs.
Take another shallow dish and add the panko bread crumbs, parmesan, and seasoning. Stir to combine
Dip the chicken in the eggs first, and then transfer them over to the bread crumbs. If your chicken doesn't get coated very well pat the loose bread crumbs on top. If there is not enough breading to coat any leftover chicken, just add a little bit more to the pan. It won't hurt yah.
Place the breaded chicken into the air fryer basket and spray with cooking spray. Turn your air fryer on to 350 and set your timer for 7 minutes. After the 7 minutes is up, flip your chicken breast over and top it with the marinara sauce and cheese and place the basket back into your air fryer. I have found that most air fryers do not have a stop button during cooking process and it is ok to take the basket out while it is on. My Power XL air fryer just continues on cooking after you put it back in there.
I love my air fryer so much, check out my other recipes for air fryers here!
What is an Air Fryer?
An air fryer is a kitchen appliance that cooks by circulating hot air around the food using the convection mechanism. It is a downsized version of the convection oven.
Is air fryer chicken parmesan healthy?
When you compare air fried food to deep fried food it is much healthier because there is hardly any oil used at all. The only oil I use is from my Pam cooking spray. I spray only the food once or twice because most air fryer baskets are nonstick. If you are considered about using aerosol sprays for the environment or your health buy a Misto Brushed Aluminum Oil Sprayer can from Amazon and fill that with your favorite oil.
What are the Best Air Fryers?
I've had 3 or 4 different air fryers or the past 5 years and each one of them has worked very well with the air fryer recipes on this site. If you want to be able to cook more food for your family at once then get an air fryer with a large basket such as 5.3 quarts. Look for ones that say nonstick on them and has multiple program settings.
Power XL Air Fryer 5.3 Quart Basket. - This was my very first air fryer.
Our 5.3QT Power Air-Fryer comes in handy in preparing amazing meals from your cookbook, and frying a variety of dishes, such as: French fries, chicken, steak, roasts, fish tacos and sticks, waffle fries, pies, pudding and donuts.
Ninja Foodi Grill and Air Fryer - This air fryer works very well too but the air fryer setting doesn't go below 300 degrees. If there's a recipe that calls for lower temperatures you have to use the bake setting. It air frys, roasts, grills, and dehydrates food.
Cosori 4 Qt Air Fryer- This air fryer doesn't require any preheating and has several different functions for cooking chicken, meat, frozen foods, etc. There are 5 different functions.
GoWISE USA 1700-Watt 5.8-QT 8-in-1 Digital Air Fryer
Air fryer temperature settings vary according to brand and model. If your air fryer does not have the exact temperature setting called for in the recipe, consult your manual for suggested temperature settings.
More Air Fryer Recipes
Air Fryer Garlic Parmesan Knots
The Best Air Fryer Whole Chicken
Air Fryer Chik Fil A Spicy Chicken Sandwich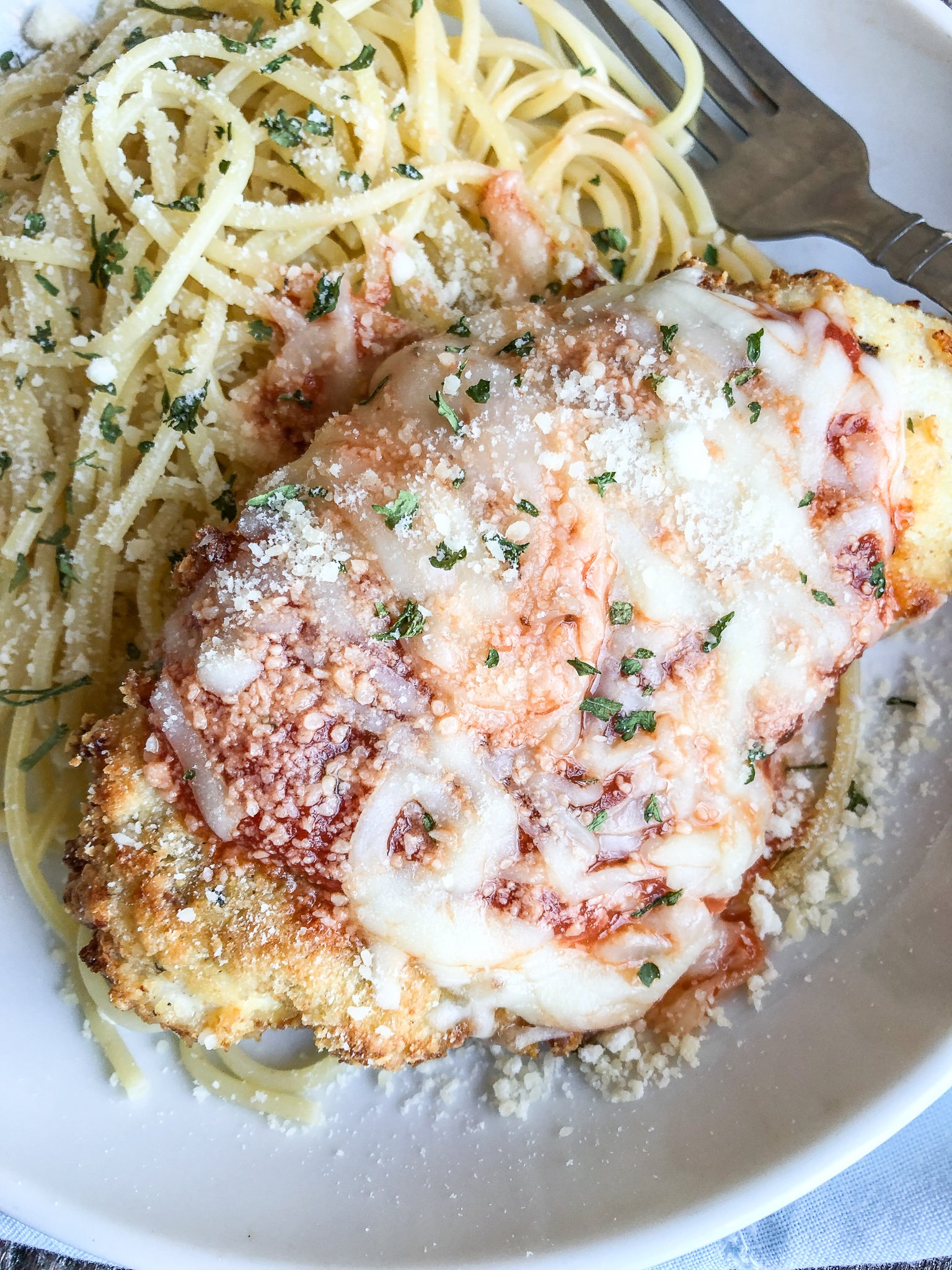 Please Let Me Know What You Think!
Be sure to leave a review of this recipe and give it a star rating. It lets us know how we are doing and lets others know they should try it!
I would love to see your creations on Pinterest. Upload them and leave a comment on my Pinterest page!
Are you on Instagram? Follow along and TAG US @recipediariesww
Have a Question or General Feedback?
Jump down to the COMMENT section and let us know! We would love to help and also love feedback on all of our posts.
Print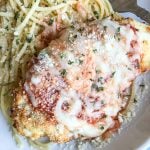 Air Fryer Parmesan Chicken
---
Author:

Prep Time:

5 min

Cook Time:

10 min

Total Time:

15 min

Yield:

2

1

x
Description
Air Fryer Chicken Parmesan - crispy chicken smothered in marinara sauce and melted mozzarella cheese. Served with spaghetti noodles on the side. 
---
Scale
Ingredients
2

small chicken breasts - split in half; season with salt and pepper

½ cup

of grated parmesan cheese

½ cup

of panko bread crumbs

1 tsp

of onion powder

1 tsp

of garlic powder

2

eggs

8 oz

of spaghetti noodles

4 tablespoons

of store bought marinara sauce

4 tablespoons

of part skim mozzarella cheese
Salt and Pepper
---
Instructions
Preheat air fryer to 350.
Split your chicken breasts in half.  Place your chicken breast on a cutting board, and hold it flat with the palm of your non-knife hand. Using a sharp chef's, slice the chicken breast horizontally into two even pieces. You will have four.
In a shallow dish, add the eggs and beat them with a fork.
In another shallow dish add the parmesan cheese, panko bread crumbs, garlic powder, and onion powder.
Dip one chicken breast into the eggs, flip it to the other side, and dip the other side. Then transfer the chicken to the other dish with the bread crumbs and parmesan.

 

Do this same step for the remaining chicken breasts.
Place each chicken breast into the air fryer basket and spray with cooking spray. Set the timer for 7 minutes. After the 7 minutes is up flip the chicken breast over and place 1 tablespoon of marinara on top and one tablespoon of mozzarella cheese.
While the chicken is cooking in the air fryer, cook your noodles in boiling water. Follow package directions.
Cook the chicken breasts for another 3 minutes or until the cheese is melted.
Sprinkle your noodles and chicken with extra parmesan cheese and some dried parlsey flakes if desired. That is optional.
Serving size:  1 cup of noodles, 1 chicken, 1 tablespoon of marinara, and 1 tablespoon of mozzarella cheese.
Notes
myWW: Blue 11; Green 14; Purple 11 
Spaghetti squash can be used in place of noodles to help lower points.
Points are calculated with the WW recipe builder app and not using the nutrition info. 
Category:

Dinner

Method:

Air Fry

Cuisine:

American
Nutrition
Calories:

340

Sugar:

2.1

Fat:

10.6

Saturated Fat:

4.3

Carbohydrates:

29.9

Fiber:

1.8

Protein:

29.3
Keywords: Air Fryer, Air Fryer Chicken Parmesan
I am not affiliated with WW formerly known as Weight Watchers in any way. I am just a member who likes to create WW recipes and share them with everyone. Freestyle is the name of the current program of WW and smart points are calculated for the recipes. Some blogs list them as freestyle smart points and some list them as smart points. There is no difference between the 2.
How is this a WW recipe? NO FOOD is off limits on WW and WW themselves stresses that a lot on their social media pages. That is one reason why I love WW. You can pretty much eat ANYTHING just as long as you stay in your daily points range for that.