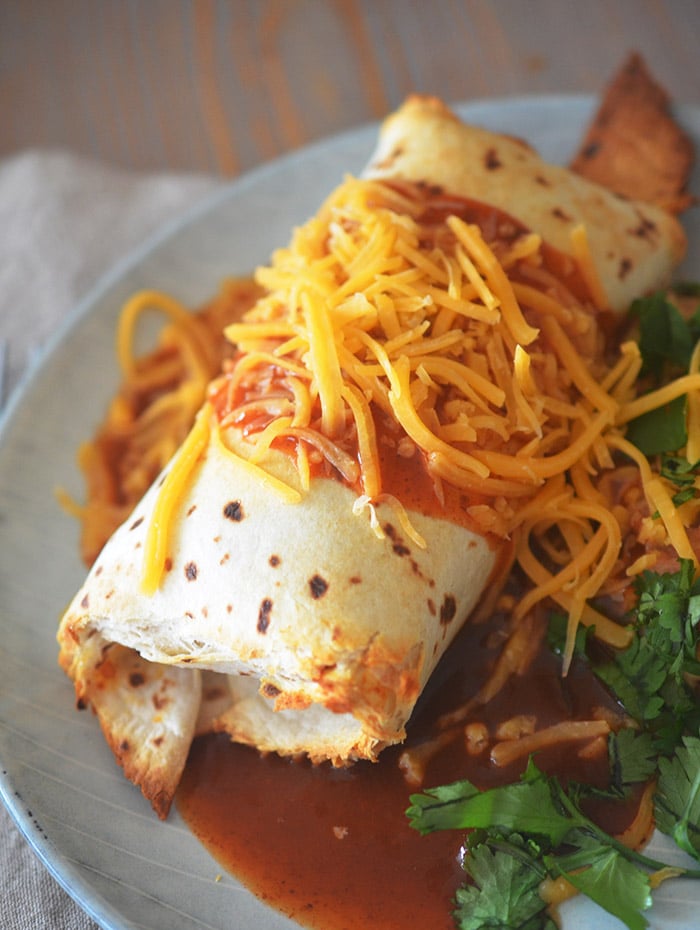 Air Fryer Chimichangas – these are healthier and not deep fried like they serve at the Mexican restaurants. Make them at home for a healthier option!
These are the chimichangas I made in my latest meal prep video. With the tortilla that I used they came out to be only 6 smart points. 5 for the tortilla and 0 for the chicken. I must apologize because in my video I said one smart point! You can make these chimichangas even lower in smart points if using the Ole Wellness extreme brand. Those tortillas are only 1 smart point.
I have been craving chimichangas for the last couple of days. The Taco Shop down the road from me makes some pretty awesome chimichangas but those are unhealthy and deep fried. I wondered what it would be like making those in my air fryer and I loved the way they came out! The tortilla gets super crispy after spraying it with some cooking spray. I just took about 1/2 a cup of the chicken and placed it in the middle of the tortilla then rolled it up and If you don't have an air fryer try baking these in the oven for 20 minutes at 400 degrees.
You can serve these with some Fat Free refried beans for 0 smart points and use greek yogurt instead of sour cream!
Print
Air Fryer Chimichangas
Ingredients
5 lbs cooked shredded chicken and the juices (make sure you salt it during cooking) (the directions for how I cook mine are up in the post)
3 large onions, finely chopped
1 4oz. can chopped green chilies
4 tbsp all-purpose flour
1 16oz bottle green chili salsa (I used a 16 oz can of red enchilada sauce).
¼ tsp garlic powder
1 tsp ground cumin
Tortillas (if you use large burrito ones you will need 20-24 if you use regular size tortillas you will need 30-36. Do not use fajita size tortillas
Instructions
Spray a large pan with cooking spray and add onions, saute for 2 minutes add green chilies and saute for one more minute.
Add flour, salt, cumin, and garlic powder and give it a quick stir or two, add salsa and continue stirring.
Add in chicken and juices (if you do not have very many juices from your chicken add a little chicken broth), continue cooking for 5 minutes or until mixture thickens. Take off of heat and begin preparing chimichangas by filling tortillas.
The Tortillas will bend easier if you warm them a little bit in the microwave. I just leave them in the package and put them in for 30-45 seconds.
Fill the tortillas with about a half cup of the chicken and roll them up into a burrito. I fold in the 2 sides first and then roll it up. Set your air fryer to 400 degrees and place the chimchanga in the basket. Spray the chimichanga with some cooking spray and set the timer for 8 minutes. Serve with rice or beans.
Notes
I used a can of red enchilada sauce instead of green for this recipe. One enchilada comes to be 5 smart points. Makes 36 servings. Makes a lot, might want to cut this in half if you don't want that much. That is what I did.
This makes a lot of chimichangas so I recalculated the points and the serving size comes out to be 0 smart points so all you have to do is count whatever tortilla you use.
Nutrition info below is for 10 servings. 32 servings would be less calories
Nutrition
Calories:

311

Sugar:

3

Sodium:

374

Fat:

7

Saturated Fat:

1

Carbohydrates:

20

Fiber:

2

Protein:

43