This weekend at the cabin, I had the best damned gaucamole EVER! EVER! I kid you not!
I've never had guacamole  like this, and I'm just used to the regular which in my mind is avocado, onion, cilantro, salt, pepper, and lime juice. This guacamole recipe had roasted corn in it and cotija cheese on top. The roasted corn made it really sweet and the salty cheese on top made it even better. If you've never had cotija cheese, it's kind of like a Mexican parmesan cheese. If you can't find that sub parmesan cheese or feta cheese. Don't be frightened by the white cheese on top. 🙂
Everybody was saying how good this guacamole was and I got this recipe from Ben's aunt Sherry. She told me where she had got it from, but I'll have to ask her again because I can't really remember. Some California Association. She said she took it to a party and it was gone in seconds and make sure you double it too. This guacamole doesn't last long. Football season is coming up and this would be a great appetizer to bring.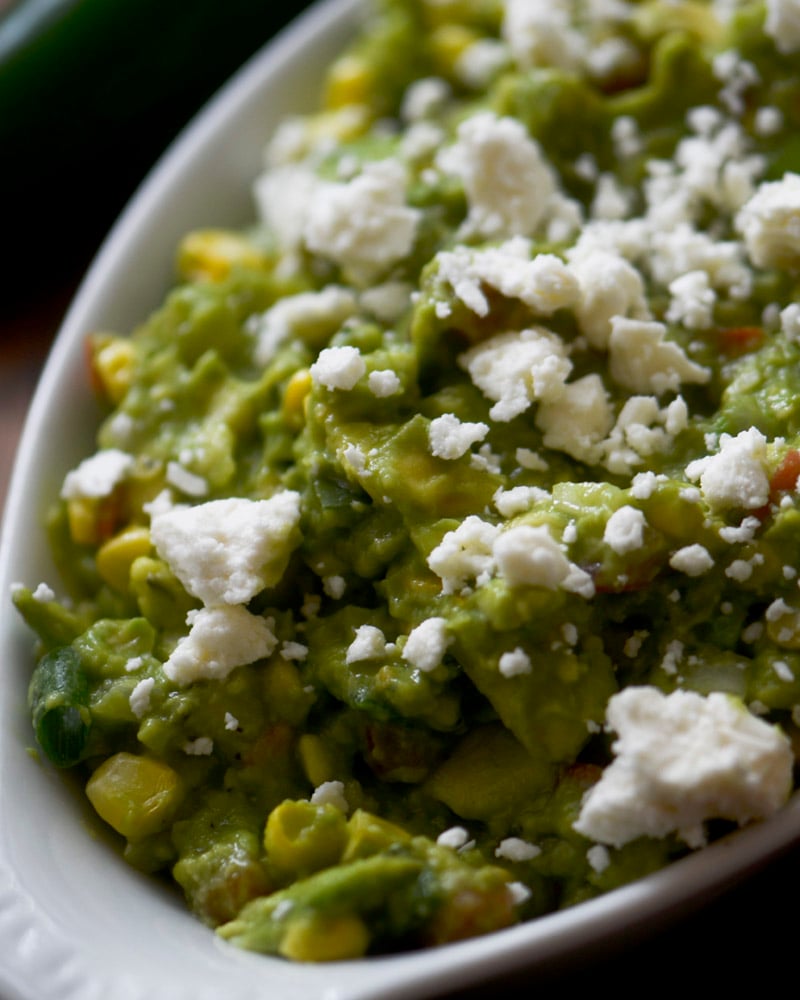 My friend told me a secret about buying avocados. Even if they aren't ripe yet, put them in the fridge right away. They last longer until they ripen. The last avocados I bought, I did that and they ended up being the best avocados I've had in a long time. Thanks for that tip!
Classes start again today which means reading and writing papers. My last class all I had to do was code and now I get to write essays. That's one thing I hated doing when I was in college! I'd rather just design, code or make something and then show it to the teacher for a grade. 🙂
Print
The Best Damn Guacamole Ever
---
Scale
Ingredients
1

ear of fresh sweet corn

1

jalapeno

2

ripe, Fresh California Avocados

1/4 cup

of prepared pic de gallo

2 tablespoons

of lime juice

2 tablespoons

cilantro

2

large garlic cloves

1 tsp

of kosher salt
black pepper to taste
Cotija cheese for garnish
---
Instructions
Roast the corn and jalapeno over the fire (either on a gas stove or on a grill) until blisted and charred on all sides.
(not burned please)
After cooling for a few minutes, cut the corn off of the cob. Chop the avocados the mix in the pico de gallo.
Seed and mice the roasted halapeno. Add the jalapeno, fresh lime juice, cilantro, roasted corn, garlic, kosher salt, and pepper to the avocado mixture. Adjust seasonings and serve. Garnish with Cotija cheese.
---
Notes
Recipe from Ben's Aunt Sherry who found it at californiaavocado.com
Makes 8 servings: 4 smart points per serving