Back in college, I worked at dining center pretty much my whole entire 5 years. It was one of the best jobs I ever had. I started off as a server which was basically serving food to college students. I moved on to working with the cooks in the kitchen and was their assistant. One day every week there was a pizza bar set up where you could get different kinds and they would use pita bread for the crust. I remember making so many sheet pans of pita pizzas it was endless. There were greek pitas, veggie pizzas, pepperoni pita pizzas etc. It was so fun.
I wasn't sure if I should post this recipe since it is pretty stupid easy. Get your favorite low point pita and just top it with sauce, cheese, and pepperonis. Set your air fryer to 350 degrees and the time to 6 minutes. DONE. Don't you wish you could take your air fryer to work sometimes? Don't have any air fryer? No problem. Bake the pita pizza in the oven at 350 for 10 minutes. It's the perfect size pizza for just one person.
Print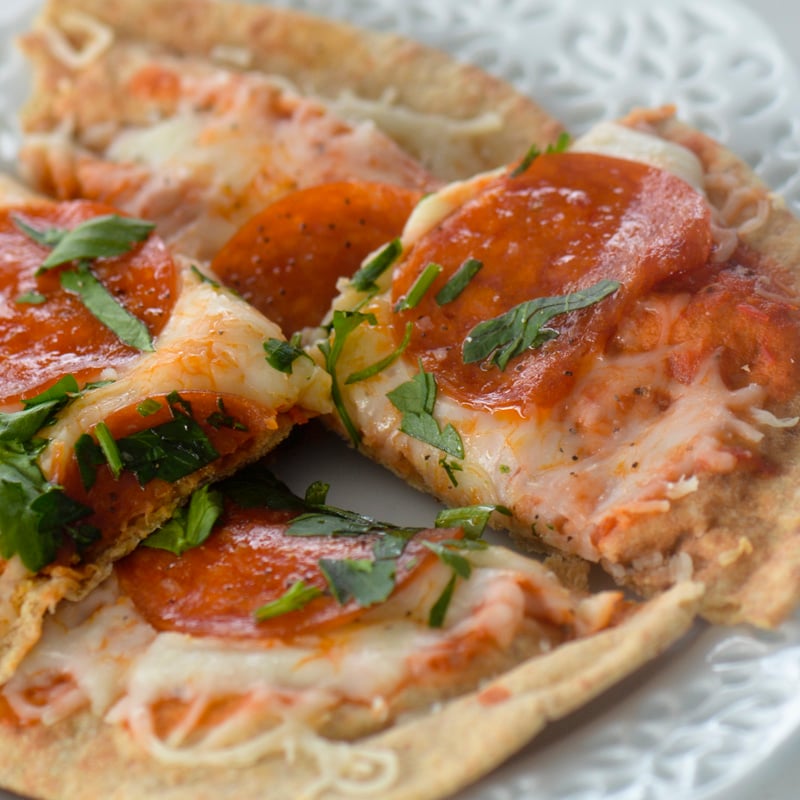 Pepperoni Pita Pizzas
---
Scale
Ingredients
1

Josephs' Pita Bread 60 calorie

1 tablespoon

of pizza sauce

1 oz

of part skim mozzarella cheese

6

slices of Turkey Pepperoni
---
Instructions
Directions:
Preheat oven to 350 degrees. Place 1 pita bread in  your air fryer. Top the pitta with pizza sauce, cheese, and turkey pepperoni. Air Fry for 6 minutes.
Serving size: 1 pita pizza. 
---
Notes
myWW points: Blue Points: 4; Green Points: 4;  Purple Points: 4
Keywords: air fryer pepperoni pita pizza
Serving Size: 1 pizza
Calories: 262
Carbs: 14.07
fat: 13.28
Fiber: 5.5
Protein: 25.76