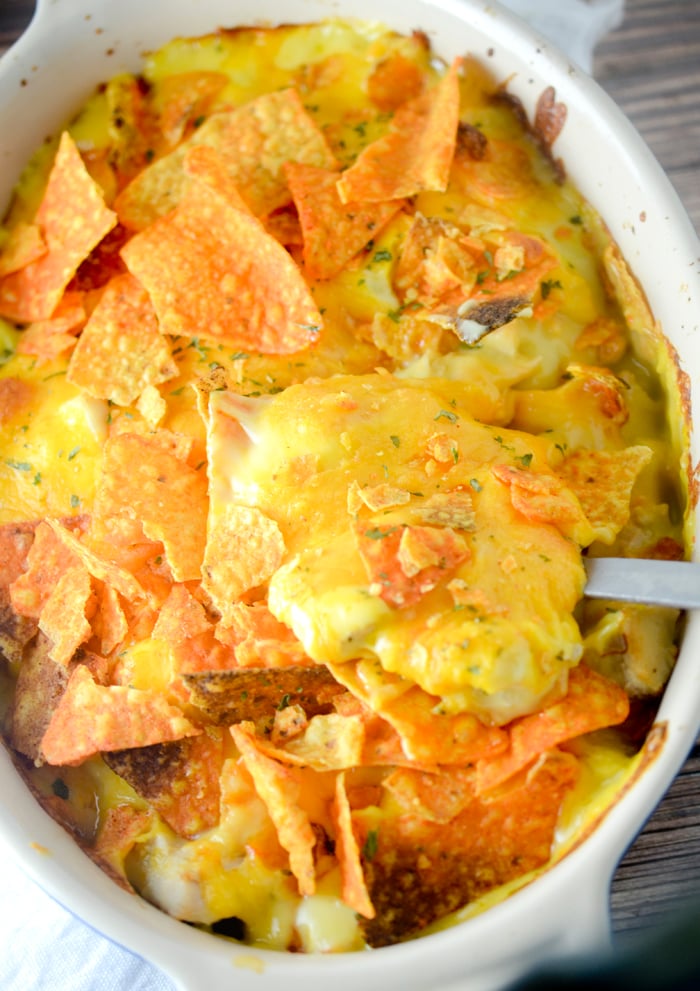 Back when I was little, my family used to have a nickname for me. It was "Dorito Girl." I used to love Doritos when I was a kid. My aunt would make this Dorito Taco Salad, and I'd ask her if she would be bringing that every time there was a family gathering. Today, I still love Doritos. Any kind. I admit that I could devour a whole bag of Doritos in just one day. Doritos are the ultimate junk food in my opinion. Doritos and a can of hard Coca Cola.
If you're looking for the ultimate junk food casserole, this is it. It's layers of cheese, chicken, and cream of chicken soup. It almost reminded me of nachos, but without any beans, pico de gallo, or sour cream. Very yummy, and something your kids will love. Oh yah, and this is by no means a healthy recipe, unless you count the cheese as dairy and the chicken as the protein, and serve a side of broccoli. Just saying.
Ingredients for Dorito Chicken Casserole
Cooked chicken breasts, shredded or chopped
Doritos (any kind) crushed
2 10oz cans of cream of chicken soup (98% ff)
¾ cup Milk (1%)
Sharp Shredded Cheddar Cheese (fat free)
How to make Dorito Chicken Casserole
Preheat oven to 450. Season chicken breasts with salt and pepper. Place the chicken on a lined baking sheet with tin-foil. Put the chicken in the oven, and bake at 450 degrees for 15-20 minutes. When the chicken is done, take it out and let it set for awhile. Dice the chicken or shred it.
In a medium sized bowl whisk together the can of cream of chicken soup and milk. Set aside.
In a 9X13 casserole dish, start with a layer of Doritos. Then layer on the cooked chicken, and cream of chicken soup mix. Sprinkle some cheese on top, and repeat those 3 layers again.
Lower the heat of the oven down to 350 degrees. Bake the casserole for 20-25 minutes or until the cheese is nice and bubbly. This just needs to be heated since the chicken is already cooked through.
Enjoy!
Other Recipes To Try
Air Fryer Bacon and Egg Toasts

If you've tried this Chicken Dorito Casserole or any other recipe on the site, let me know in the comment section how it turned out. Snap a picture and upload it to Pinterest.
Print
Chicken Dorito Casserole
---
Scale
Ingredients
3

-

4

cooked chicken breasts, shredded or chopped

20

Doritos (any kind) crushed

2

10oz cans of cream of chicken soup (98% ff)

¾ cup

Milk (1%)

1 cup

Cheddar Cheese (fat free)
---
Instructions
Preheat oven to 450. Season chicken breasts with salt and pepper. Place the chicken on a lined baking sheet with tin-foil. Put the chicken in the oven, and bake at 450 degrees for 15-20 minutes. When the chicken is done, take it out and let it set for awhile. Dice the chicken or shred it.
In a medium sized bowl whisk together the cans of cream of chicken soup and milk. Set aside.
In a 9X13 casserole dish, start with a layer of Doritos. Then layer on the cooked chicken, and cream of chicken soup mix. Sprinkle some cheese on top, and repeat those 3 layers again.
Lower the heat of the oven down to 350 degrees. Bake the casserole for 20-25 minutes or until the cheese is nice and bubbly. This just needs to be heated since the chicken is already cooked through.
Enjoy!
Divide casserole into 6 equal servings
Serving Size:  1 cup 
---
Notes
My WW Personal Points: 4 Click here to see in recipe builder (will have to log in) 
Category:

Easy

Method:

Oven

Cuisine:

American
Nutrition
Serving Size:

1

Calories:

284

Sugar:

2g

Sodium:

683mg

Fat:

5g

Saturated Fat:

1g

Carbohydrates:

12g

Fiber:

0g

Protein:

25g
Keywords: chicken dorito casserole