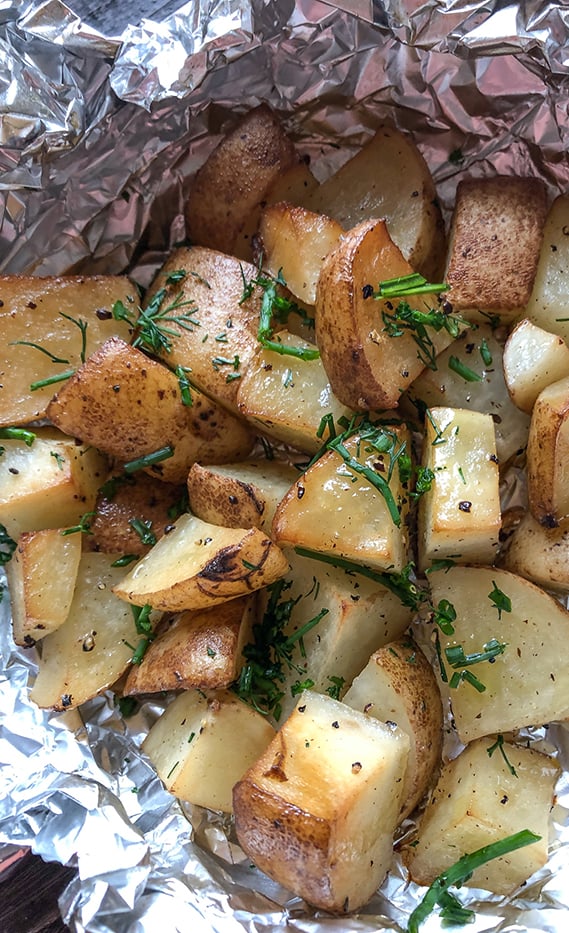 Smoked potatoes are seasoned with salt and pepper and drizzled with olive oil then get wrapped in foil and cooked on a smoker. I love smoking my potatoes in foil for easy clean up after. I garnished my smoked potatoes with herbs such as parsley, dill, and chives that were growing fresh from my herb garden. Just use whatever herbs you have in your fridge. If you don't want to continue reading this post please use the jump to link and click on that to skip directly to the recipe.
Smoked potatoes are the perfect side dish to have with your pulled pork or brisket this Summer. You worked hard all day at your smoker cooking that meat and you deserve a good side dish. When your main entree is 2 to 3 hours close to being finished set these potatoes on the side to cook with your meat. Yes, you can smoke 2 things at once. Just keep in mind which food takes the longest to cook. In this case it would be the meat. Add your potatoes 3 hours on the smoker before your meat is finished cooking. Some smoked asparagus would be great with this whole entire meal.
Equipment Needed:
Smoker: I have had my Traeger smoker for a very long time and I would recommend that brand to anyone wanting to learn how to smoke food. My Traeger requires a pre-smoke until it reaches up to 150 degrees and then you can turn the temperature to whatever it is you need. You do have to keep an eye on the wood chips and watch it so they don't run out. I've had my smoker drop in temperature and the wood chips would not stop smoking. That's a good indication that your smoker needs to be cleaned out properly. Always use gloves and wear clothes that you don't mind getting dirty when smoking food. I've learned this the hard way and ruined a sweater one time.
Wood Chips: It is my understanding that you can only buy Traeger wood chips for Traeger smokers, where they sell Traeger Grills at. The only place I can get their wood chips in town is at my local Ace Hardware store.
Thermometers: These are so important to have around when cooking any type of meat on an outdoor grill or smoker. They are even great for checking to see if a potato is done.
Your Grocery List:
Russet Potatoes
Olive Oil
Salt and Pepper
Herbs such as chives, dill, and parsley
How to Smoke Potatoes
Preheat your smoker to 225 degrees. While your smoker is preheating get your potatoes ready. Cut your potatoes and place them in a bowl and drizzle them with olive oil. Season your potatoes with salt and pepper and toss until everything is combined.
Cut a slice of tinfoil and fold up all for sides. Place the potatoes inside the foil. 1 potato should fit into the entire foil packet. You might need more than one depending on how many people you are serving.
Set the potatoes on the smoker and Cook at 225 for 2 to 3 hours or until the potatoes are soft and tender. You can test the doneness by poking the smoked potato with a fork, paring knife, or skewer.
Tips for Smoked Potatoes
After the two hours of smoking is done take out one potato and gently press it with a fork to see if it is done. It will be soft and tender when ready.
You can top these smoked potatoes with grated parmesan cheese or any other type of cheese you have on hand with the choice of herbs you use. If you wish to use a melty cheese like mozzarella or cheddar (smoked cheddar would be delicious) sprinkle the cheese on top of the potatoes and close the lid until the all the cheese is melted.
Crumbled crisp bacon would be perfect to top these smoked potatoes as well or sour cream. Make sure the bacon is already cooked prior to adding toppings.
What to serve with smoked potatoes: Smoked potatoes need a main entree to go with them. I like to smoke a rack of ribs, make some smoked pulled pork, or a brisket.
If you wish to do a smoked baked potato you can use this same method for smoking. They take about the same amount of time.
Other Smoker Recipes
Smoking BBQ Ribs for Beginners
Print
Smoked Potatoes in Foil
---
Author:

Prep Time:

10 min

Cook Time:

2 to 3 hrs

Total Time:

3 hrs

Yield:

4

1

x
Description
Smoked potatoes are seasoned with salt and pepper and drizzled with olive oil then get wrapped in foil and cooked on a smoker.
---
Scale
Ingredients
4

large baking potatoes such as russets, chopped into

1

inch cubes

2 tablespoons

of olive oil 

Salt and Pepper to taste 

Herbs of choice like parsley, dill or chives 
---
Instructions
Preheat smoker to 225.
Rinse and dry potatoes. Cut your potatoes in 1-inch sized cubes. 
Combine the potatoes with olive oil, salt, and pepper in a bowl. Toss to coat all the potatoes. 
Smoke for 2 to 3 hours, depending on how large the potatoes are. Potatoes can be smoked alongside whatever meat you are smoking.
Potatoes are done when they can be pierced easily to the center.
---
Notes
Freestyle Points: 10
Category:

Appetizer

Method:

Smoker

Cuisine:

American
Nutrition
Serving Size:

1 cup

Calories:

323

Sugar:

3.4g

Fat:

7.1g

Saturated Fat:

1g

Carbohydrates:

62.1g

Fiber:

8.3g

Protein:

5.6g
Keywords: smoker, potatoes