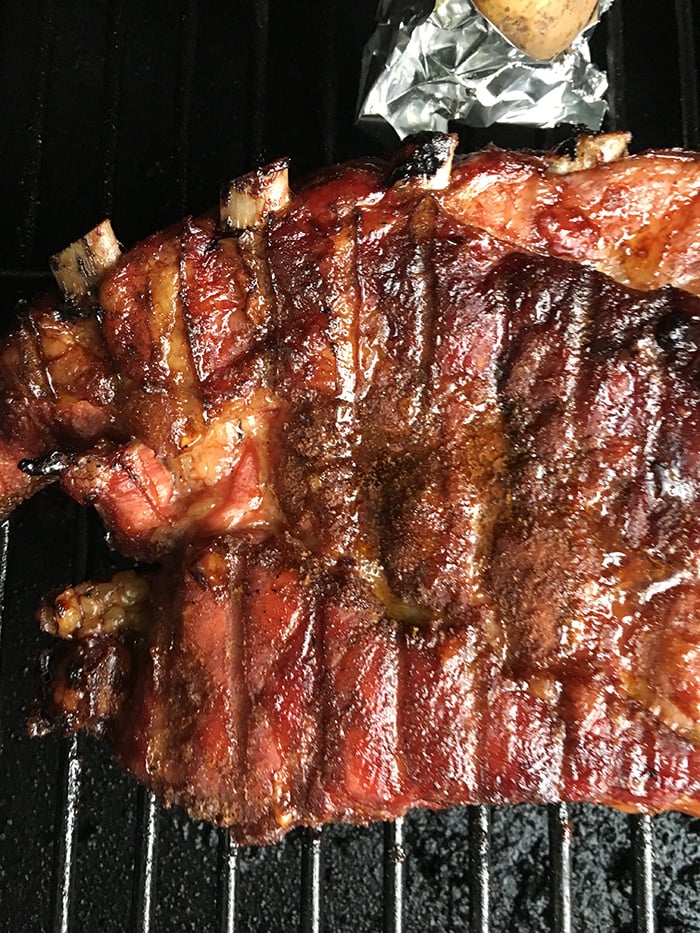 Smoking any type of meat isn't as intimidating as grilling can be. The thing you got to remember about smoking is that smoking is low and slow. You don't have to worry about when to flip your choice of meat or  whether to use indirect heat or direct heat.  Pretty easy peasy. All you have to do is figure out what type of wood pellets/chips to use , what type of meat you want to smoke, and how you want to flavor that meat. Let the smoker do the rest. I have a Traeger Smoker and their wood chips are called pellets.
What type of wood chips should I use?
There are so many different types of wood chips to use for smoking and that's kind of the fun part. Getting to decide what would be the best.  Some of the wood chips  work well with certain types of protein. Wood chips can range from Mild to Strong. I'm not going to go too much into detail about all the different types of wood chips out there but if you want to read up on that there's a lot of info. My favorite types of wood chips are maple, apple, and mesquite.
What type of Rub should I put on my Ribs?
If you want to make your own rub by all means go for it. I used a combo of equal parts paprika, brown sugar, cumin, and garlic powder. I chose to leave mine salt free because there is plenty of salt in the meat itself and BBQ sauce. If you're looking to buy a good BBQ Rub I've seen pit masters on Youtube use Blues Hog Dry Rub. Check your local hardware stores and see if they don't have any Rubs to try out mine has a whole section dedicated to seasonings and sauces right next to the grilling department. Rub and season your meat really well. This is layer one of the flavor.
What kind of BBQ Sauce should I use?
This is kind of similar to the Rub. The sky is the limit out there and there are so many good store bought BBQ sauces. I really like Stubbs's Hickory BBQ sauce. I'm not a BBQ Pit master or anything so that is what I choose to use.
How to make BBQ Pork Ribs?
Once you got all the above figured out. Set your smoker to a low temp of 225 degrees. Rub your pork ribs with the seasoning and let it sit out for 30 minutes to soak in the flavor. When your smoker is ready set your meat on one of the racks inside your smoker and close the lid. Do not open the smoker as this will let out all the heat. Just make sure to keep on watching the smoker and make sure there is enough wood chips in there. Cook the ribs for 3 ½ hours. Open the smoker up and slather on the BBQ sauce of choice to your ribs. Close the lid for 10 minutes. Flip the meat and slather the other side with BBQ sauce. Enjoy!
What if I don't have a smoker?
You can use an oven to cook ribs.  Set the temperature of your oven to 300 degrees. Bake 2 ½ to 3 hours for spareribs or 1 ½ to 2 hours for baby back ribs. Halfway through cooking, cover the ribs with aluminum foil to protect them from drying out. Brush with barbecue sauce.
Print
Smoking BBQ Ribs for Beginners
---
Scale
Ingredients
For the rub
1 tablespoon of brown sugar
1 tablespoon of cumin
1 tablespoon of paprika
1 tablespoon garlic powder
1 cup of BBQ sauce of choice
1 rack of Pork Ribs
---
Instructions
In a bowl mix together the brown sugar, cumin, paprika, and garlic powder. Stir to combine.
Rub the seasoning onto the pork ribs. Flip the ribs over and season the other side. Let that rest for 30 minutes.
Set your smoker to 225 degrees.
Place the rack of ribs onto a rack in the smoker.
Set a timer to 3 ½ hrs, after the 3 ½ hrs open up the smoker and slather the BBQ sauce on top. Flip the ribs over and slather the BBQ sauce on the other side of the meat. Let the meat rest for 30 minutes before serving. Enjoy with some corn on the cobb or baked potatoes.
---
Notes
Smart points can vary depending on the number of ounces you eat.
3 oz of pork ribs is 6 smart points.