Guys, this is life changing! Now I know what to do with that leftover watermelon instead of just eating it. Don't get me wrong, watermelon is fine just eating it by itself. Don't ever eat a half a watermelon before bedtime. You'll be up all night having to use the rest room. I learned that the hard way, trust me.
If you have leftover watermelon already cut up into chunks this part is easy. Usually when I buy a watermelon, that is what I do. I'll cut it into small pieces and save the watermelon in a tupperware container so I can eat it all week. Take out a sheet tray and place the watermelon chunks onto the tray and freeze for up to 1 to 2 hours. You can do this overnight as well.
Place the frozen watermelon chunks into your food processor.
Blend the watermelon chunks until smooth so it turns into a sorbet consistency.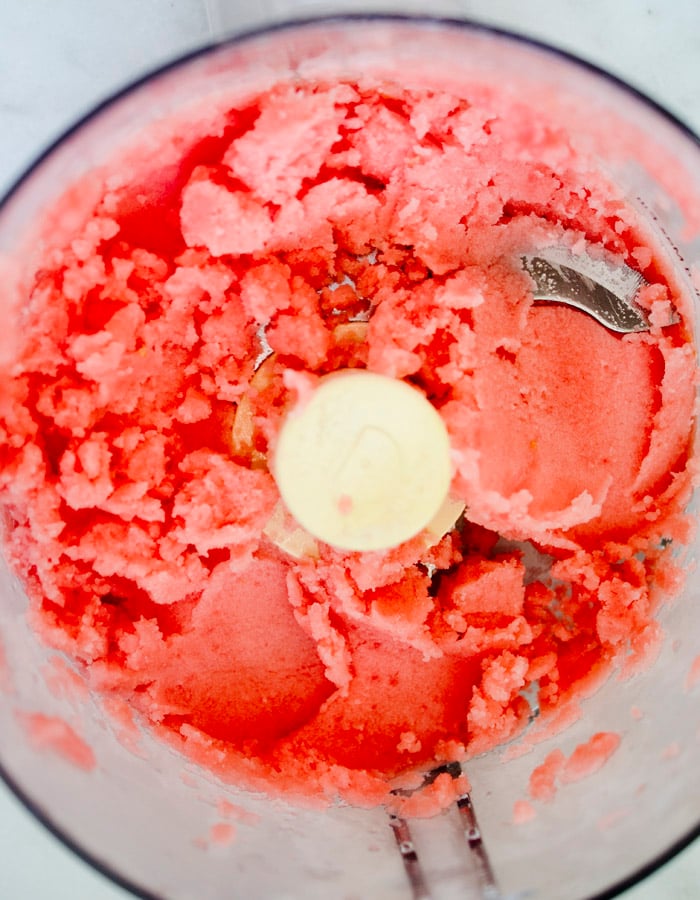 And there you have it folks, easy no fuss watermelon sorbet made in less than 2 minutes or less. A yummy and healthy frozen treat to eat all Summer long.
There is no recipe needed for this since it just 1 ingredient. Yup. 1 ingredient folks. That is all. Enjoy!
Print
1-Ingredient, No Fuss Watermelon Sorbet
Ingredients
4 cups of watermelon, chopped and frozen
Instructions
Place the watermelon in a food processor and process until the watermelon becomes sorbet consistency. Enjoy!
Notes
Serving Size: 1 cup
Smart Points: 1
Points Plus: 1
Nutrition
Serving Size:

4

Calories:

46

Sugar:

0

Fat:

0

Saturated Fat:

0

Carbohydrates:

12

Protein:

1