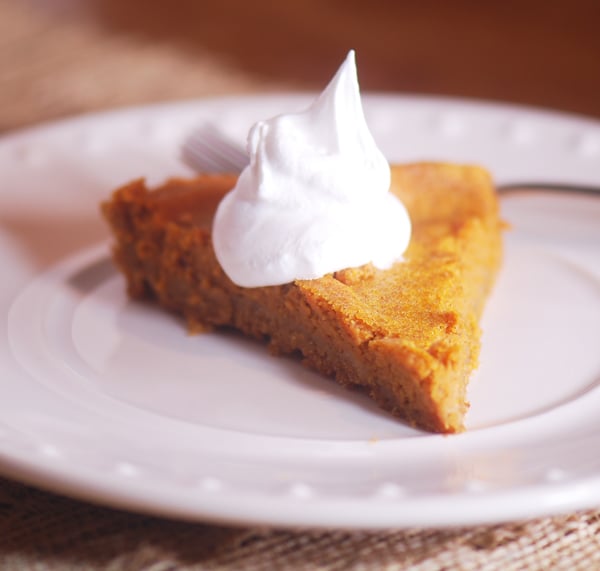 Pumpkin, pumpkin, pumpkin. That's all people seem to be cooking with this time of year doesn't it? I went to the grocery store and picked up 12 cans of pumpkin puree for .85 a can this weekend. Score! There's so many pumpkin recipes, I want to try and make a low fat version of and this is one of them. Pumpkin Pie.
Who doesn't like Pumpkin pie? I know of one person that doesn't and that's Ina Garten. She has come out on her show and said that she didn't care for pumpkin pie as much. Can you believe that? Oh well she makes plenty of other pumpkin goodies on her show and I still love her anyway. I want to make her turkey roulade recipe one time here. I picked up another turkey breast at the grocery store today just to make that. Can't wait.
This is a Weight Watcher recipe for pumpkin pie and I thought it was just ok. It requires beating egg whites until frothy and most pumpkin pie recipes I know just require mixing ingredients in a bowl. It's kind of a time consuming recipe but in the end it's worth it. I wish it almost was a thicker pie too. Ben looked at it and said that's a pumpkin pie? Why is it so thin? Ha ha. It still tasted like a good pumpkin pie and on Weight Watcher's website it says it's only 5 points plus per slice.
PointsPlus Value:    5
Servings:  8
Ingredients from Weight Watchers
3 oz reduced-fat cinnamon graham crackers, about 5 1/2 sheets
1 Tbsp packed light brown sugar
2 Tbsp regular butter, melted
2 large egg white(s)
1 large egg(s)
1/2 cup(s) dark brown sugar
1/4 tsp table salt
2 tsp pumpkin pie spice, or less to taste
1 cup(s) canned pumpkin
1/2 cup(s) fat-free evaporated milk
1/4 cup(s) lite whipped topping
Instructions
Position rack in middle of oven. Preheat oven to 350ºF.
Place graham crackers and light brown sugar in a food processor; process into crumbs (or smash into crumbs in a sealed plastic food bag with a rolling pin). Spoon crumbs into a small bowl; add melted butter and combine with fingers into a coarse meal. Distribute crumbs evenly on bottom and up sides of an ungreased 9-inch pie plate. Chill for 30 minutes before baking. Bake until crust starts to turn golden, about 8 to 10 minutes; remove from oven and let cool.
Meanwhile, in a large bowl, using an electric mixer, whip egg whites until frothy; fold in egg, dark brown sugar, salt, pumpkin pie spice, canned pumpkin and evaporated milk. Beat pumpkin custard until smooth and pour into pie shell. Bake until a knife inserted in center comes out clean, about 45 to 55 minutes. Slice into 8 pieces, top each piece with 1/2 tablespoon of whipped topping and serve warm or at room temperature. Yields 1 slice per serving.