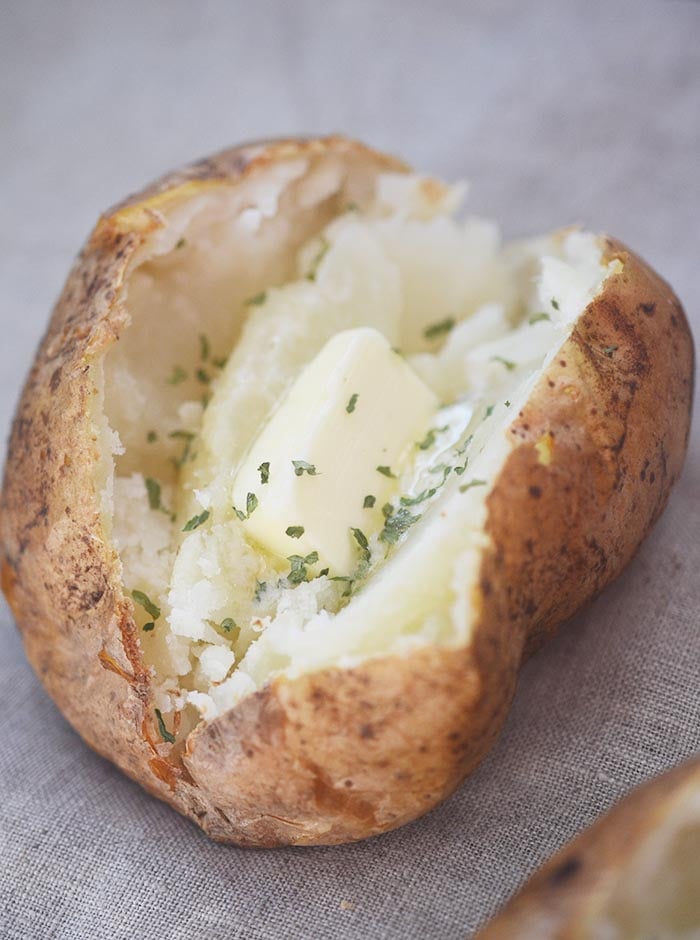 Make perfectly cooked potatoes in the air fryer! You'll never want to use your oven again.
Can you believe next week is already Thanksgiving? I sure can't! During Thanksgiving your oven gets used a lot and it's good to try and find other kitchen appliances that can do the same type of job for you whether that be in an Instant Pot (I plan on getting one of those on Black Friday), Slow Cooker, or Air Fryer. Oh yah, and if you haven't taken out your turkey to defrost now would be a good time to do that. My family is pretty good at not having a perfectly cooked bird on Thanksgiving. Some parts always end up underdone. Gross!
Instead of using your oven to make a baked potato, you can use an air fryer. Usually baked potatoes take at least an hr depending on the size of them. Both of these potatoes that I used were around 200 grams. It's easier to weigh potatoes in grams than ounces on the scale so I can track it easier in myfitnesspal. I set the air fryer to 390 degrees and let them cook for 30 to 40 minutes. The potatoes were perfectly cooked and flaky and I topped my baked potatoes with some taco fixings.
Print
Air Fryer Baked Potatoes
Ingredients
2 Idaho potatoes (weighing around 200 g)
butter
parsley (optional)
Instructions
Set your air fryer to 390 degrees. Prick some holes in the potatoes with a fork and spray with cooking spray. Place the potatoes in the air fryer basket and close it. Set the time for 30 minutes to 40 minutes. You can take it out and test it at 30 minutes. If it's not done cooking fry it for 10 more minutes.
Notes
Smart Points can very on a potato depending on how many oz or grams they weigh.