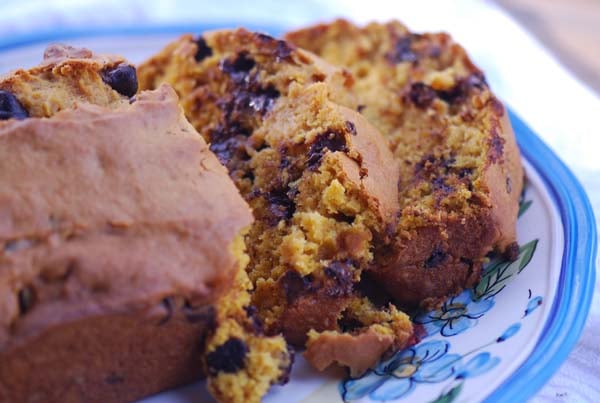 32 Servings
Calories: 115 , Fat: 5g ,  Protein:2g,  Carbohydrate: 26.5g, Fiber: 1.1g,  Points + = 4, Smart Points = 5
I thought I was doing pretty well this weekend, not baking anything at all. I've been trying to cut back on my carb intake and baking lately, because I eat way too much of that stuff. I kept on thinking about this pumpkin bread and how it was so stinking good, that I had to make some!!!! You should go and make some of this right now too!  It was calling my name.
This recipe has been on my blog before and it is one of my favorites from Cooking Light. Cooking Light made this recipe can you believe that? The amount of calories and fat per slice ain't bad either. I've made this using pumpkin pie spice pudding instead of vanilla. Make sure you make the pudding before hand too, because it's just not the powder stuff you add into this recipe. I get asked this question so many times when posting it on message boards for other people to share.
Print
Weight Watchers Recipes | Chocolate Chip Pumpkin Bread
Ingredients
1/2   cups  brown  sugar
2 mashed bananas
2  cups  canned pumpkin
1/2  cup  canola oil
2 large eggs
1 oz vanilla instant sugar free pudding
3  cups  self rising flour
2  teaspoons  ground cinnamon
1 1/4  teaspoons  salt
3/4  cup  semisweet chocolate chips
Cooking spray
Instructions
Combine first 5 ingredients in a large bowl, stirring well with a whisk or spoon. Lightly spoon flour into dry measuring cups; level with a knife. Combine flour, instant pudding, cinnamon, and salt in a medium bowl, stirring well with a whisk. Add flour mixture to pumpkin mixture, stirring just until moist. Stir in chocolate chips. If you're limited on dishes you can just add all the dry ingredients to the Bowl instead of a separate bowl first.
Spoon batter into 2 (8 x 4-inch) loaf pans coated with cooking spray. Bake at 350° for 1 hour and 15 minutes or until a wooden pick inserted in the center comes out clean. Cool 10 minutes in pans on a wire rack, and remove from pans. Cool completely on wire rack.