A couple weeks ago I discovered Mrs Dash has low sodium spice packets now. I love Mrs Dash. Their seasoning is good on top of low sodium triscuit crackers and cottage cheese. Sprinkle a little bit of the seasoning on top and you've got a real healthy snack
. They just recently came out with a line of spice packets such as sloppy joe, beef stew, fajita seasoning, and taco spice. Love all of them. The one thing I wish they would get, that they don't have, is a spice packet for spaghetti sauce. It's much easier to just use a spice packet, in my opinion. I have to watch my sodium intake because of my blood pressure
.
I decided to try making my own spaghetti seasoning mix and this one turned out really well. Add in some ground beef. There's only around 21 mg of sodium in this!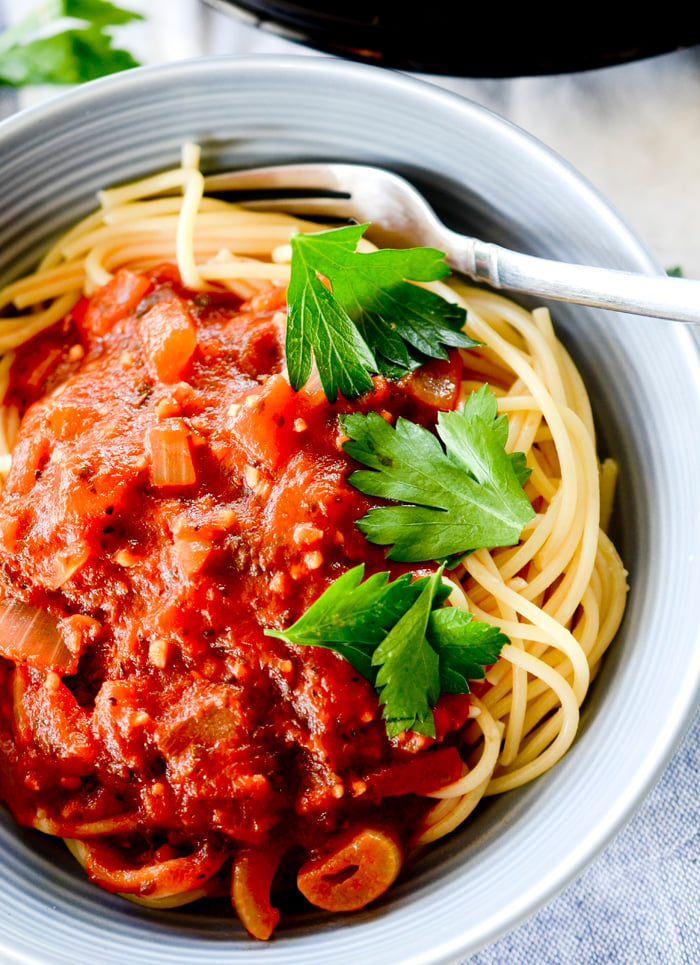 Here's another rant of mine. All the chefs on TV say to these food show contestants is, there's not enough salt or flavor. Could have used more salt,etc. I absolutely hate it when I go to a restaurant and when I'm done with a meal, all I taste is salt. It lingers in your mouth for quite awhile. Makes me want to go to  Dairy Queen and get something sweet to get that taste out of my mouth. (I did that once) Restaurants need to start putting less salt on their food. It would probably help save a lot of lives and less trips to the pharmacy for blood pressure medication.
Print
Low Sodium Spaghetti Sauce
Ingredients
1/4 cup chopped onions
15 oz no salt added tomato sauce (canned)
8 tablespoons of no salt added tomato past (Hunt's)
1 1/2 tablespoons sugar
3 tsps garlic
1 1/2 tsps ground oregano
2 tbsps leaves basil (dried)
1/8 tsp crushed red pepper flakes
1 1/2 cups of water
Instructions
Spray a pan with cooking spray. Cook the onions until they're translucent and add the tomato sauce and tomato paste; then water. Stir in all the spices, and let the sauce simmer on low for 30 minutes. Adding in ground beef is optional.
Notes
Points Plus: = 1
SmartPoints = 1
Serving for sauce 1 cup
Serve with 1 cup of noodles.
Nutrition
Serving Size:

8

Calories:

52

Sugar:

7.47

Sodium:

21

Fat:

0.17

Saturated Fat:

.03

Carbohydrates:

11.30

Fiber:

3

Protein:

1.72