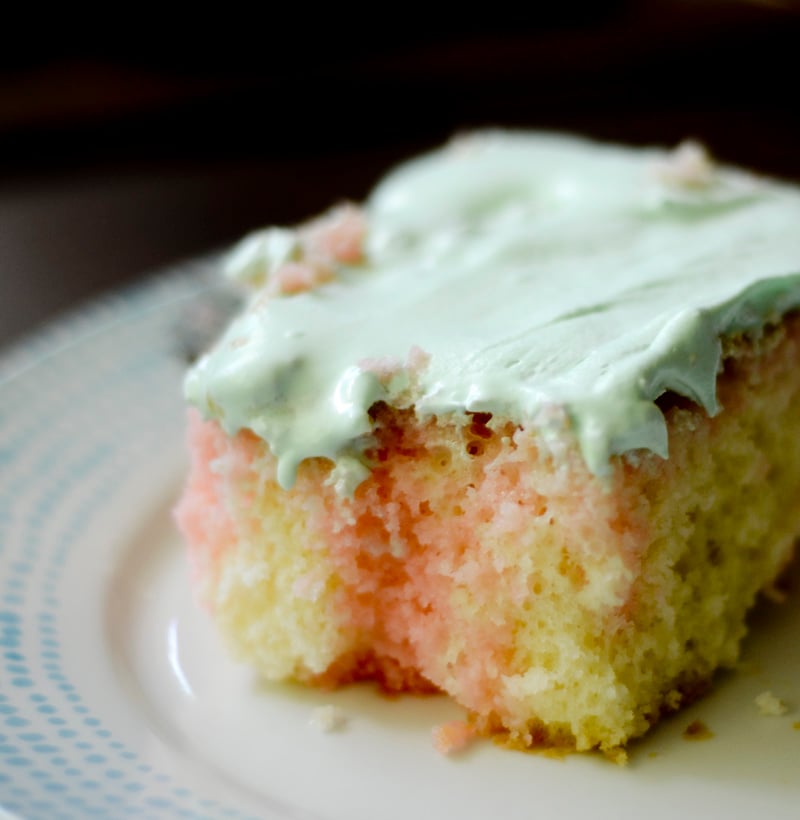 The 4th of July weekend is almost over with. Thankfully, I took Monday off so I could have a 4 day weekend.  It's the only way to recover from these 20 mosquito bites I got. Yep, you heard me, 20. Cortizone cream doesn't really work to get rid of mosquitos. Calamine lotion does however. It's in this pink bottle and even the lotion is pink. I itch all over but it was worth it. There were so many fireworks being shot off in every direction of the lake. Wish I had a panoramic pic to show you guys but these will have to do.
I also got some shots of lilly pads.
It was overall a fun weekend and summer is 1/2 ways over with. Hard to believe.
Watermelon poke cake was my attempt at making a cake taste like watermelon. If you have never made a poke cake before it's pretty fun. You poke holes all over the cake and pretty much fill it with whatever you want. I chose watermelon, because I've been obsessed with the fruit lately. The jolly rancher watermelon flavor instant jello will give this cake it's watermelon flavor. I was thinking of how I could make this cake look more like a real watermelon. Thought about putting some chocolate chips in for the black seeds but decided against that. Usually, I just buy seedless watermelon anyway. Chocolate chips and watermelon just sound weird together don't they? For the green shell, I j used some green food coloring in the cool whip. If you love watermelon this cake won't disappoint!
To make this cake lighter, use a can of diet soda in place of the ingredients it calls for on the box and use sugar free instant jello.
Print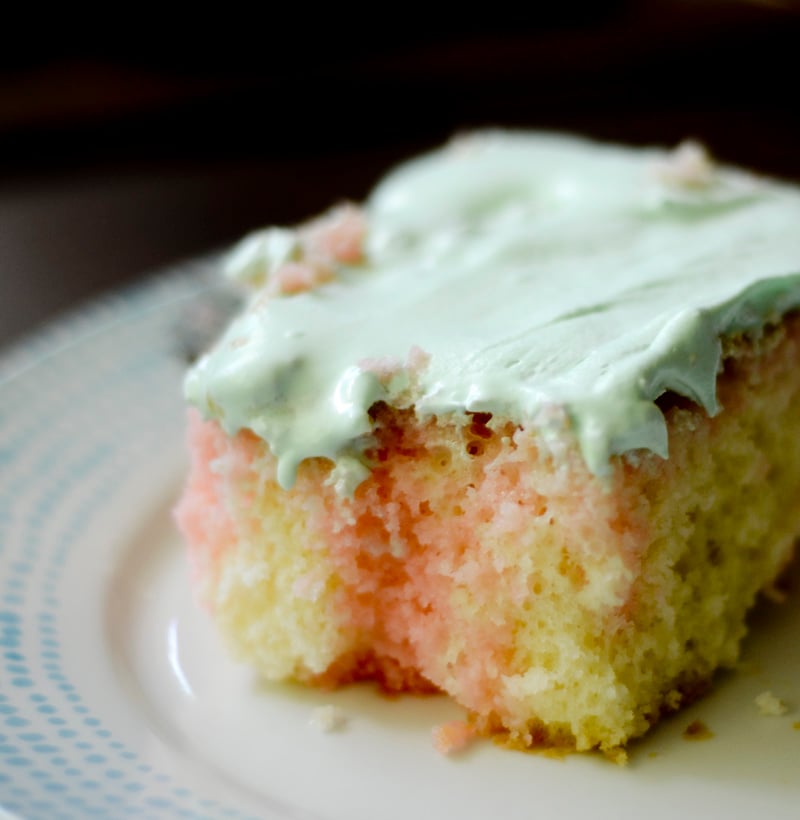 Watermelon Poke Cake
---
Scale
Ingredients
1

(18 1/4 ounce) box cake mix (any flavor, yellow and white is best)

1

(1/3 ounce) box Watermelon jello (any flavor, strawberry is always good)

1

(12 ounce) can diet soda (diet cream soda is great for this)

3 tablespoons

unsweetened applesauce

8 ounces

fat-free whipped topping (typically half of the container)
---
Instructions
Mix cake mix with diet soda and applesauce, mix until well blended.
Pour batter into desired pan (I use 13×9).
Bake at 350 for 20-30 minutes until done.
Cool cake and then poke holes in cake with knife or fork approximately one inch apart.
Prepare jello as directed (typically this uses 2 cups of water, 1 boiling 1 cold).
Pour jello over cake evenly.
Place cake in refrigerator for 1-2 hours until cooled.
Frost with cool-whip and enjoy!
---
Notes
Weight Watcher Points Plus: 4 points
Nutrition
Serving Size:

8

Calories:

161.8

Fat:

4.7 g

Carbohydrates:

27.0

Fiber:

0.3 g

Protein:

2.8 g
It's fun to see the different colors in this cake.