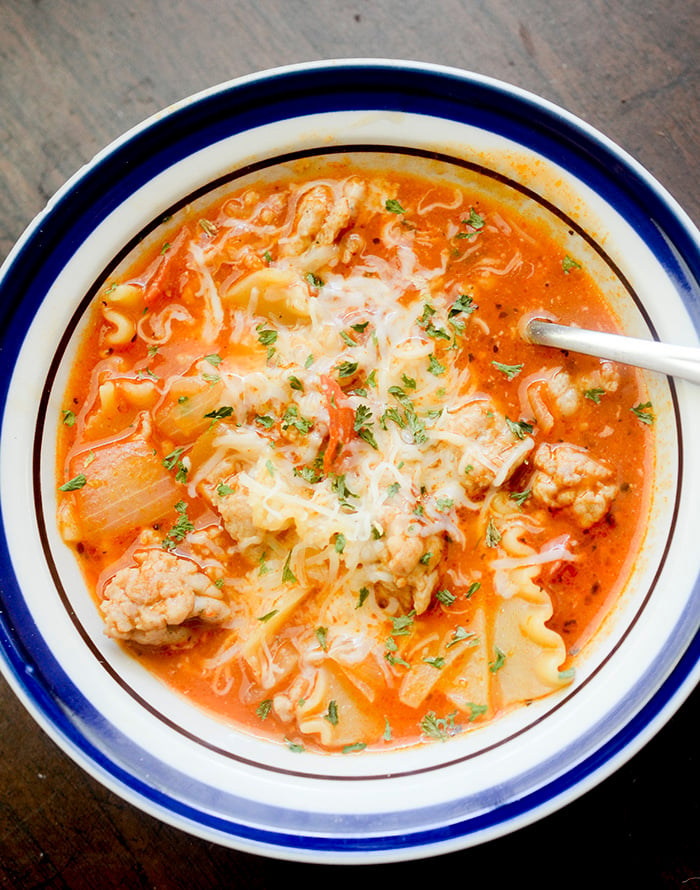 Weight Watchers Lasagna Soup – a lightened up version of the famous Lasagna Soup! Perfect for the upcoming cold months.
Do any of you watch Food Network at all? After college was over with, that is how I learned how to cook for myself. I would watch episode after episode of Ina or Bobby Flay and think to myself,  that is pretty easy and I can do that. So I tried doing that. Now all Food Network has on their channel is stupid reality cooking shows like Cooks vs Cons or Bakers vs Fakers. Do we really care which person is the pro chef or con cook? I sure as heck don't!  I miss the good old days when Food Network actually showed cooking shows. What pisses me off most about some of those reality cooking shows like Food Network Star is that half of the winners never get their own show on Food Network after they win!  I swear the last 3 winners something ended up happening to them! Sorry, I'm done venting Food Network now. 🙂
Winter is coming fast here in Fargo and today was a good day to make a big batch of Lasagna Soup. I've made this soup on my site before but it wasn't a lightened up version. There's about 8 servings if you use a 8 qt dutch oven. Each serving of this Lasagna soup is only 5 points! My mom always jokes around about her lasagna always ends up looking like soup after it's done cooking, that's ok though. It all still tastes good right?
Print
Weight Watchers Lasagna Soup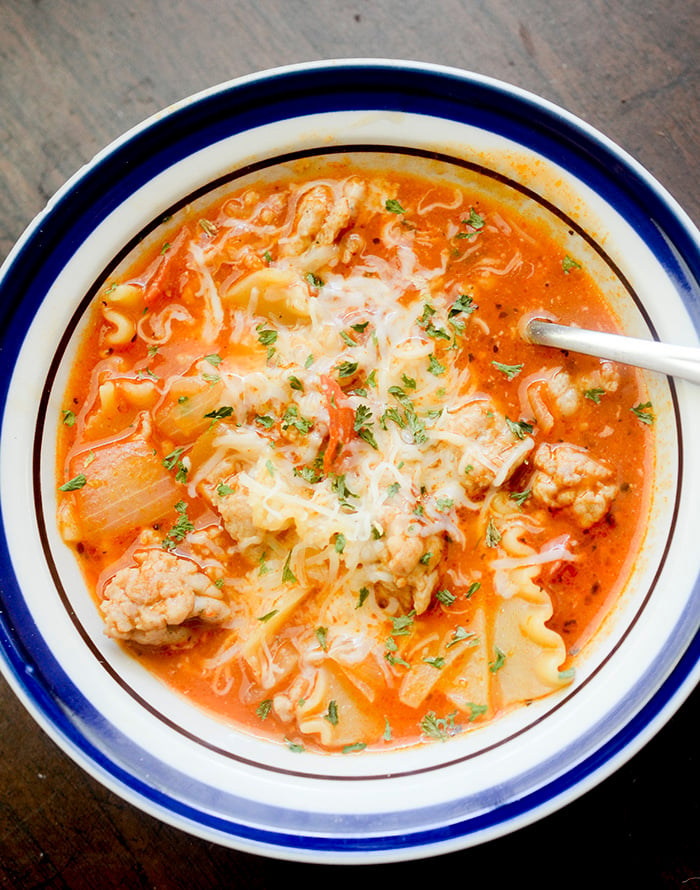 Ingredients
1 yellow onion, chopped
kosher salt
1 lb. lean ground turkey sausage (I used Jennie-O) or 93% lean ground beef (points will be different!)
4 cloves garlic, minced
28 oz. can crushed tomatoes or 28 oz jar of marinara sauce
1 tbsp. dried oregano
5 c. low-sodium chicken broth
8 oz. lasagna noodles, broke into 2″ pieces
2 c. low fat shredded mozzarella
Toppings (optional):
Grated Parmesan, for garnish
Torn fresh basil, for garnish
Instructions
In a large skillet over medium heat, spray the bottom of the pan with cooking spray. Add onions and season with salt. Cook until tender and golden, 5 minutes, then add sausage and cook until no longer pink. Drain fat and return to pot.
Add garlic and stir until fragrant, 1 minute, then add crushed tomatoes and dried oregano.
Pour in chicken broth and bring to a simmer.
Add lasagna noodles and cook, stirring occasionally, until al dente, 10 minutes.
Add mozzarella and stir, letting melt into soup.
Garnish with Parm and basil.
Notes
Smart Points: 7 (1 cup), makes 8 servings total.
Nutrition
Serving Size:

1

Calories:

288

Sugar:

6

Fat:

6

Saturated Fat:

3

Carbohydrates:

28

Fiber:

3

Protein:

29
Recipe adapted from delish.com