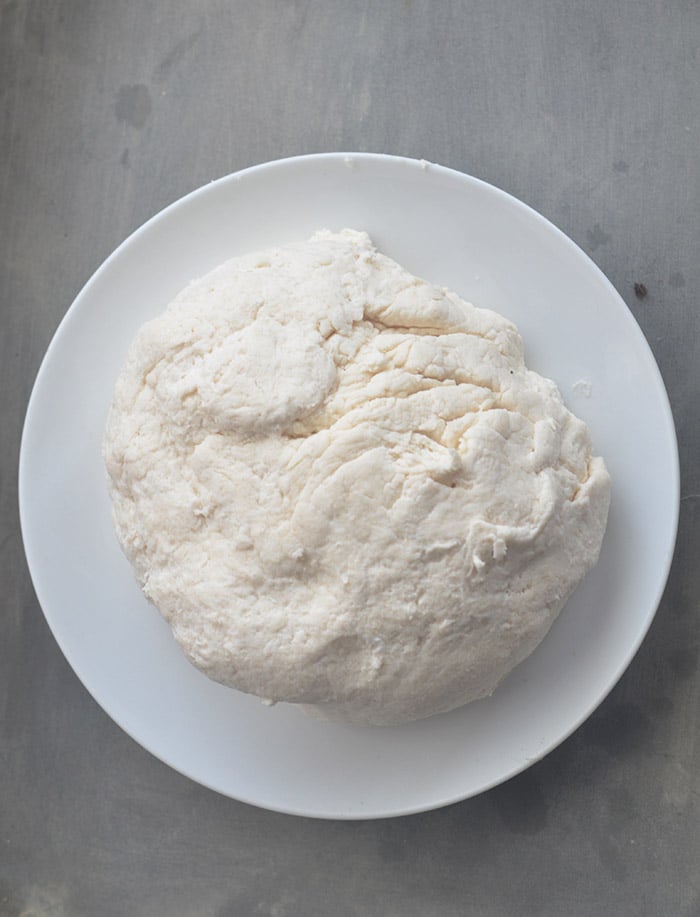 2 Ingredient Dough Weight Watchers – once you try this recipe you'll be hooked for life!
Update 1/8/2018 I've been getting a lot of questions about this dough and how to make it so I updated the recipe and instructions. Please read the notes too if you have any more questions. Thanks! When I made these pretzel bites I did exactly what the instructions said to do and divided it into 4 equal pieces. When making pretzel bites you just roll one of the dough pieces into a long rope and cut them into small bite size pieces. The whole entire dough recipe comes to 11 smart points depending on what brand of self-rising flour you use.
I think I've become obsessed with this 2 ingredient dough recipe just like the rest of the Weight Watcher (#weightwatchers) community has on Instagram. You can make so many things with this dough and on Instagram people have made bagels, calzones, pizza dough, pretzels, breadsticks, you name it, oh yes have also seen cinnamon rolls? Heaven! #2ingredientdough. You can now follow hashtags on Instagram and you will want to follow this one just to see what everyone is making with it.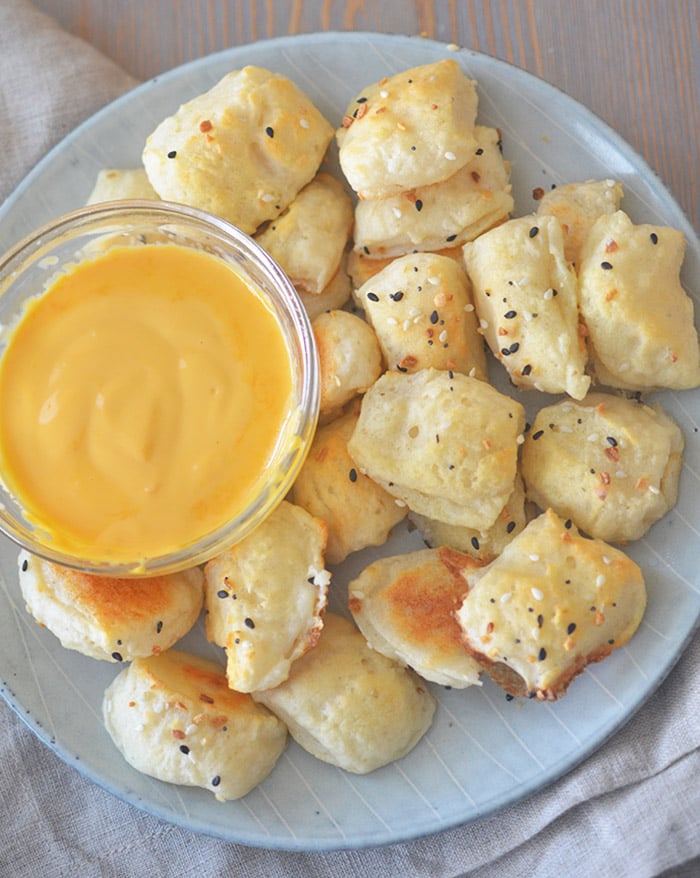 So far, I've tried pizza crust and making pretzel bites. The pretzel bites seem to work better with this dough which is mainly nonfat greek yogurt and self-rising flour. I've tried making the famous pretzel shape with this recipe and it never seems to work out for me. The pretzel just ends up falling apart when I put it in the baking soda and water bath. I'll be experimenting with this dough and in the past couple of weeks, I've bought at least 3 large containers of greek yogurt, the Chobani brand. This dough is awesome and the only thing that I don't like about it is that its kind of hard to work with. If you're going to make this dough make sure to flour your hands or the cutting board you're working on. You will need extra flour! 2 ingredient dough is sticky!
FYI – sorry about the volume levels!
If you're afraid of Teflon pans then use something else. I prefer non-stick pans because of easy cleanup.
2 Ingredient Dough Tips
Do you find that your dough is really sticky? After making the dough, let it rest for a while in the fridge. After making this recipe multiple times that seems to help the dough from becoming less sticky to work with. When I'm ready to use the dough, I'll flour my work surface and then the rolling pin. Hope that helps!
If you don't want to use all the dough right away stick it on a plate with some saran wrap and place that in the fridge. I always cut my dough into 4 equal pieces once the dough has formed its shape and each serving/piece is 3 smart points.
Depending on what you want to make with this dough the serving sizes will be different, but the whole entire dough recipe is 12 smart points. Please use your recipe builder.
Food Allergies
Dairy Free option: Try finding a nondairy Greek yogurt like Daiya, the points for this would not be zero though. These are usually found in the organic section.
Gluten Free Option: I tried this with almond flour and the same ratio didn't work. The dough was way too sticky. You can always use gluten-free self rising flour.
1 cup Bob's gluten-free self-rising flour
1 cup of dairy-free plain yogurt
Homemade self-rising flour:
If you do not have any self-rising flour on hand you can make your own with all purpose flour!
1 ½ cups all-purpose flour
1½ teaspoons baking powder
¾ teaspoon salt!
The nutrition info below is for 1 piece if you divide it between 4 pieces.
The cheese sauce I used in the pic was Tostitos Medium Salsa Con Queso. It comes in a jar and usually found by their chips. 2 tablespoons is 1 smart point!
The seasoning I used for the pretzel bites was Trader Joe's Everything But the Bagel seasoning.
Other 2 Ingredient Dough Recipes:
Easy cheesy Garlic Bread Sticks
Helpful Kitchen Tools
Print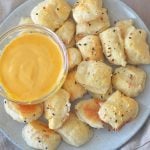 2 Ingredient Dough Weight Watchers
---
Scale
Ingredients
1 cup

of non fat plain greek yogurt

1 cup

of self-rising flour (I use Gold Medal Brand)

1

egg (if using for making pretzels, not needed for pizza dough)
---
Instructions
Preheat Oven to 350 degrees.
Combine both ingredients inside a mixing bowl and blend until ingredients have formed.
*if your dough still feels a little sticky, sprinkle flour onto dough until it feels solid and easy to separate.
Continue to knead the dough for 2 to 4 minutes.
Next, coat the cutting board with flour and begin to dived your dough into for even pieces
To roll into bagels, donuts, pretzels, turnovers, or calzones.
Place items on parchment paper or foil.
Brush on the egg wash. (beat together one egg with a fork and brush it on the dough (this is optional)
Add seasoning of choice.
Bake at 350 degrees for 18 to 22 minutes.
See notes for more details.
---
Notes
my WW:  Points:  3; Green 4; Purple 3
Egg wash is optional. Not counted with green points. 
If making bagels or pretzel bites with the dough spray butter or cooking spray  helps the tops turn golden brown without having to add extra points. 
The seasoning I used for the pretzel bites was Everything Bagel Seasoning.
Cheese sauce is from Tostitos, the medium Salsa Con Queso.
Category:

Easy

Method:

Mix

Cuisine:

American
Nutrition
Serving Size:

1/4th of the dough

Calories:

146

Sugar:

2.1g

Sodium:

394.9mg

Fat:

.5g

Saturated Fat:

.1g

Carbohydrates:

25.4g

Fiber:

0.6g

Protein:

9.3g
Keywords: 2 Ingredient Dough
Disclaimer: I am not affiliated with WW in any way. I am just a member who creates recipes based on their points system. This recipe is based on WW Freestyle program, and SmartPoints are the value system the company bases their foods on. Some recipes will have older points system values listed in them.