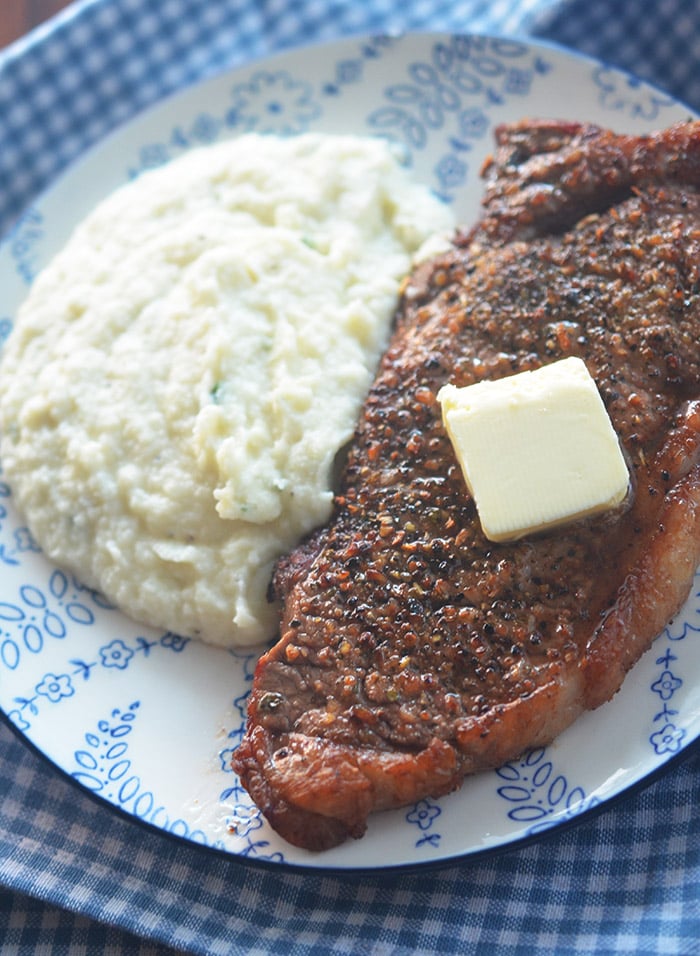 Air Fryer Steak – cook a nice, juicy steak in your air fryer! 
It always blows my mind what you can make in the air fryer. I love that you can make low carb and healthy meals in the air fryer like this steak and cauliflower mashed potatoes. A lot of people like cooking frozen food in the air fryer because it's fast and convenient. Which I do as well sometimes. I'm 50/50 with cooking frozen food and healthy food in the air fryer. Healthy meals can also be that same way in the air fryer. Frozen food tends to have a lot of extra added sodium to it and you can control what you make when you use fresh food.
Air fryers are also great for lazy cooks like myself.  This meal is really super lazy guys. I just seasoned the steak on both sides with some Trader Joe's 21 Seasoning Salute and cooked it in my air fryer at 400 degrees for 12 minutes. Flip the steak at 6 minutes. Now I've been wanting to try this cauliflower mashed potatoes forever and yes I used a frozen food for this meal. The reason why you have to flip food in the air fryer is because you want evenly cooked food right? I tried frying some homemade bagels in the air fryer the other day ago without flipping them and one side was not even brown. Kind of gross.
Print
Air Fryer Steak
Ingredients
1 New York Strip steak (mine was almost a pound)
Instructions
Preheat air fryer at 400 degrees for 5 minutes.
Place the steak in your air fryer and season it with seasoning of choice. Set the time to to 12 minutes and flip the steak at 6. Serve with vegetables or mashed cauliflower.
Notes
Steak time can very depending on what size it is.
4oz of New York Strip Steak = 7 smart points
Nutrition
Serving Size:

4oz

Calories:

250

Sodium:

60

Fat:

17

Saturated Fat:

7

Carbohydrates:

0

Fiber:

0

Protein:

23