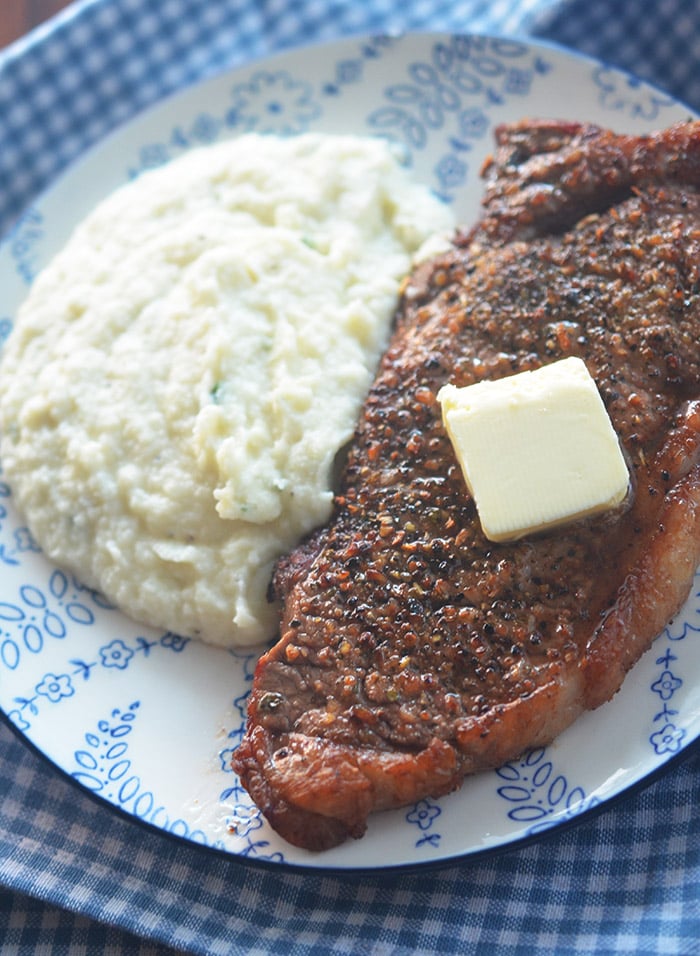 Air Fryer Steak – Super easy steaks made in your air fryer! These steaks are keto, low carb, and Weight Watcher friendly. Serve them with some mashed cauliflower and green beans on the side. I even have a handy guide for figuring out temperatures and times for other cuts of steak below.
Many of you probably will think after seeing this post for the first time, why would you ever cook a steak in the air fryer? What a waste? Yes, but the first time making steak in my air fryer, I was amazed at how easy and simple it was. During colder months it is not always accessible to access a grill when it is -20 below out in the middle of a snowstorm. See what I'm saying? Yah. 🙂 There are many times, I've thought about going on to my deck in the Winter to fire up the grill and then I talk myself out of it because it is so stinking cold outside.
I highly recommend using a thermometer for cooking steaks to check to see if they are done. Many people like their steak.
Every air fryer and brand is made differently and the times below might not work for your air fryer. Please check the instructions manual that come with your air fryer. Most of them these days have instructions and a guide to go by for cooking meat.
A quick temperature guide for cooking steak:
Rare 120
Medium Rare 125
Medium 135
Medium Rare 140 to 145
Can I cook a frozen steak in my air fryer?
I have not tested this recipe using a frozen steak and I would never ever cook a steak from frozen in the air fryer. If your steak is frozen let it defrost in the fridge overnight or let it sit out for a couple of hours so that it comes to room temperature.
How to make Air Fryer Steak:
In a nonstick skillet cook the ground beef on medium high heat. When the beef is brown and no longer pink in the middle, drain any extra fat. Add in onion powder, garlic powder, and Worcestershire sauce. Set aside.

Dice the pickles, tomatoes, and onions.

Add 2 cups of chopped romaine lettuce, pickles, tomatoes, onions, cheese, and ground beef to the top of the lettuce.

Top the salad with 2 tablespoons of Thousand Island dressing.
Tips for Air Fryer Steak:
Different Kinds of Steak Temps, Time, Minutes
Filet Mignon – 8 oz 400 degrees 18 min
London Broil – 2 lb 400 degrees 20 to 28 min
Rib Eye, bone in (1 in) – 8oz 400 degrees 10 to 15 min
Sirloin Steaks – (1 in) 12 oz – 400 degrees 9 to 14 min
Let the steak come to room temperature before placing it in the air fryer.
What is an Air Fryer?
An air fryer is a kitchen appliance that cooks by circulating hot air around the food using the convection mechanism. It is a downsized version of the convection oven.
Is air fried food healthy?
When you compare air fried food to deep fried food it is much healthier because there is hardly any oil used at all. The only oil I use is from my Pam cooking spray. I spray only the food once or twice because most air fryer baskets are non stick. If you are concerned about using aerosol sprays for the environment or your health buy a Misto Brushed Aluminum Oil Sprayer can from Amazon and fill that with your favorite oil.
What are the Best Large Size Air Fryers?
If you are researching air fryers and looking to buy the best ones out there on the market I have tried and tested 2 different ones before. If you want to be able to cook more food for your family at once then get an air fryer with a large basket such as 5.3 quarts. Look for ones that say nonstick on them and has multiple program settings.
Power XL Air Fryer 5.3 Quart Basket.
EFFORTLESS COOKING: Our 5.3QT Power Air-Fryer comes in handy in preparing amazing meals from your cookbook, and frying a variety of dishes, such as: French fries, chicken, steak, roasts, fish tacos and sticks, waffle fries, pies, pudding and donuts. Make yourself feel like a professional chef in your kitchen with the digital air fryer that can easily replace baking pans, deep fryers, a grill pan, convection toaster oven or any one of your kitchen appliances.
FEATURES: 5.3 Quart Easy Load Basket with Non Stick Coating; 7 Preset Programs with easy one-touch digital control let you Roast, Air Fry, Bake, Steam, Saute and Grill; Digital Timer with automatic Shut Off; Manual Time and Temperature programming option; 1700 Watts of Turbo-Cyclonic Power; Super Heated Air heats up to 400 degrees, cool to the touch easy grip handle.
GoWISE USA 1700-Watt 5.8-QT 8-in-1 Digital Air Fryer
Air fryer temperature settings vary according to brand and model. If your air fryer does not have the exact temperature setting called for in the recipe, consult your manual for suggested temperature settings.
Other Air Fryer Recipes
The Best Air Fryer Whole Chicken
Air Fryer Pepperoni Pita Pizzas
Print
Air Fryer Steak
---
Author:

Prep Time:

5 min

Cook Time:

12 min

Total Time:

12 min

Yield:

1

1

x
Description
Air Fryer Steak  – Super easy steaks made in your air fryer! These steaks are keto, low carb, and Weight Watcher friendly. Serve them with some mashed cauliflower and green beans on the side. I even have a handy guide for figuring out temperatures and times for other cuts of steak below.
---
Scale
Ingredients
2

–

12

oz New York Strip Steaks (1in thick)

Salt and Pepper to taste

2 tablespoons of butter (optional)
---
Instructions
If your air fryer requires preheating, preheat your air fryer.

Set the temperature to 400 degrees Fahrenheit.

Season your steak with salt and pepper on each side.

Place the steak in your air fryer basket. Do not overlap the steaks.  Set the time to 12 minutes and flip the steak at 6. Serve with vegetables or mashed cauliflower. This will give you a medium rare steak.
---
Notes
Steak time can very depending on what size it is.
Blue Points: 8
Green Points: 8
Purple Points: 8
Category:

Dinner

Method:

Air Fryer

Cuisine:

American
Nutrition
Serving Size:

4oz

Calories:

250

Sodium:

60

Fat:

17

Saturated Fat:

7

Carbohydrates:

0

Fiber:

0

Protein:

23
Keywords: air fryer, air fryer steak, steak
I am not affiliated with WW formerly known as Weight Watchers in any way. I am just a member who likes to create WW recipes and share them with everyone. Freestyle is the name of the current program of WW and smart points are calculated for the recipes. Some blogs list them as freestyle smart points and some list them as smart points. There is no difference between the 2.