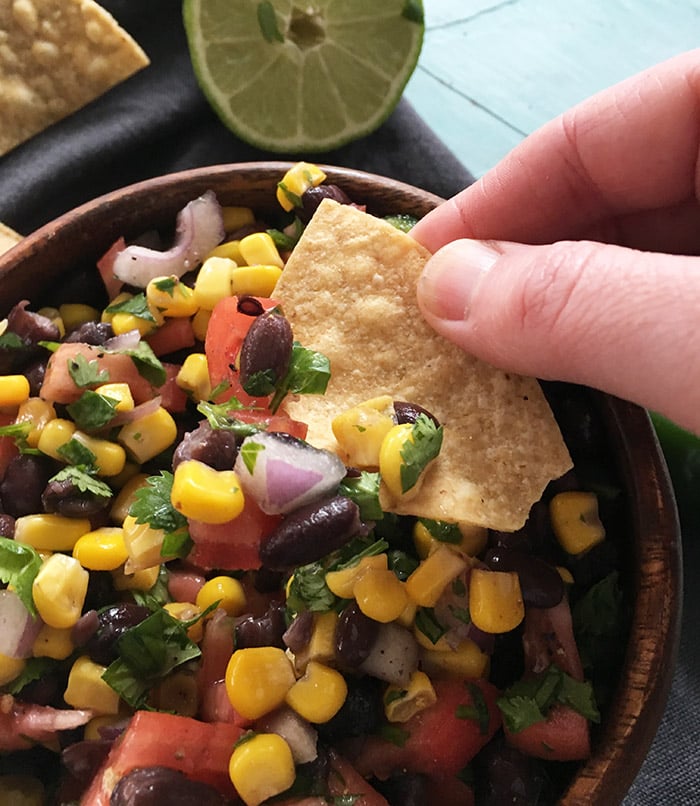 The weather here in North Dakota has got me dreaming of Summer days out by the lake or in my backyard hanging out in my patio. It STILL hasn't warmed up yet and there are days when it doesn't even get above 30 degrees and it's still snowing. This weekend there's a chance of a snow storm mixed with rain. How lame and stupid is that when it's the middle of April? Winter seems to last for 6 months here: September through April. Then it's construction season. 🙂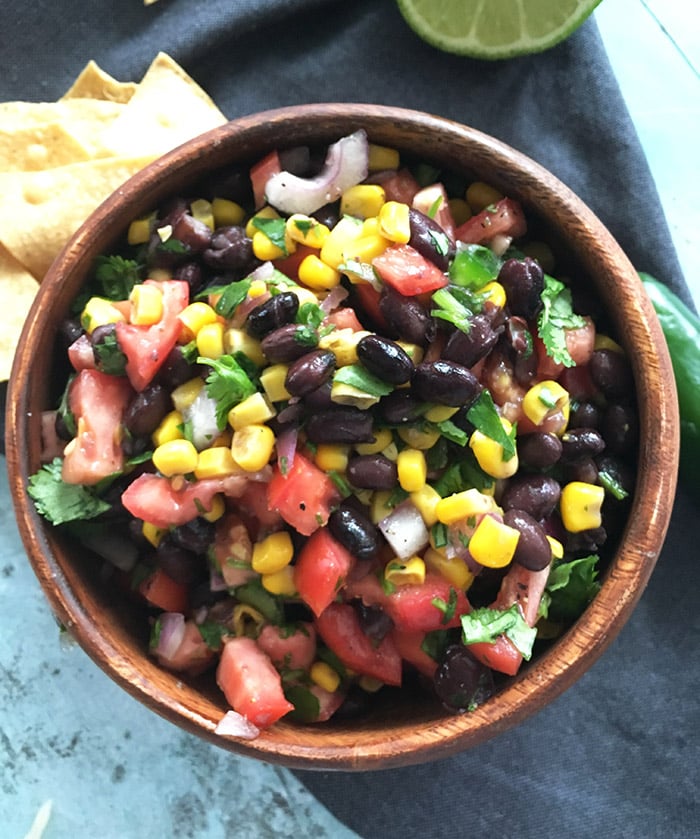 This zero smart point salsa is perfect to take to any party at the lake or some outdoor grilling event. It can be made ahead of time and stored in the fridge to use on top of quesadillas, dipped with chips, or even used in a burrito bowl with some rice. The salsabilities are endless. All you have to do is count the chips.
Print
0 Smart Point Salsa
Ingredients
1 15 oz can of corn
1 15 oz can of black beans
3-4 Roma Tomatoes, diced
1 jalapeños
1/2 cup red onion
1/2 cup cilantro
Lime
Salt and Pepper to taste
Instructions
Rinse and drain corn and black beans. Add to a medium bowl. Cut or dice the cilantro, onion, jalapeno, tomatoes and add them to the bowl. Squeeze in some lime juice and add salt and pepper. Enjoy with chips!
Notes
Smart Points: 0 ( 2 tablespoons)
Recipe from Weight Watchers @Instagram page.
Nutrition
Calories:

111

Fat:

1

Saturated Fat:

0

Unsaturated Fat:

0

Carbohydrates:

20

Fiber:

6

Protein:

5

Cholesterol:

0