Learn how to make perfect turkey burgers every time in the air fryer. Save this recipe because you'll want to make these burgers often! Use the skip to recipe feature at the top of the post if you don't want to read the entire post!
These homemade turkey burgers are way better than any store-bought frozen turkey burger you'll ever buy. The secret ingredients in this recipe are crushed-up tortilla chips and some salsa to give it that SouthWest Flavor. A long time ago I found this recipe on the Weight Watcher boards and came across it again. I changed it up buy cooking them in the air fryer and these burgers I'd made any day of the week. There are stovetop instructions just in case you don't have an air fryer.
If you love turkey check out these other recipes for Air Fryer Turkey Breast, Instant Pot Turkey Breast with Gravy, and Turkey Cranberry Paninis.
Ingredients List
1 pound(s) uncooked ground turkey breast 99% FF - buy it already minced or grind it at home
6 item(s) tortilla chips, crushed - pound them out in a plastic zip lock bag or grind them in a food processor
⅓ cup(s) salsa - homemade or storebought
¼ cup(s) cilantro, chopped
2 tablespoon scallion(s), finely chopped
1 teaspoon ground cumin
¼ teaspoon table salt
¼ teaspoon black pepper
1 spray(s) cooking spray
4 item(s) light hamburger rolls or bun - I've used English muffins as a bun and they worked out great.
Extra Ingredients: pepper jack cheese, sliced tomatoes, mashed avocado, or pickles.
How to Make
Combine the first 8 ingredients in a large bowl.
Divide mixture into 4 equal portions, shaping each into a 1⁄2-inch-thick patty.
Stovetop: Heat a large nonstick skillet over medium heat. Coat patties with cooking spray. Add patties to pan; cook 3 minutes.
Carefully turn patties over; cook 4 minutes or until done.
Top bottom halves of buns with lettuce and tomato slices. Place patties over tomato slices, and top each with salsa and top halves of buns. Yield: 4 servings (serving size: 1 burger).
Air Fryer: Place your burgers on your Air fryer, making sure they don't overlap or touch. Cook on 360 degrees for 15 minutes, flipping halfway through. Your burgers are finished when they reach an internal temperature of 165 degrees
Tips for Air Fryer Turkey Burgers
This method for cooking turkey burgers for a 1400 to 1700 watt air fryer. Please check the wattage on your air fryer first before trying this method.
Time will vary depending on the size of your turkey burgers. Try to make sure the patties are all equal in size. . Make sure to use a meat thermometer to check for proper doneness. Turkey is properly cooked through at 165 degrees.
Preheating: Some air fryers require preheating and some do not. Be sure to check your air fryer manual. Mine does not require preheating. If the food ever burns or doesn't cook properly this could be why the recipe didn't work for you.
Overcrowding: Do not overcrowd the basket. Some food will not cook properly or all the way through.
Oil: One of the reasons why air fryers are so great is because food doesn't need a lot of oil. Just a small amount or use some cooking spray.
Disclaimer: Air fryers are like microwaves and all of them have different wattages. That means the time and temperature above might not work with your air fryer. If your turkey breast don't turn out this might be why. Please be aware of this before leaving a comment about how your turkey breast didn't turn out. Not All air fryers work the same. Thanks.
What are the Best Air Fryers?
I've had 3 or 4 different air fryers or the past 5 years and each one of them has worked very well with the air fryer recipes on this site. If you want to be able to cook more food for your family at once then get an air fryer with a large basket such as 5.3 quarts. Look for ones that say nonstick on them and has multiple program settings.
Power XL Air Fryer 5.3 Quart Basket. - This was my very first air fryer.
Our 5.3QT Power Air-Fryer comes in handy in preparing amazing meals from your cookbook, and frying a variety of dishes, such as: French fries, chicken, steak, roasts, fish tacos and sticks, waffle fries, pies, pudding and donuts.
Ninja Foodi Grill and Air Fryer - This air fryer works very well too but the air fryer setting doesn't go below 300 degrees. If there's a recipe that calls for lower temperatures you have to use the bake setting. It air frys, roasts, grills, and dehydrates food.
Cosori 4 Qt Air Fryer- This air fryer doesn't require any preheating and has several different functions for cooking chicken, meat, frozen foods, etc. There are 5 different functions.
GoWISE USA 1700-Watt 5.8-QT 8-in-1 Digital Air Fryer
Air fryer temperature settings vary according to brand and model. If your air fryer does not have the exact temperature setting called for in the recipe, consult your manual for suggested temperature settings.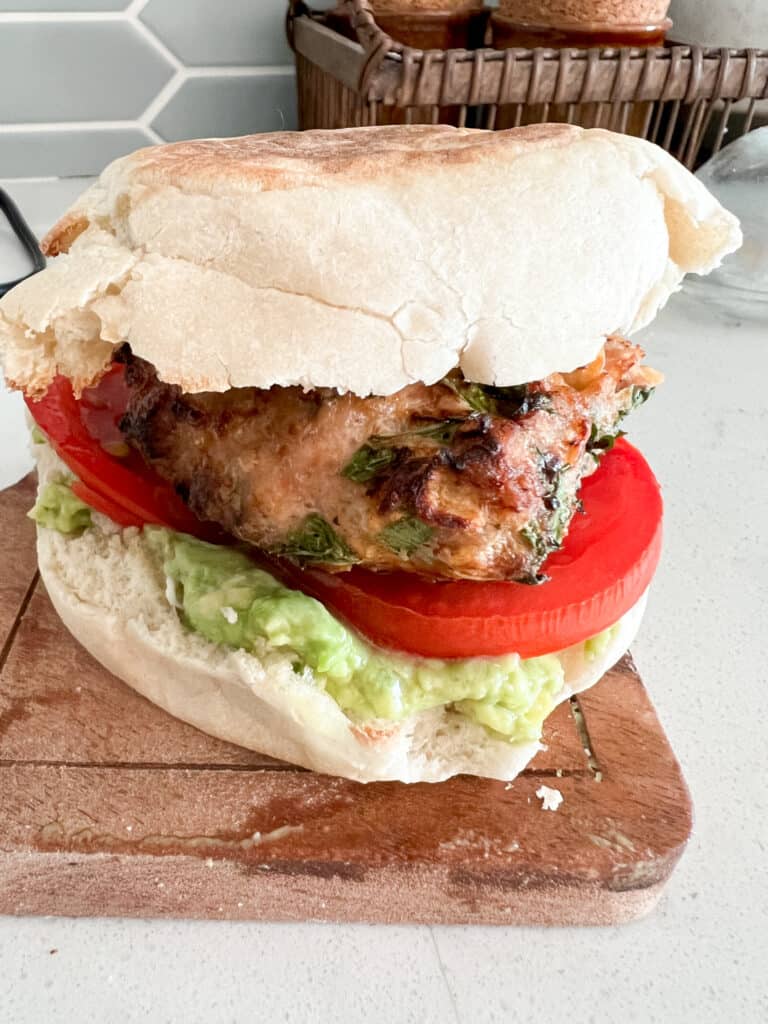 More Great Recipes to Try :
Please Let Me Know What You Think!
Be sure to leave a review of this recipe and give it a star rating. It lets us know how we are doing and lets others know they should try it!
I would love to see your creations on Pinterest. Upload them and leave a comment on my Pinterest page!
Are you on Instagram? Follow along and TAG US @recipediariesww
Have a Question or General Feedback?
Jump down to the COMMENT section and let us know! We would love to help and also love feedback on all of our posts.
Print
Air Fryer Turkey Burgers
---
Author:

Prep Time:

0 - 10 min

Cook Time:

10 - 15 min

Total Time:

24 minute

Yield:

4

1

x
Scale
Ingredients
1

pound(s) uncooked ground turkey breast 99% FF

6

item(s) tortilla chips, crushed

⅓ cup

(s) salsa

¼ cup

(s) cilantro, chopped

2 Tbsp

scallion(s), finely chopped

1 tsp

ground cumin

¼ tsp

table salt

¼ tsp

black pepper

1

spray(s) cooking spray

4

item(s) light hamburger rolls or bun

Extra Ingredients:

pepper jack cheese, sliced tomatoes, mashed avocado, or pickles. 
---
Instructions
Combine the first 8 ingredients in a large bowl. 




Divide mixture into 4 equal portions, shaping each into a 1⁄2-inch-thick patty.




Stovetop:

Heat a large nonstick skillet over medium heat. Coat patties with cooking spray. Add patties to pan; cook 3 minutes. 




Carefully turn patties over; cook 4 minutes or until done.

Top bottom halves of buns with lettuce and tomato slices. Place patties over tomato slices, and top each with salsa and top halves of buns. Yield: 4 servings (serving size: 1 burger).




Air Fryer:

Place your burgers on your Air fryer, making sure they don't overlap or touch. Cook on 350 degrees for 10 to 15 minutes, flipping halfway through. Your burgers are finished when they reach an internal temperature of 165 degrees
---
Category:

Easy

Method:

Air Fryer

Cuisine:

American
Keywords: air fryer turkey burger