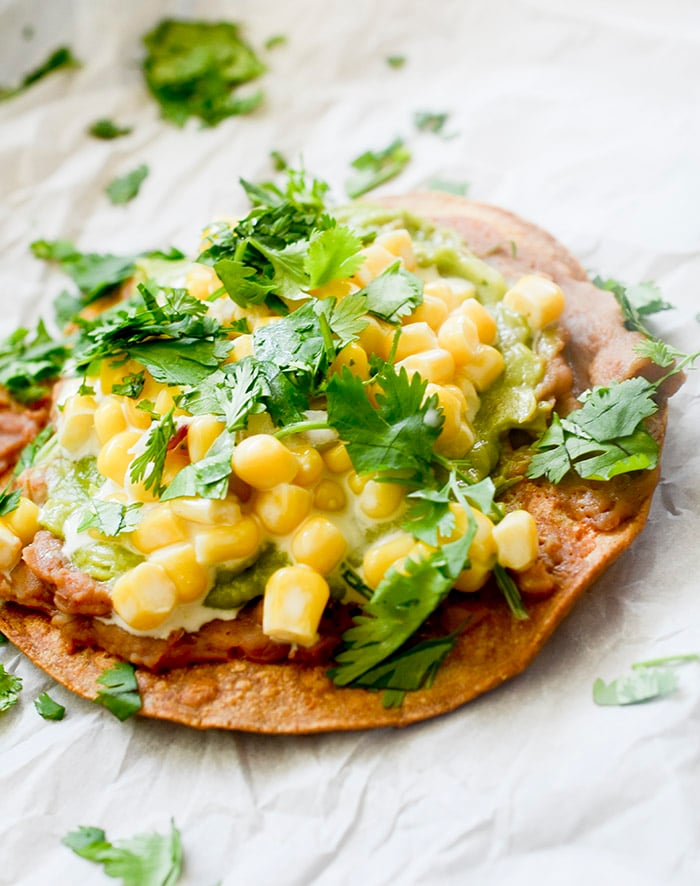 Mexican Street Corn Tostadas - are topped with refried beans, healthy mashed avocados, and creamy Mexican street corn. This meal comes together in under 20 minutes and is great for Taco Tuesday.
This blog is becoming dairy free. I'm not going to go back and change any of my recipes that have dairy in it, but from now on that is what it's going to be. Recently, I've discovered that my stomach does not like dairy at all. On Saturday night when my family was at the lake, we had cheesy hash brown potatoes, butter mushrooms, and even the shrimp was cooked in butter and my stomach did not like that one bit. My stomach didn't like pizza the night before that as well. Last week, I didn't eat any dairy and that really triggered it for me. That's one way to figure out if you're lactose intolerant. If you notice that you're bloating and gassy 4 hours after you eat dairy then stop eating dairy for a week or couple of weeks. Try it again, and if the same symptoms occur then you're lactose intolerant. Like me! Yay! You can develop lactose intolerance at any age. Butter and milk I'm not going to miss much because I've found good subs for that, but cheese is what's really good. I've heard that some dairy free people can tolerate parmigiana cheese and Asiago since it's aged more. I'll give that a try and see how I feel later on but cheese. Oh man, I love cheese!
Well enough talk about being lactose intolerant. (Which really sucks by the way!) These tostadas I think I ate about 4 times last week. I tried 2 different methods for cooking the corn tortillas. Once in oil, which I didn't like and then I tried baking them in the oven. I liked that method better. To bake the tostadas, I cranked my oven up to 400 degrees and sprayed each side of the corn tortilla with butter spray. You can use any type of spray you want. Baked the corn tortillas in the oven for 8 to 12 minutes until they were golden brown. Ever make your own corn chips before? This is pretty much the same method, but you can cut them into triangles instead.
I topped my tostadas with creamy refried beans, healthy avocados, and Mexican Street Corn. Mexican street corn is usually eaten on the cob and topped with mayo cotija cheese, and chipotle powder. You can even dip these in your favorite salsa. A great vegetarian alternative to Taco Tuesday! To make these Vegan use vegan mayo instead of regular mayo. I didn't add any cotija cheese.
Print
Mexican Street Corn Tostadas
---
Scale
Ingredients
8

yellow or white corn tortillas

1

can of corn kernels

1

can of refried beans

1 tablespoon

of cilantro

1 tablespoon

of red onion, chopped

1 tsp

of garlic

1 tablespoon

of mayo (or Vegan mayo)

¼ tsp

of chili powder

2

or

3

avocados
---
Instructions
Mix all the ingredients for the Street Corn in a bowl including the canned corned (drained), cilantro, red onion, garlic, mayo, and chili powder. Set aside.
Heat oven to 400 degrees. Spray each corn tortilla on both sides with butter spray. Bake for 8 to 12 minutes or until golden brown.
In a medium bowl mush the avocados with a fork until you can spread them on toast or a corn tortilla.
to assemble the tostadas spread a heaping tablespoon of refried beans, 1 tablespoon of avocado, and top with the mexican street corn. Garnish with fresh cilantro. (optional)
---
Notes
myWW points: Blue Points: 2; Green Points: 6;  Purple Points: 2
Nutrition
Serving Size:

1 tostada

Calories:

205

Sugar:

4

Fat:

8

Saturated Fat:

1

Fiber:

4

Protein:

6