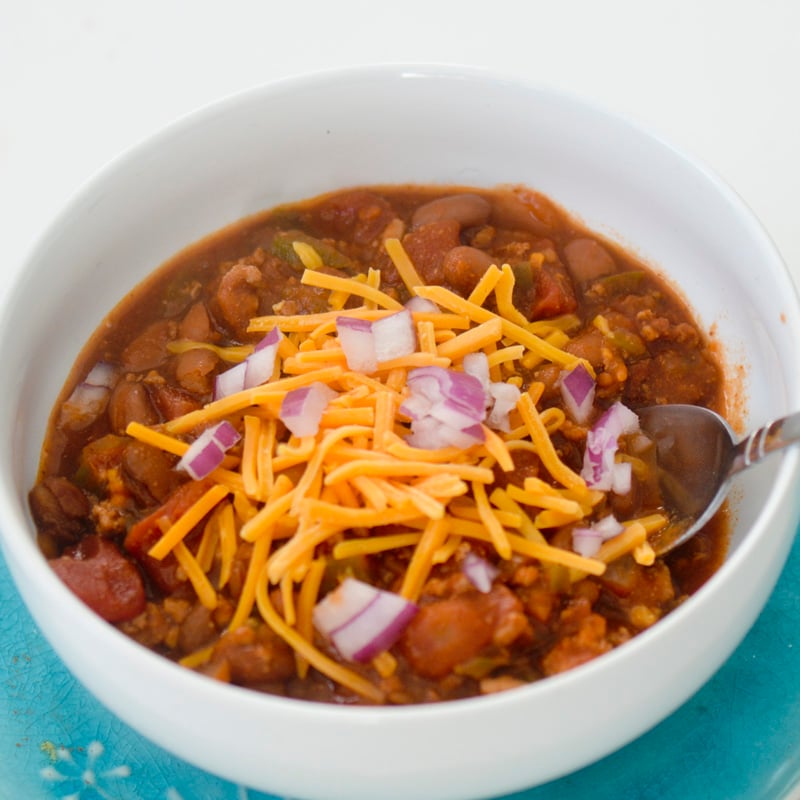 I have been watching what I eat lately, and counting my calories. So far, I've lost 5 pounds! It hasn't been easy too.  I was getting so frustrated with myself because of it,  I just had to force myself to do it. I'm using fatsecret.com to keep track of calories. What I like most about that site is that it figures out calories, protein, fat grams, and so on for recipes. It's kind of like another myfitnesspal.com and joining is free.
I've also been expanding my chili horizon recently. I used to only like chili with beef and beans and a lot of spice in it. Now, I'm adding more vegetables to my chili like onions and bell peppers. Call me crazy, I know. Chili is very filling and if you use lean ground turkey the chili is now a low fat bowl of goodness with all those vegetables. I like to top my chili with cheese, chips, and green onions.
Print
Weight Watchers Crock Pot Turkey Chili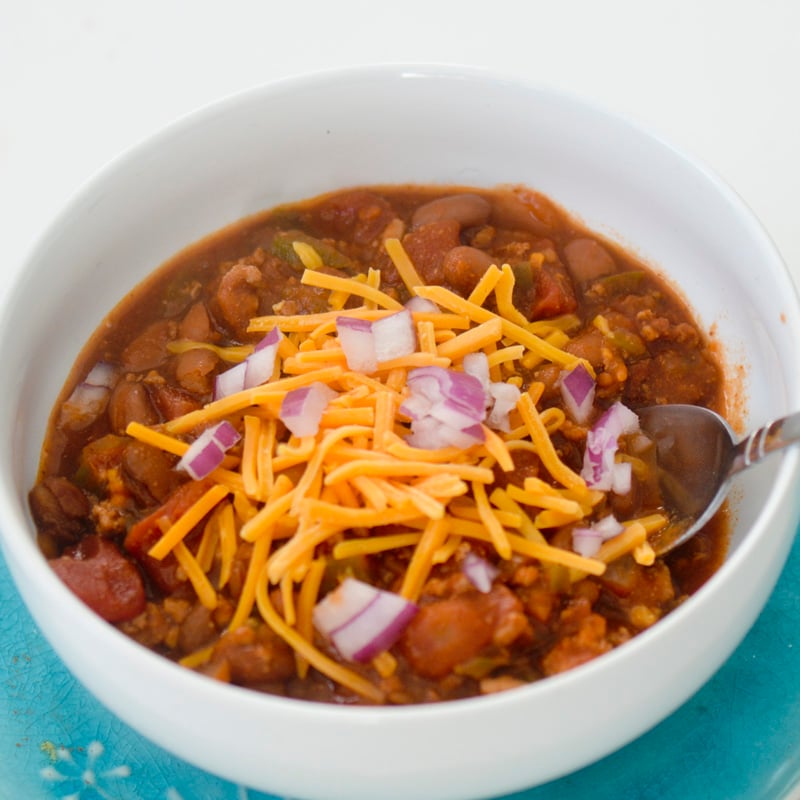 Ingredients
1 tablespoon olive oil
1 lb 99% lean ground turkey
1 medium onion, diced
1 red pepper, chopped
1 yellow pepper, chopped
2 (15 oz) cans tomato sauce
2 (15 oz) cans petite diced tomatoes
2 (15 oz) cans black beans, rinsed and drained
2 (15oz) cans red kidney beans, rinsed and drained
1 (16 oz) jar deli-sliced tamed jalapeno peppers, drained
1 cup frozen corn
2 tablespoons chili powder
1 tablespoon cumin
Salt and black pepper, to taste
Instructions
Heat the oil in a skillet over medium heat. Place turkey in the skillet, and cook until brown. Pour turkey into slow cooker.
Add the onion, peppers, tomato sauce, diced tomatoes, beans, jalapeños, corn, chili powder, and cumin. Stir and season with salt and pepper.
Cover and cook on High for 4 hours or low for 6 hours. Serve with toppings, if desired.
Notes
Calories: 280;  Fat 4:6; Carbs 41;  Fiber 12.8; Protein: 20.59
Points Plus: 7 (serving size = 1 cup)
Smart Points: 0
For the rest of the recipe, please visit Two Peas and Their Pod's website!